cupcakes, ultimissima edizione/extra special
Red Velvet Cake. What can I say the deep red cake and its cream cheesy layers? The first time I became introduced to this beloved cake was when I moved to Atlanta in the 90s. Now, I know it is a fan favorite across the country, but southerners are serious about their Red Velvet Cake, y'all. Admittedly, I am a little turned off by the dark red coloring, as I tend to be a little suspicious of baked goods that are primary colors. Even so, I confess. As a single girl and a northerner transplant trying to find a man, I thought it was important to master two recipes, biscuits and Red Velvet Cake. I mean, the old adage is The best way to a man's heart is through his stomach, right?
That's what I did. I learned how to make some pretty kick-ass flaky biscuits and perfectly moist, make-you-want-to-get-up-and-sing Red Velvet Cake.  Turns out, now that I am baking for others, Red Velvet is the most requested treat, whether as a layer cake,
cupcakes,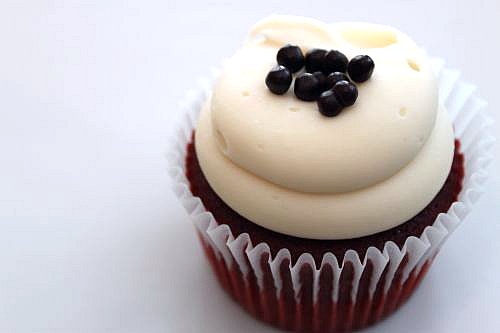 or specialty cake.
So, the two recipes found me a mate, right? Wrong. Sadly, the old adage is just that, old. So old, in fact, it forgot about me as it moved on to other want-to-be lovebirds. It's all good, though. I am older, wiser, and don't have to clean anyone else's mess. Ha!
That's doesn't mean you can't make a special cake for your significant sweetheart for Valentine's day, which is right around the corner. Then, as long as you're making the effort, step the cake up with an unexpected surprise.
I have wanted to play with the idea of a cheesecake center for a long time.  Finally, I got off my butt and worked it out.  And, what a cake it turned out to be, much to special for my novice photography skills to capture.  Luckily, Tami stepped in last weekend as she hooked me, and several of my cakes. up with her stunning talents.  Thanks for making my cake look beautiful, my wonderful friend!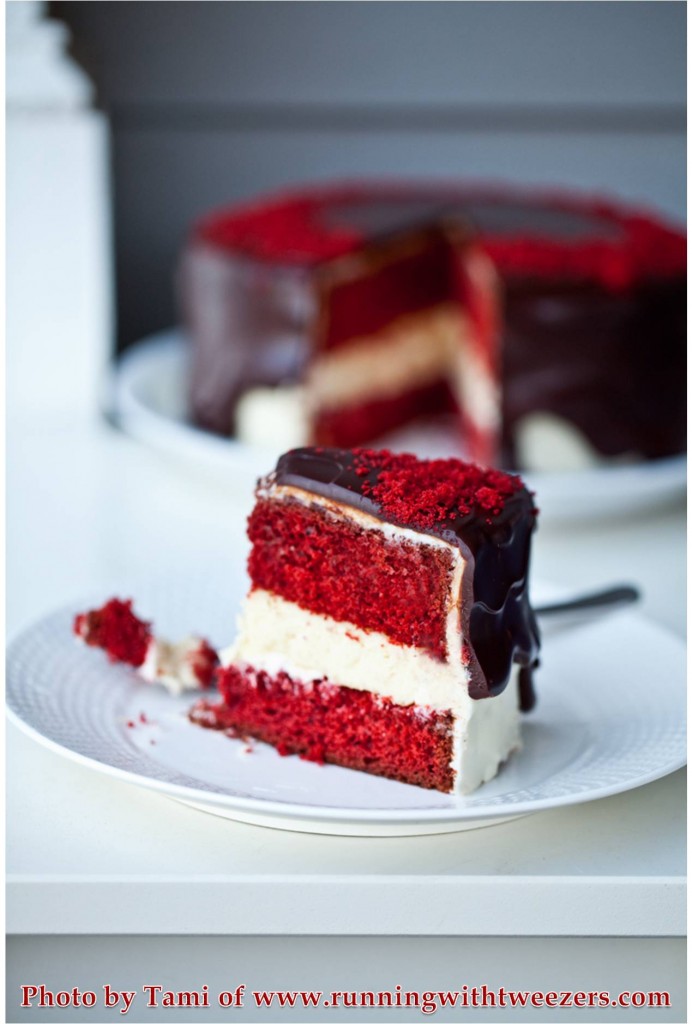 Red Velvet Cake
2 ¼ cups sifted cake flour
2 Tbsp. cocoa powder
1 tsp. baking soda
1 tsp. baking powder
1 tsp. salt
1 ½ cups sugar
½ cup (1 stick) unsalted butter, softened
2 large eggs
1 cup buttermilk
2 oz. red food coloring
1 tsp. distilled white vinegar
1 tsp. vanilla
(Prepare the cheesecake center prior to the Red Velvet Cake.)
Preheat oven to 350◦ F. Grease/flour 2 9-inch cake pans.
In a medium bowl, whisk together the flour, cocoa, baking soda, baking powder, and salt; set aside.
In a large bowl, cream the butter and sugar. Beat in eggs, one at a time. Then, alternately add the flour mixture and buttermilk (in 3rds). Beat in food coloring, and vinegar, then add vanilla.
***STOP THE MIXER before adding the food coloring. Then…start slow and work your way to a higher speed when mixing in the coloring. That is, unless you want red walls, cabinets, a polka dot shirt and even some freckles!
Divide the batter evenly in between the pans. Bake for 20-30 minutes or until a wooden toothpick inserted into the center comes out almost clean. Cool on a wire rack for 10 minutes, then turn out onto the rack to cool completely.
Cheesecake Filling
2 8-oz packages of cream cheese, room temperature
¾ cup sugar
¼ cup all-purpose flour
1 tsp. vanilla
2 eggs
3 Tbsp. milk or cream
Preheat oven to 375°F. Greased or line a 9-inch springform pan; set aside.
In a large mixing bowl of an electric mixer, beat the cream cheese until smooth. Add sugar, flour and vanilla and beat until well blended. Add in eggs, one at a time, followed by milk. Pour mixture into prepared pan. Place on a cookie sheet and bake for 25-30 minutes, or until the center appears almost set. Cool on a wire rack for about 15 minutes. Remove from pan and cool for another 30 minutes, then chill in the refrigerator for at least 2 hours.
Cream Cheese Frosting
3 – 8 oz. cream cheese, room temperature
1 cup (2 sticks) unsalted butter, cut into pieces, room temperature
1 lb. confectioners' sugar
1 tsp. pure vanilla extract
To prepare the frosting, in a large bowl, cream the cream cheese and butter. Beat in the confectioners' sugar until fluffy. Beat in the vanilla.
Ganache
¾ cup heavy cream
8 oz. good quality bittersweet chocolate, chopped
1 Tbsp. unsalted butter
1 tsp. vanilla
Place chocolate and butter in a large bowl; set aside. In a saucepan, heat cream until it begins to bubble around the edges. Remove cream from heat and pour over the chips. Let stand 1-2 minutes. Whisk until smooth. Stir in the vanilla until well blended.
If not using right away, cover with plastic and allow to cool at room temperature, or in the refrigerator.
To Assemble
Using a long, serrated knife, holding the blade parallel to the counter, trim the dome of each layer by carefully "sawing" across the top. Be sure to stop every few inches to ensure the knife is maintaining an even cut. Reserve the "cake scraps" for a crumb border, if preferred. (Use this same motion if slicing the layers in halve to make a 4-layer cake.)
Place one cake layer, cut side up, on a cake platter. Place the chilled cheesecake on top on the cake. Place the second layer over the cheesecake, cut side down. Apply a cup of cream cheese frosting on the top of the cake and use an offset spatula to spread evenly, beginning on the top and over the sides. Continue gradually applying additional frosting, until the cake is covered. Chill for at least 30 minutes.
As the cake chills, prepare the ganache.
Remove the cake from the refrigerator.  Add the ganache layer gradually.  Carefully pour one cup of ganache in the center of the cake. Use an offset spatula to help the ganache spread toward the edges.  Add additional ganache as needed, and/or as preferred. Leave as is or decorate with cake crumbs or nuts.
Chill until ready to serve. Remove the cake from the refrigerator 15-30 minutes before serving. Yields 12 to 16 servings