scambiarsi/swap around
It's Cookie Swap Day!  The 1st Annual Great Food Blogger Cookie Swap, the (doughboy) child of Lindsay of Love & Olive Oil and Julie of The Little Kitchen, is a festive (virtual) party for interested bakers to bake and exchange cookies with three fellow food bloggers. Simple, right? A couple of weeks ago, I said that one of the reasons I like to participate in these virtual get-togethers is I am able to communicate with other bloggers. I don't know how the other blogger participants felt being involved with this activity. But with events like these, waiting for the anticipated email with the names of whom would share cookies, I always get a hiccup of excitement as the cursor moves toward the bolded, unread message. And, this cookie swao wasn't any different.  In fact, I was even more amped because it involves 3-degrees of separation. The result lead to, not only to learning of two new blogs, but I found there are some who are not fans of chocolate!  Woot! Why is this big?  Lindsay and Julie were kind enough to take in consideration dietary needs and preferences.  Since I am allergic to chocolate, I appreciate the extra effort in matching likes/similar aversions.
My Swap-cohorts?  The first is Shannon of My Place In The Race, who is just a hop skip and a jump away in in Alabama.  The second, Samantha of The Little Ferraro Kitchen (and a fellow Italian!)  is over yonder in California.  Once I received the email and time began to slip away, I quickly baked cookies…several kinds.  However, I wasn't sure of their long-term quality.  So, the first several dozen of one cookie went to work with me, dozens of another cookie went to work with my neighbor, and I shipped off spice cookie with orange glaze to the ladies.
In typical "me" fashion, I was in a rush to get the package mailed. The vision I had in my head didn't quite come to fruition, as I baked and packed in the same day. Not smart on my part, since there was glaze involved. So, my parcels didn't look like the beautiful bundles  I received, with sweet individually wrapped cookies.  Nonetheless, I think these spice cookies are a delicious, not-so-sweet treat with a surprise orange glaze twist.
What did I receive?  Well, let me tell you.  I went out of town to see my mother and returned home with a doozy of a cold and to a ton of work at my job.  I was a little cranky; I can't lie.  Then, at my front door, a parcel!  Cute, individually wrapped Rugelah, brightened my week, for sure!  Then, after another cranky day of coughing and to do lists not budging, I arrived home to find another parcel, this time from Shannon.  Cute, individually wrapped pumpkin snickerdoodles.  They were a delicious twist on an old classic.  Brilliant!  And, they made me smile from ear to ear.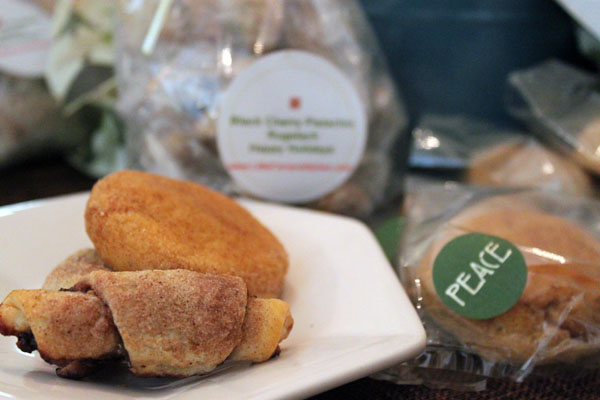 Thanks everyone!  It was a ton of holiday fun!
Enjoy!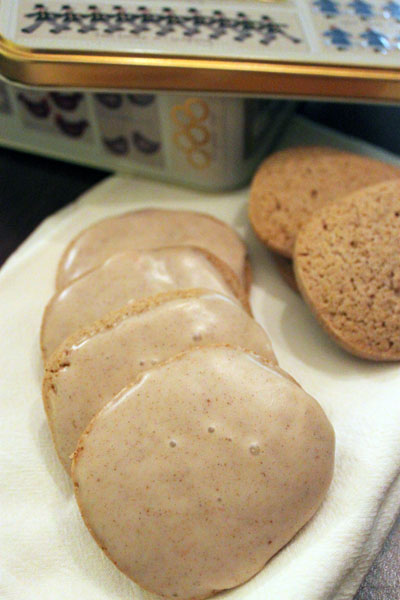 Spiced Cookies
An Adapted Recipe from the McCall's 1972 Cookie Collection
4 cups all purpose flour
1 tsp. baking soda
1 tsp. ground cinnamon
½ tsp. ground ginger
½ tsp. salt
¼ tsp. ground allspice
¼ tsp. ground nutmeg
1 cup unsalted butter, softened
1 cup vanilla sugar
½ tsp. vanilla extract
¼ cup dark corn syrup
½ cup sour cream
Orange Glaze (recipe follows) – optional
In a large bowl, whisk together the flour, baking soda and all the spices; set aside.
In a large bowl of an electric mixer fitted with the paddle attachment, cream the butter and sugar until light and fluffy.   On low speed, add the vanilla, syrup and sour cream and mix until smooth. Gradually add the flour to for stiff dough.
Turn out dough onto a lightly floured surface. Divide into thirds and shape into three 7-inch long logs. Wrap each log in cling wrap; refrigerate until firm (about 8 hours or overnight) before baking.
Preheat oven to 375°F. Line or grease several baking sheets. With a sharp knife, cut as many ¼-inch thick slices as desired baking at one time. Rewrap the rest of the roll(s) and refrigerate.
Place slices 2 inches apart on the prepared pan.  Bake for 8-10 minutes, or until golden brown. Remove and let cool for 5 minutes before cooling completely in a wire rack. Once completely cooled, top with preferred glaze. Yields about 4 dozen.
Glaze
To ice the cookies, combine 2 cups confectioners' sugar, ½ tsp. cinnamon and juice of 1 orange. Stir until the icing is of a spreadable consistency, adding water if required.
Want to know more about the swap, click here. You can "like" the facebook page, too!