marinato/marinated
Can you believe it is already the middle of December?  A quick blink will have is staring Christmas or Hanukkah in the eyes.  Personally, I can't wait.  It's vacation time and I can veg out for a few days, cook, play with fondant, and clean my garage (it must be done).
It has been years since I decorated and went all out for Christmas. Even so, I never forget about the foods I love.  For instance, antipasti has always been a favorite because the appetizer is filled with so many delicious bites, like sopressata, marinated artichoke hearts, roasted red peppers, and black olives. I have made a tasty quick-fix version with skewers, but there is any replacement for the old school, family style platter.
One item on an antipasti platter is often a marinade of mushrooms.  Tangy, seasoned bites of goodness.  Sure, you can buy marinated mushrooms in a jar.  But, they are not the real deal.  Skip the oily, preservative-filled posers.  This year, make them yourself!  Or, better yet, this is an easy task for your kids! Tune onto some festive tunes and ask your young ones to join you in the kitchen for family time.  The whole family can hone their culinary skills.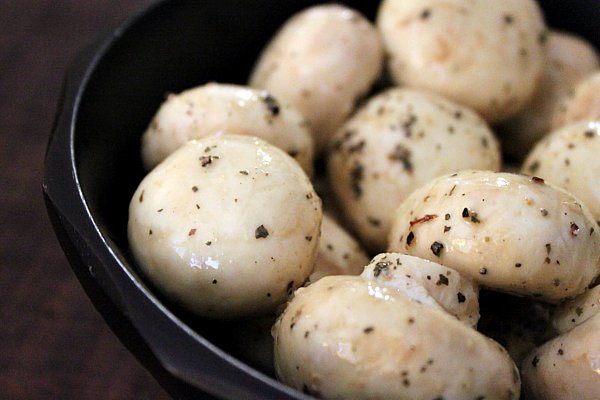 Marinated Mushrooms
10 oz. fresh mushrooms, like button and/or baby bella, cleaned & stems trimmed
½ cup olive oil
2 Tbsp. red vine vinegar (optional)
1 Tbsp. Italian Seasoning
½ tsp. salt
¼ tsp. pepper
1 clove garlic, minced
zest of 1 lemon
juice of 2 lemons
Place the mushrooms in a large bowl; set aside.
in a small bowl, whisk together the remaining ingredients. Pour over the mushrooms. Toss; cover (or place in an airtight jar) and refrigerate at least 3 hours, stirring occasionally.
Cook's Notes:
Slice the mushrooms if you prefer.  Adjust liquids accordingly, if necessary.