astice/lobster
Growing up in New England, I was spoiled. I don't mean with being the youngest, which helped with rules, toys and other activities. I mean the food. In particular, fish. Oh, the fish! The Haddock of Massachusetts, the lobsters of Maine, and the clams of Rhode Island are tantalizing teases to one's palate. Interestingly, I was not the big of a fan of fish when I was younger as I am now, so I am cranky I didn't fully appreciate what I had at my fingertips.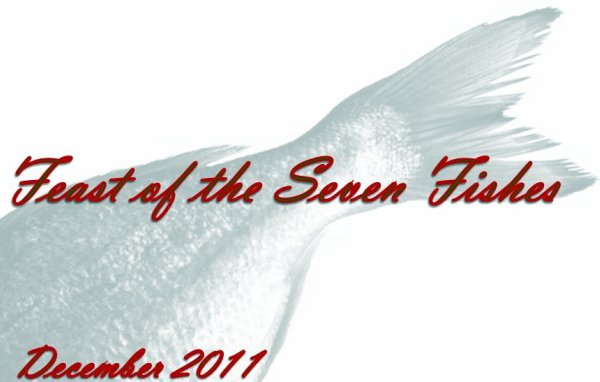 One food I did not eat, at all, was lobster. They freaked me out! I get that the brain of a lobster is about the same as a grasshopper. But, the screams that resulted when boiling a lobster. Oh, the saturation of cries in the kitchen as the crustaceans would bellow while they penetrated the boiling water have stayed with me to this day. Then, there were those occasions when my father took his big ol' knife to the lobster's head, then pierces the lobster in between the eyes. Ug!
It took me many years to be able to eat lobster without wanting to hyperventilate. But, now that I am older, I think I have successfully fixed my phobia, as long as I don't see a full lobster. When my grocer had lobster tails available last week, it was a sign to prove I am cured. I had to bring some home; I was all about it, especially with no beady eyes looking at me!
With the tails I picked up, I went simple so I could be sure the lobster meat was highlighted. The end result was delicious. My only disappointing moment was when I realized, after eating, my tail shell was empty.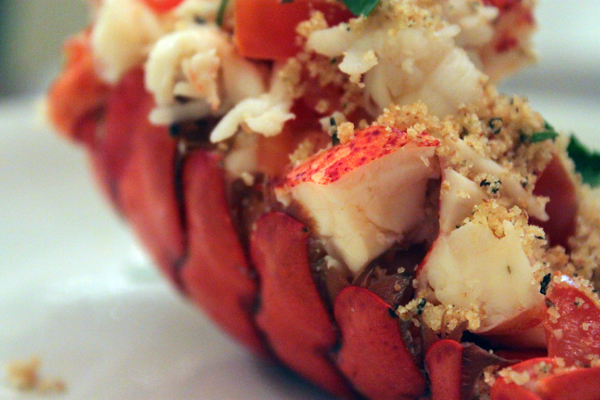 Stuffed Lobster Tails
4 6-8-oz. lobster tails
1 clove garlic, minced
½  Tbsp. cooking oil
1 tomato, seeded and diced
2 Tbsp. chopped Italian parsley
¼ tsp. salt
Dash pepper
½ cup grated Parmesan cheese
¼ cup fine dry bread crumbs
Cook lobster tails in boiling salted water to cover about 10 minutes or till done. Drain; remove meat from shells, preserve the shells and coarsely chop meat; set aside. In saucepan, over medium heat, cook garlic in oil just until lightly browned. Stir in tomatoes, parsley, salt, and pepper. Simmer for 3 minutes. stirring occasionally. Stir in ¼ cup parmesan cheese and bread crumbs, then lobster meat.
Scoop mixture in shells. Sprinkle with the remaining parmesan cheese. Broil for about 2 minutes or so, or until browned. Makes 4 servings.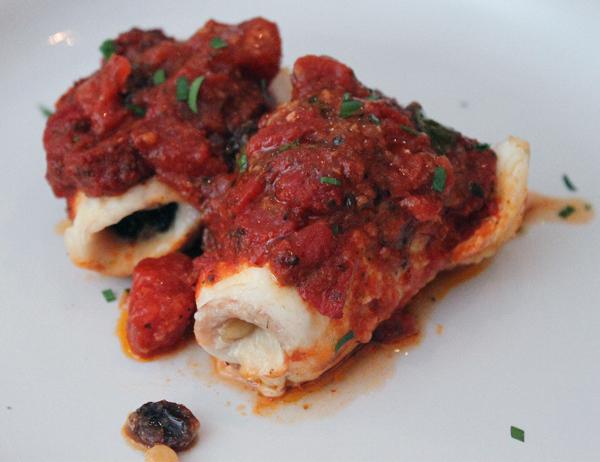 Braciole is a thin rolled beef dish I enjoyed when I was young, without any hesitation. Mom rolled the meat simply with garlic, parsley, grated cheeses and raisins then cooked the rolls in her amazingly delicious marinara sauce. Oh…the thought makes my mouth water and wish I was in her kitchen at this moment. Unfortunately, I am not there, nor so I eat meat hardly at all anymore. So, I emulated the dish with my own spin, with fish.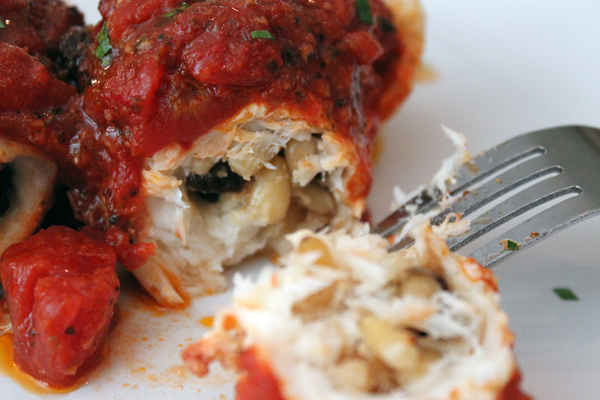 Fish Rolls
1½ Tbsp. olive oil
¼ cup onion, finely chopped
1 clove garlic, minced
¼ cup raisins
¼ cup tablespoons pine nuts, toasted until golden brown
1 tsp. lemon zest
1 Tbsp. Italian parsley, finely chopped
Fine sea salt and freshly ground black pepper
4 tilapia, or white fish, filets
3 -4 cups marinara sauce
Preheat oven to 350 °F. In a large oven-proof skillet over medium heat, add olive oil. Add the onion sauté about 2 minutes. Add garlic and cook until fragrant. Stir in raisins, pine nuts, zest and parsley. Remove from heat, transfer into a bowl and let cool while fish is prepped. (You will use this same skillet for the cooking the fish.)
Prepare the fish filets by lightly pounding them between 2 pieces of waxed paper or cling wrap, lightly enough so that the fish does not tear. Season the fish with salt and pepper, the divide the filling mixture among the filets. Place the rolls on a plate, seam side down, until ready to cook.
In the same oven proof skillet used for the filling, heat 1 Tbsp. olive oil over medium heat. Add the fish, without overcrowding. Allow the fish to cook, untouched, on this side for at least 3 minutes so that it becomes golden. (It will be properly seared when the fish no longer sticks when flipped with a spatula. ) Repeat the searing process on opposite side of the roll for 2-3 minutes. Cover with sauce and transfer pan into the oven. Continue cooking fish in oven for about 15 minutes (depending on the thickness) or until the outside of the fish starts to flake gently when pressed. Serve immediately.