pasto a base di pesce/fish dinner
Back to the Feast of the Seven Fishes…
While stuffed shells are a must-have at Christmas time, so are seven plates of seafood greatness.  Entirely too many fish dishes, so little time, time being part of the reason I am doubling up on recipes.  As I move forward this week, I wish I could tell you there was a method to my madness with how I am presenting the seven plates.  But, that would entail entirely too much forethought, something that is flown out the window with juggling too many tasks. So instead, the fish choices are random, and can fit on your table wherever you feel is best.
As guests trickle in, conversations flow and stomachs begin to growl, I like to offer additional nibbles, besides an antipasti platter and crudite of vegetables.  Adding a crab dip can help belly rumblings until the other courses begin. This crab-pear combo happened quite by accident.  While I love adding fruit to savory dishes, a jam-packed cabinet and an oblivious cook me caused an avalanche as the cabinet door opened.  Like a bad slo-mo in a low-budget movie, the plastic Dekalk Farmer's Market container filled with curry powder spun in a somewhat counter clockwise motion, bounced across the counter, tore open with restless abandon and released a curry haze resembling a culinary atomic cloud. With a whisper, the curry powder then settled in a sweet slumber on top of my lump crab.
Rather than start over, with the price of crab more than I want to think about, and after releasing a few choice expletives, I decided to add ginger to balance flavor and heat levels. All worked out, and the spices with the crab and pear made for a clever twist classic.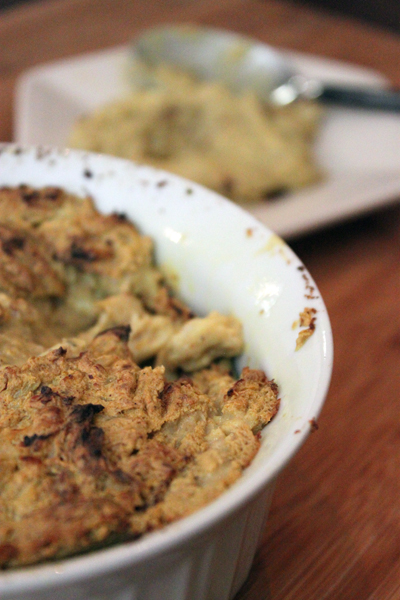 Crab & Pear Dip
3 large, firm pears, peeled and thinly sliced
¾ cup mayonnaise (1 cup less 1 Tablespoon)
4 oz. cream cheese, room temperature
6 ounces of jumbo lump crab meat
2 tsp. curry powder
1 tsp. ground ginger
¼ tsp. fine sea salt
Juice of 1 lemon
Pinch of pepper
Preheat oven to 350°F. In a large bowl, toss the pear and lemon juice; set juice. In a bowl, mix the mayonnaise, cream cheese, curry powder, ginger, salt and pepper. Carefully fold in crab, as not to break the crab meat. Drain pears and add to the crab mixture. Transfer into a small, ovenproof bowl and bake until crab starts to brown on top, about 25 minutes. Serve with crackers.
So, you have the appetizers down. But, does the task of whipping up specific fish dishes freak you out a bit?  If you're not trying to go full-out and make seven actual dishes, adding multiple fish in one recipe helps manage one's time.  Case in point?  Seafood Marinara. Not only is it pretty quick to make, but its ingedients bring it to the front of the line with omega-3 fatty acids, vitamins and minerals.
Enjoy!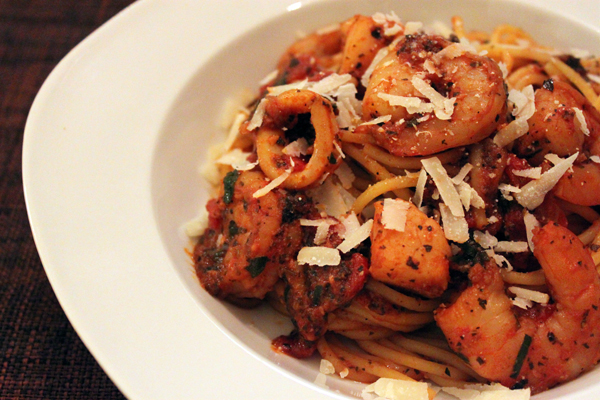 Seafood Marinara
3-4 large garlic cloves, finely chopped
¼ tsp. crushed red pepper flakes
1 Tbsp. fresh basil, finely chopped (5 or 6 large leaves)
1 ½ Tbsp. Italian seasoning
2 tablespoons olive oil
3-4 cups preferred Marinara sauce
1 lb. uncooked shrimp, peeled and deveined
½ lb fresh bay scallops or sea scallops (if necessary, cut to bite-sized pieces)
½ lb squid tubes, cleaned and cut into 1/4″ circles
1lb. spaghetti, cooked,  drained and kept warm
Shaved Parmesan for garnish
In a large, deep skillet, heat olive oil over medium heat. Sauté the garlic until it begins to brown. Add the seafood and seasoning, stirring constantly to mix completely. Add marinara sauces. Bring to a boil. Reduce heat slightly, constantly stirring until the shrimp it cooked through. (Approx. 5 minutes, depending on the size). Add cooked pasta and stir to coat. Serve immediately with Parmesan. Serves 4
Cook's Notes: