festa/feast
Today marks the end of my Feast of the Seven Fishes dishes. Thus far, Baccala Salad , Seafood Marinara, Crab Pear Dip, Stuffed Lobster Tails and Fish Rolls have been my menu choices. As the big day knocks at our door and Christmas Eve is just a few hours away, two more fish dishes have anxiously awaited their reveal.
First, the Balsamic Sea Bass with Tomatoes and Onion has turned out to be my favorite of the seven.  Besides sea bass being one of my favorite fish, the combination of fish, roasted tomatoes and the caramelization of the balsamic vinegar created a carnival of flavors that made me smile. The glaze soaked into the bread and oh my, my, my. Am I allowed to marry a dish?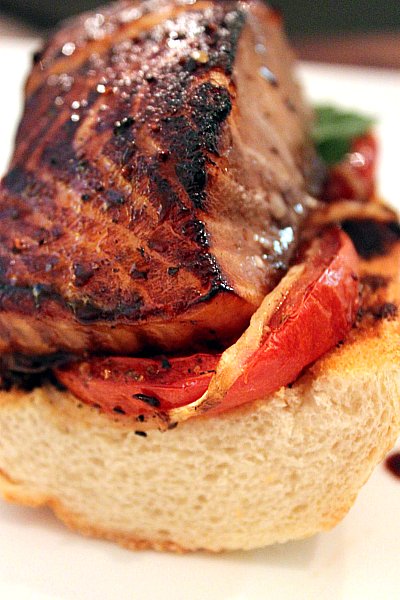 the fish is dark because of the marinade
The Creamy Crab Pasta is a comfort food dish at its core. One of my favorite pastas has always been rigatoni, so an important element of this dish, for me, is the large, round tubes.  The pasta also proves itself as a superb creamy crab catcher, as it clings onto the sauce to ensure its consumption.
With Hanukkah in full swing, Christmas moments away, and Kwanzaa popping its head around the corner, what do you have planned?  Food? Drinks? Festivities?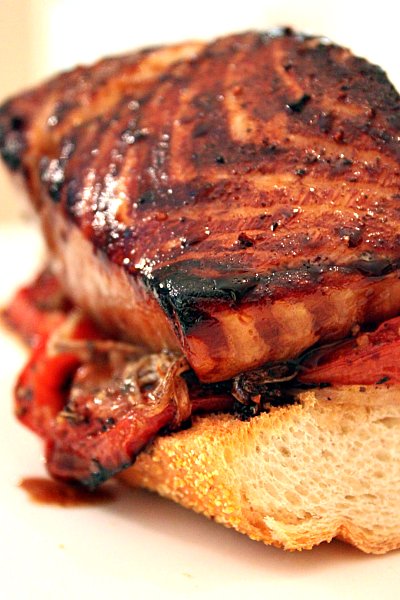 Balsamic Sea Bass with Tomatoes & Onion
2 6 oz. sea bass fillets 2 vine-ripened tomatoes, in ¼ – inch slices
¾ cup good quality balsamic vinegar
1 tsp. olive oil
¼ cup small onion, sliced paper thin
1 Tbsp. freshly basil, chopped
1 garlic cloves, minced
2 thick slices French or Italian bread
salt and pepper to taste
1 Tbsp. brown sugar
In a small heavy-duty reclosable plastic bags marinate the fish and ½ cup balsamic vinegar. Be sure to release as much air as possible from the bag for sealing. Let stand at room temperature while the next steps are prepared, about 15 minutes, turning once.
Preheat oven to 400°F. Heat a small skillet with oil over medium heat. Sauté onions for two minutes, stirring often, to soften. Remove from heat.
Line a baking pan with foil and spray with vegetable or canola oil. Place the tomatoes in two groupings that will act as a "bed" for the fish. Sprinkle with a pinch of salt. Divide onions between the tomatoes.
Remove the sea bass from the marinade and allow the excess to drip off. Place one filet on each bed of tomatoes. Sprinkle with salt and freshly ground pepper. Bake fish until it is just cooked through, about 20 minutes and it is opaque throughout.
While the fish is cooling, prepare the glaze. Stir together balsamic vinegar and brown sugar in a small pan. Bring to a boil, and then reduce to a simmer. Simmer for approx. 15-20 minutes until the glaze thickens, or when it easily coats the back of a spoon.
Remove fish from oven, switch oven to broil and toast bread.
When the bread is golden, transfer to plates. Arrange one tomato-onion-fish mixture over each slice. Drizzle with glaze. Serve with vegetable of choice. Serves 2.

Creamy Crab Pasta
¼ cup unsalted butter
¼ cup all purpose flour
2 cups heavy cream
½ cup grated Parmesan cheese, plus more for garnish
¼ tsp. ground nutmeg
salt and pepper to taste
1 lb. cooked lump crab meat
1 lb. cooked pasta
In a large saucepan or deep skillet, melt the butter over medium heat. Whisk in the flour and cook about 1 minute, until thick and combined, but not discolored. Whisk in cream, and stir until the sauce begins to thicken. Stir in the cheese and seasons to taste. Simmer for a few minutes to blend the flavors, and stir in the crab meat. Cook just until the crab is heated through. Serve over cooked pasta of choice. Top with Parmesan cheese and additional pepper, if preferred.