pasto a base di pesce/fish dinner
As an Italian, I have always been fascinated with The Feast of the Seven Fishes, la vigilia, a feast on Christmas Eve.  It began because of the Roman Catholic Church's declaration that eating meat was only supposed to happen on specific holy days, and there are several theories behind the "seven".  I choose to believe the theory that the seven fish represent the seven sacraments. It brings me back to a happy time, when my family did things together, like church, dinners and holidays. Although I can't remember the last time we participated in an evening designated solely for consuming fish and pasta dishes, the thought of making it happen is so very appealing.
To be honest, I don't think our family ever prepared the full regalia. My grandmothers may have, back in the day, and my family definitely included some fish (usually shrimp or lobster) in our holiday meals, but the southern Italian tradition of The Feast of the Seven Fishes did not come to fruition in my Northern Italy household; we did our own thing. As an adult, it is about high time I get with the program and bring the feast back to light, especially since I am no longer the little girl who shuttered at the thought of anything fish.  Plus, I have been toying with the a Seven Fishes series since I began this blog and need to follow through with my fishy thoughts that would work throughout a Christmas Eve evening.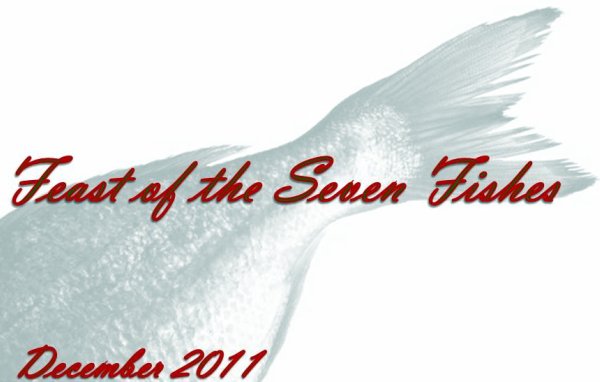 Wanting to move forward with a Mele Cotte Feast, jotting down ideas and chatting with my mother about the dishes in my family, I had a sign that it was the right time when I picked up the December issue of Saveur Magazine, the special Italian America feature. As I read, page by page, I became nostalgic and missed the days when our family celebrated together. One of the recipes the magazine included was a Baccala Salad. One of my mom's favorite, I decided to make the salad the first dish and learn why it is desired by so many.
Now, I know. The saltiness of the fish and capers, combined with the sweetness of the pimentos, and the hint of red pepper heat made my taste buds dance like the Nutcracker's Waltz of the Snowflakes.
What are your Holiday traditions?  Is fish part of your dinner menu?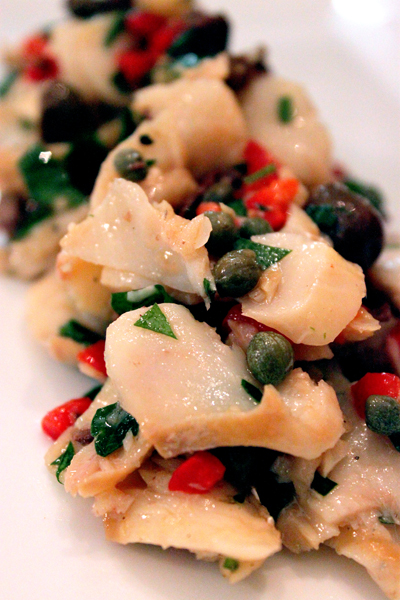 Baccala Salad
¾ lb. salt cod
¼ cups roughly chopped jarred sweet pimiento peppers
½ cup roughly chopped pitted kalamata olives
¼ cup roughly chopped parsley
3 Tbsp. extra-virgin olive oil
3 Tbsp. capers, rinsed
½ tsp. freshly ground black pepper
pinch crushed red chile flakes
1 clove garlic, finely chopped
Juice of 1 lemons
fine sea salt, to taste
Rinse salt off cod fillets and soak in cold water for 12 or more hours, depending upon its thickness, changing the water 2-3 times. Once soaked skin it, remove any bones.
Place cod in a 2-qt. saucepan, and cover by 2″ with cold water; boil for 20 minutes. Drain, return cod to saucepan, and repeat process twice. Drain, and cut into 1″ chunks; transfer to a bowl and toss with peppers, olives, parsley, oil, capers, black pepper, chile flakes, garlic, celery, juice, and salt; chill for 2 hours. Arrange escarole on a serving platter; top with salt cod salad. Serves 2-3