speziato/spicy
One of the last stops of The 2011 Iowa Cornucopia Tour was Ador Kitchen and Baths. A lovely one-stop showroom cabinetry, counter-tops, closets, and professional culinary cook and bakeware. For a bunch of food bloggers, it was a fantastic stop, especially since we were able to cook together with Chef Terrie Kohl. Many of us don't get to cook with one another, so this lunch was a special treat.
The plan? The group split into four groups and each cooked one part of the fall menu.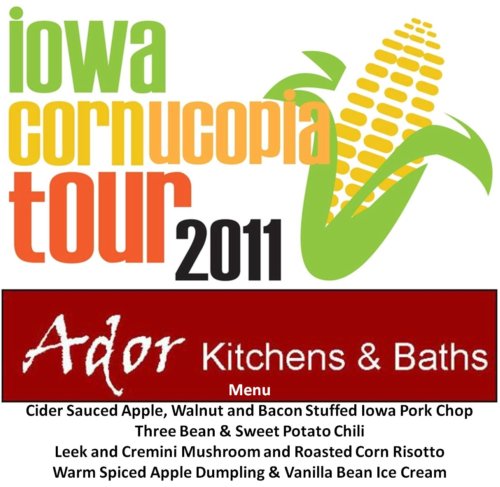 Jyl, Brenda, Heather and I were responsibility for the Three Bean & Sweet Potato Chili. A huge fan of hearty soups and stews, I was all over this one. I enjoyed it so much, in fact, I have made it twice since I have been home, freezing portions for my lunches during the week.
There are several ways this chili can be "made to order". I am sure I will play with it more in the near future. But, for now?  I am pleased.  Thanks Ladies!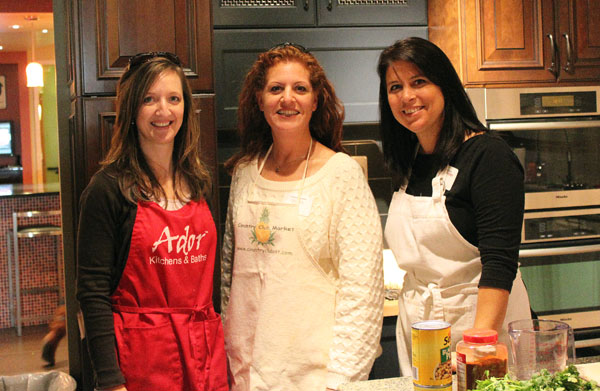 Brenda is on my left , Heather is to my right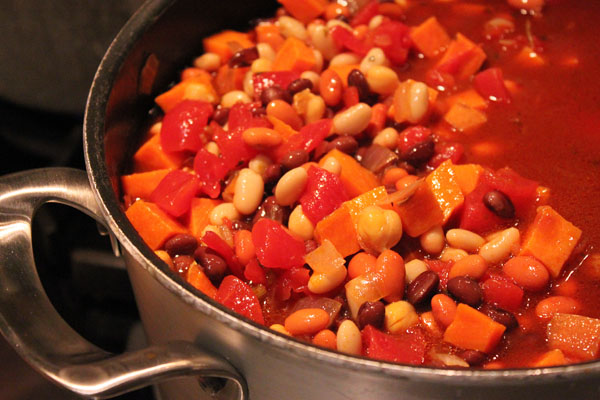 Three Bean & Sweet Potato Chili
A recipe from Chef Terrie Kohl from Country Club Market
3 Tbsp. olive oil
1 medium red onion, chopped (about 1 ½ cups)
1 Tbsp. chili powder
2 cups water
2 Tbsp. vegetable base
1 ½ pounds sweet potatoes, cut into ½-inch cubes
3 – 15oz. cans Mexican style diced tomatoes, not drained
1 – 15oz can cannellini beans, not drained
1 – 15oz. can black beans, not drained
1 – 15oz can garbanzo beans (chick peas), not drained
6 Tbsp. fresh chopped cilantro
1 Tbsp orange zest
Heat oil in large , heavy bottomed pot over medium-high heat. Add onions and "sweat" until tender, about 5 minutes. Add chili powder and stir for one minute.
Add water, vegetable base and sweet potatoes. Bring to a boil, reduce heat to low simmer, cover until the potatoes are almost tender, about 10 minutes. Add tomatoes and beans. simmer uncovered until chili thickens and potatoes are very tender, about 10 more minutes. Stir in zest and cilantro. Serves 8-10.
Cook's notes:
Dried beans can be used, but they must be soaked overnight prior to using. Use the soaking liquid, or add additional water when stirring them in the chili.
If vegetable base is not available, simply substitute the water for vegetable stock (or chicken or beef stock if you don't care about the vegetarian aspect of this chili). If you're not familiar with products like Better than Bouillon, the rich base s are concentrated paste that dissolved in hot liquids. The shelf life is a lot longer than broths and stocks, do not contain MSG, fat or lactose, and has less sodium than other bouillons.
The kind of beans used are up to use, as is the amount of chili powder you add.
With my version here, I forgot to add the cilantro and used stewed tomatoes, not diced.
 Other Three Bean & Sweet Potato Chili Recipes
Vegetarian Chili Recipes
(new parents) Two Peas in the Their Pod