Patata Dolce/Sweet Potato
Excited to have dinner with Tami, Broderick, Chris and Karen last week, Atlanta's rush hour traffic almost thwarted a timely arrival. Despite the delay and my colorful language that spewed from my mouth while sitting in the Parking Lot on GA 400, I did manage to pass the time with delicious thoughts of food. Specifically, I made lists of what I wanted to make, bake and eat in the coming weeks.  Earlier in the day, I had stumbled upon Josie's Sweet Potato Casserole Bars, an adaptation of Scarletta's dessert, so those were on the top of my list.  I also penciled in pumpkin donuts, a recipe I have been playing with in my brain for while.  Then, my mind jumped, combining my thoughts of bars and donuts, to sweet potato casserole donuts.  Brilliant concept, right? I thought so, but I also figured out that I couldn't be the first who had this stoke of genius.  Sure enough, many others had the same great idea. So, I decided to trust someone else and not "play until I got it right". Who better to turn to than Paula Deen?  Her recipe included maple icing, but I substituted it with a simple marshmallow glaze.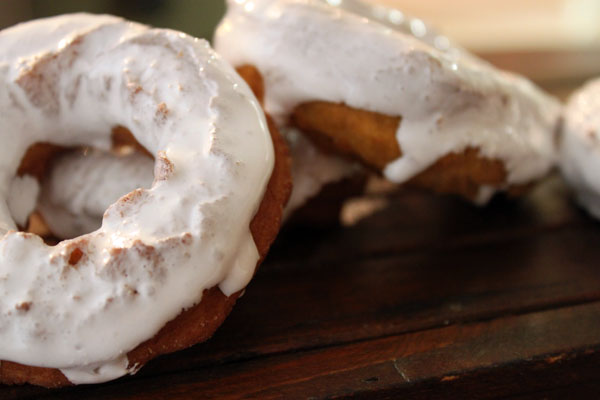 This glaze, by the way, can be used on ice cream, too. That's right! On ice cream.
Have you even ordered an ice cream sundae with marshmallow topping and it arrives with an ooey, gooey river of marshmallowey goodness?  Marshmallow cream and boiling water.  That's it!  How do I know?  I was a waitress for a year or so when I was in high school. Chadwick's Ice Cream and Fine Foods (long-since out of business), where all sundaes had to include at least 6-inches of whipped cream, also had marshmallow cream sauce as an ice cream topping option.  Making the "sauce" was on my pre-shift prep list every time I was scheduled. I made it a little thicker here, for the donuts, than I remembered having to for the job.  But either way, mmm…mmm good!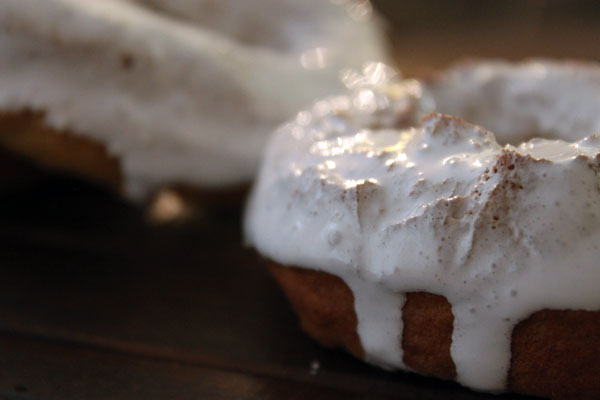 Sweet Potato Doughnuts with Marshmallow Glaze
Cake recipe is a A Paula Deen/Food Network Recipe
3 ½ cups all-purpose flour
1 cup sugar
2 tsp. baking powder
½ tsp. baking soda
½ tsp. ground cinnamon
1/2 teaspoon salt
2 large eggs, lightly beaten
1 cup sour cream
1 cup cooked mashed sweet potato (about 1 medium potato)
Vegetable oil, for frying (I used canola)
Marshmallow Glaze (recipe follows)
In a medium bowl, combine flour, sugar, baking powder, baking soda, cinnamon, and salt. In a large bowl, combine eggs, sour cream, and sweet potato. Gradually add flour mixture, stirring to combine. Turn dough out onto a heavily floured surface. Knead in flour with hands as needed (dough will be sticky). Roll out dough to ½-inch thickness. Cut out dough with a 2 ¼-inch round cutter. Cut out center of doughnuts with a ¾-inch round cutter. Re-roll dough as needed.
In a Dutch oven, heat vegetable oil over medium heat to 360 degrees F. Cook doughnuts, in batches, in hot oil, 2 minutes per side, or until lightly browned. Drain on paper towels. Ice top of doughnuts with marshmallow glaze.
Marshmallow Glaze
1 cup marshmallow Fluff
2 tablespoons boiling water
Mix together until a glaze consistency.