delizioso/delicious
You're about to see a common theme on Mele Cotte this week.  Sweet potatoes.  If your markets are like the ones around here, sweet potatoes are practically being given away!  Low costs and family demands for sweet potato casseroles make for happy households, including mine.  But, sweet potatoes are so much more than a baked side or marshmallow topped casserole. I mean, didn't the Sweet Potato Doughnuts with Marshmallow Glaze sound tummy bells? Well, how about sweet potato pecan pie or sweet potato casserole bars.  Sweet potato cupcakes?  Or, all three?  All in good time….or at least throughout the week, as all were made this weekend.
First up? The cupcakes. When I saw these these cupcakes, posted by Better Homes and Garden, I ooh'd and ahh'd.  Then, I read about the chocolate surprise, a chocolate Kiss, in the center.  Fun! Too bad my baking adventures began without remembering the Kisses.  Not to worry, they work without the candy center.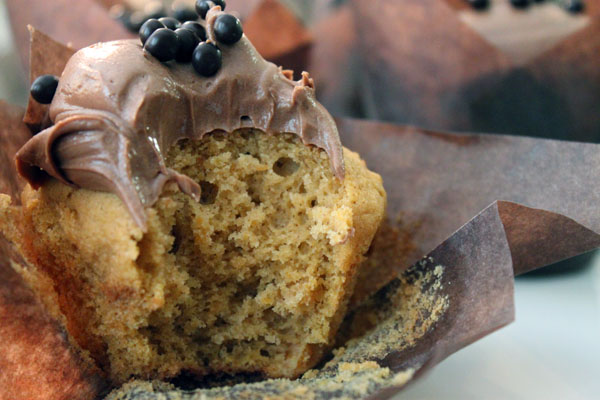 My thoughts when all was said and done?  These cupcakes were really moist with a pleasing texture. I knew this was a recipe keeper when I saw the nooks and crannies in the cooked cakes; a sure sign of a light cake. Looking at them, I needed to take a bite, despite not bring able to eat chocolate. So, to be honest, I am actually happy I didn't include the chocolate center.  With the omission, then left undressed without the frosting, I was able to indulge. I was a happy girl…almost as happy as my neighbors, who are the recipients of my baking binges.
Other than in a pie or casserole, how do you like your sweet potato?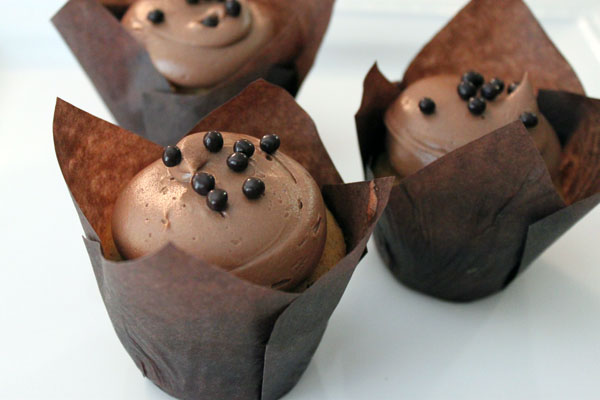 Chocolate-Filled Sweet Potato Cupcakes
a  Better Homes & Garden Recipe
2 cups all-purpose flour
2 tsp. pumpkin pie spice
1 ½ tsp.baking powder
½ tsp.baking soda
¼ tsp.salt
1 cup unsalted butter, softened
1 ¼ cups granulated sugar
3 eggs
1 lb. sweet potatoes, roasted*, peeled, and mashed
¼ cup milk
1 tsp.vanilla
24 milk chocolate or dark chocolate kisses, unwrapped
Frosting(adapted)
12 oz. milk chocolate, chopped
1 ½ cup unsalted butter, softened
1 cup powdered sugar
Preheat oven to 350 °F. Line twenty-four 2 ½-inch muffin cups with folded 5×4-inch rectangles of parchment paper or paper bake cups; set aside.
In a medium bowl, combine the flour, pumpkin pie spice, baking powder, baking soda, and salt; set aside. In a large mixing bowl, beat the butter with electric mixer on medium speed for 30 seconds. Add granulated sugar; beat until light and fluffy, about 2 minutes. With mixer on low, beat in eggs one at a time, stopping to scrape down sides of bowl between additions. Add the sweet potato, milk, and vanilla; beat on low speed until combined. Add the flour mixture to the sugar-egg mixture; beat on low just until combined.
Fill each muffin cup about two-thirds full with batter. Bake for 5 minutes. Carefully remove pan from oven. Gently press kisses, tips up, about halfway into each cup. Bake for 14 minutes more, until tops of cupcakes spring back when touched and chocolate is not visible. Cool cupcakes in pan for 10 minutes. Remove from pan and cool completely on a wire rack.
For frosting, in a medium saucepan over low heat, bring 1 inch of water to simmering. Place chocolate in a medium mixing bowl. Place the bowl over the saucepan of water. Stir chocolate with a rubber spatula until melted. Remove from heat; cool chocolate for 15 minutes. With electric mixer on low speed, beat chocolate for 30 seconds. Beat in butter, 1 to 2 tablespoons at a time. Beat in powdered sugar until smooth. Spread frosting on cupcake tops. Yield: 24 cupcakes
From the BHG Test Kitchen:
To roast sweet potatoes, preheat oven to 425 degrees F. Prick unpeeled potatoes all over with a fork. Roast potatoes in a shallow baking pan for 50 minutes or until tender. Cool.
Make Ahead Tip Sweet potatoes can be roasted, peeled, mashed, then covered and refrigerated up to 3 days.
Make Ahead Tip Frosting can be made, then covered and refrigerated in the mixing bowl up to 3 days. To reheat, place the bowl of frosting in a large bowl filled with a small amount of hot water. Let frosting stand 8 to 10 minutes, until softened to room temperature.
*Posted with permission
Cook's Notes:
I did not include the Kisses.
I topped the cupcakes with Valrhona Crunchy Chocolate Pearls
Because of the wrappers I used, I filled the liners with a little more batter than I normally would, yielded 18 cupcakes, and baked the cakes for 20 minutes.
Other Sweet Potato Treats
 From around the way