ripieno/stuffed
We are knee deep in football season y'all. Down here, in the south, college football isn't just a sport; it's a religion. To be honest, I don't have a clue why.  I didn't grow up here. Sports were big at home, but not cult-ish, like in this area. Personally, and with no surprise, I have never been into sports. Sure, I tried to be athletic in high school but I was a two-left-feet klutz trying to run down the field just trying not to pass out. In college, the closest I came to sports was through the guys I "hung" out with and my West Campus dorm room.
Maybe the draw of the game, for others, is the local kid who gets to live out his dream, the players who are still "one of us", not yet tainted by the dark side of celebrity, money, fame and contracts, or the simplicity behind following the progress of the players through their high school into college years.   Whatever the reason for college football's popularity, the rivalries, the traditions, mascots, or the pageantry of it all, one thing is for sure.  Come Saturdays, jerseys are pressed and ready to be worn, window flags are hooked onto car doors, and beer sales new highs.
Even though I am not a sports gal, there are two aspects of college football I kind of dig.  (1) I become a football widow on Saturdays which gives me the day to play. (2) Game day food.  Whether tail-gating in a concrete lot somewhere or in the living room on a La-Z-Boy, football eats are kind of irresistible. So, in the spirit of the game and this weekend's rivalry, like the one in  UGA vs. Auburn, I am posting some delicious food any armchair quarterback will enjoy.  These amped up nibbles are a must.  Long gone are the days of wimpy cheddar cheese, bacon and sour cream on a wimpy 'tater skin. These skins bring an old classic to a wonderfully decadent and creamy level.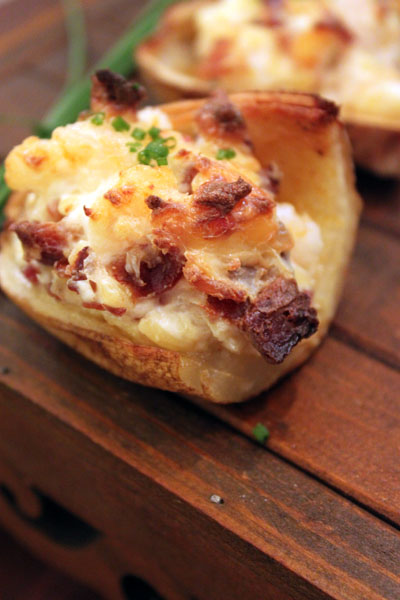 Shrimp and Bacon Stuffed Baby Potatoes
14 tiny new potatoes (about 1 ¼ lbs.)
2 Tbsp. Dijon-style mustard
1 Tbsp. olive oil
1 tsp. Old Bay® seasoning
17 – 8 oz.  package frozen peeled cooked shrimp, thawed, drained, and chopped
½ 8 oz. package cream cheese, softened
1 cup shredded Gouda cheese (4 oz.)
5 slices bacon, crisp-cooked, drained, and crumbled
1 tsp. Old Bay® seasoning
¼ cup snipped fresh chives (optional)
Preheat oven to 425°F. Cut potatoes in half lengthwise. Using a small melon baller or a small spoon, scoop out potato pulp, leaving ¼-inch shells. If needed, cut a thin slice from the bottom of each potato half so it stands up (be sure not to break a bottom). Place potatoes, cut sides up, in a 15x10x1-inch baking pan.
In a small bowl, combine mustard, oil, and 1 tsp. Old Bay®. Brush insides of potato shells with mixture. Bake about 30 minutes or until potatoes are tender.
Meanwhile, prepare the filling. In a small bowl, combine shrimp, cream cheeses, bacon, and 1 tsp. Old Bay®. Spoon into potato shells.
Bake for 12 to 15 minutes more, or until filling is heated through and cheese is heated through and melted. Serve warm or at room temperature. If desired, garnish with chives.
Cook's Notes:
I did not have new potatoes.  But, I halved and hollowed three (3) baking potatoes, baked as directed, then halved again.  I ended up with 12 appetizers, 2-biters.
I did not have Old Bay® seasoning (seafood seasoning), but I do keep a stash of homemade Emeril's Essence I used instead.
Other 'Skins In the Tailgating Section