croccante/crisp
My (somewhat) new and recently public admiration for the pint-sized, freckled faces of Forelle pears has grown with each bite I crunch. The taste pleases my palate, so I am excited that their season is pretty long, until March. Taking advantage of the last few pears that remained on my counter, I decided to streusel them up a bit.  Remember the streusel topping I added to my butternut squash casserole? Yeah…that streusel   Good stuff.
While they are for me, Forelles are not new.  They've been around since the 1600s.  Even so, USA Pears say that Forelle's are the "best kept secrets of pear lovers". Is this true?  Are you aware of these lil' healthy, fiber, potassium and vitamin-rich gems? Or, do you grab the Barlett's or the Bosc? Whichever you choose, your body will thank you for choosing a pear over some chips or  cookie.  Just remember a little tidbit. If the pears you plan to use are not yet ripe, place them in a paper bag and let stand at room temperature for 2 to 3 days.  If the pears are plenty ripe, be sure to pop them in a plastic bag in the refrigerator for up to 3 days.
For this crisp, I finally used the Lodge miniature cast iron skillets I grabbed on my way to Nashville. Mini skillets…cute, right?  Perfect for a single gal like me.  Actually, I was like a kid in candy shop at Lodge and I grabbed several cuties. I am "noodling" on uses as we speak and will let you know as soon as possible; you can count on that! How do you utilize your cast iron skillets? Do you find you make mostly savory dishes, or mix it up a bit in your cast iron?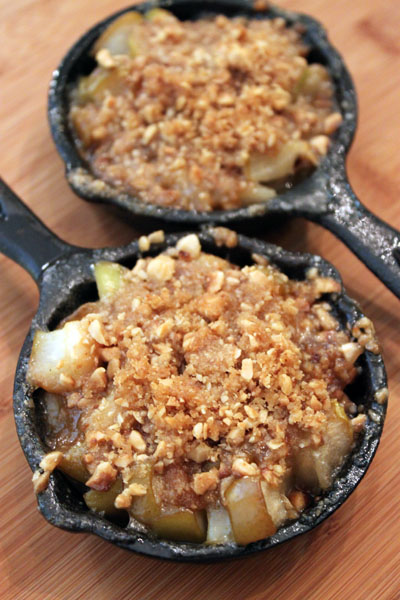 Forelle Pear Crisp for 2
Streusel Topping:
¼ cup hazelnuts, toasted, skin removed, coarsely chopped
2 Tbsp.  cup brown sugar
1 Tbsp. flour, all-purpose
1 Tbsp. unsalted butter, melted
 Pear Filling
3  Forelle pears, unpeeled & sliced or diced
1 Tbsp. raw sugar or granuated sugar
1 Tbsp. plus 1 tsp. water
½ tsp. cornstarch
Juice of ½ a lemon
Pre-Heat oven to 400°F
Prepare the topping:
In a small bowl, with a pastry blender, fork or two butter knives, blend together the chopped hazelnuts, brown sugar, flour and melted butter. Sprinkle evenly over pear mixture. Set aside.
Prepare the filling:
In a large saucepan, bring pears, sugar, 1 Tbsp. water, and lemon juice to a boil. Stir to dissolve sugar. Reduce heat to low and, simmer until fruit is almost tender, about 3-4 minutes depending on the cut.
In the meantime, stir cornstarch with 1 tsp. of water. Stir into to pear mixture, cook until thickened and bubbly. Spoon pear mixture into a 2 small buttered miniature cast iron skillets or buttered ramekins. Top with streusel topping. Bake for 12-14 minutes or until the topping in browned and the filling is bubbling. (Serve with ice cream or fresh whipped cream for added "ooohs" and "ahhhs".)
Cook's Notes: (1) This crisp will work with most pears and apples as well. (2) Including raisins will add depth to the overall dessert. (3) Choose whatever nut you like for the streusel.

I think this is a dish worthy of Weekend Herb Blogging. Haalo has asked Christina from La Cucina di Cristina to host this week, so I will be sending this off to her.  What about you?  Want to participate?  C'mon!  Join us. Check out the rules for WHB for additional details.