spezie/spices
 It was only a few months ago that I first tried Pho. I was having dinner with Tami, at a little Vietnamese restaurant by her house. I have heard about Pho, seen the restaurants pop up over the years, but never indulged. Whoa, why didn't someone intervene!?  No one truly explained what I was missing. It was love at first taste; the star anise and cloves roped me in full force. Since then, I have been a regular consumer in all aspects of the word.
Everytime I sit down to enjoy Pho, I wonder why I haven't made it for myself? I remember Tami's post, as well as (fellow Georgian) Lynne's post when she prepared Pho for the Daring Cook's Challenge. Both of their soups were stunning (and bookmarked) so I put my foot down this weekend.  Instead of doing a Soba drive-by, I stirred up a batch of Lynne's Pho. Now, I also have my lunch for a couple of days (if it lasts that long). Woot!
With the many herbs and spices in this one soup, it is a perfect dish for Weekend Herb Blogging.  This week's host is the ever-so-stunning Cinzia from Cindystar, who is pulling double duty by compiling both the  English and Italian WHB editions. Be sure to check them out tomorrow!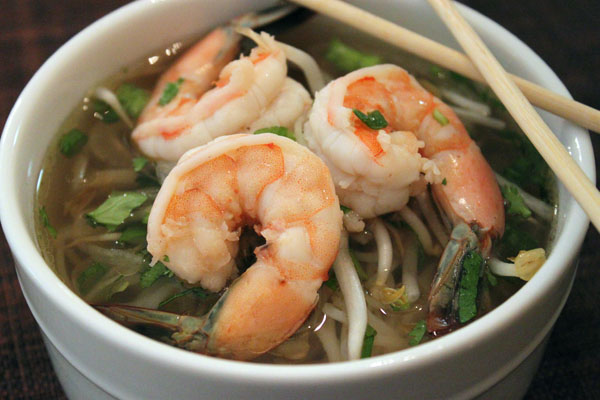 Shrimp Pho
Adapted slightly from Café Lynnylu 
For the Pho Broth:
2 Tbsp. whole coriander seeds
4 whole cloves
2 whole star anise
2 quarts (2 liters/8 cups/64 fluid ounces) mushroom broth*
½ onion
1 3-inch (7.5 cm) chunk of ginger, sliced and smashed with side of knife
1 to 2 Tbsps. sugar
1 to 2 Tbsps. fish sauce
1 lb. (500 grams/16 ounces) dried rice noodles (about ¼ inch/6 mm wide)
Accompaniments:
1 lb. shrimp, cooked, peeled and deveined
2 cups (200 grams/7 ounces) bean sprouts, washed and tails pinched off
Fresh cilantro (coriander) tops (leaves and tender stems)
½ cup (50 grams/approx. 2 ounces) diced green onions
½ lime, cut into 4 wedges
Sriracha chili sauce
Hoisin sauce
Sliced fresh chili peppers of your choice
For the Broth: Heat a frying pan over medium heat. Add the coriander seeds, cloves and star anise and toast until fragrant, about 3-4 minutes, stirring frequently.  Spoon the spices into a large pot, add all the remaining broth ingredients and bring to a boil. Reduce the heat to medium-low and let simmer for 20 minutes, skimming the surface frequently. Taste and adjust seasonings if preferred. Strain the broth and discard solids.
In the meantime, prepare the noodles as per directions on the package. Divide the broth between bowls, then the cooked noodles. Serve with shrimp and other accompaniments.  Serves 4
Cook's Notes:
Other Pho-nomenal Finds:
Steamy Kitchen: Vietnamese Pho – Beef Noodle Soup
Viet World Kitchen: Chicken Pho Noodle Soup
LeLuu: Beef Pho
PhamFatale: Pho Ga (Chicken Noodle Soup)
Niche: Cheat's Pho