prugna secca/prunes
Festivals and fairs are go-to outings for me.  Whether or not I peruse the area for five minutes, or five hours, I enjoy the purity and humbleness that accompanies the artisans and craftsman/women who man the booth's and tents.  So, it is always a joy when I can share the experience with someone else.
It was great that I was able to accompany my mom to the 76 Street Fair at Columbus on the Sunday morning before I had to leave NYC.  It is not the first time she and I checked out the school yard (its location), but each trip is always special.
It seems as though the Fair gets larger, and more interesting with each opening.
I almost forgot I was in the middle of Manhattan!
This particular weekend was part of a bi-yearly event, according to a vendor on the Park side, which spanned several blocks. Lucky me for being in the city at that moment. For once, my timing worked!
There were so many goodies I wanted to grab, but the goal was carry-on only.  Hindsight? I should've scooped up the goods and shipped home.  Oh well….next time.
Wait…I did scoop a little.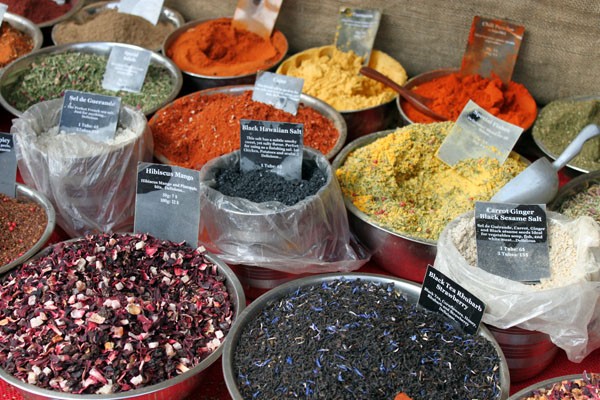 My scoop is also my new favorite find? Spices & Tease.  As mom and I were about to exit the school yard, I saw bowls of goodness.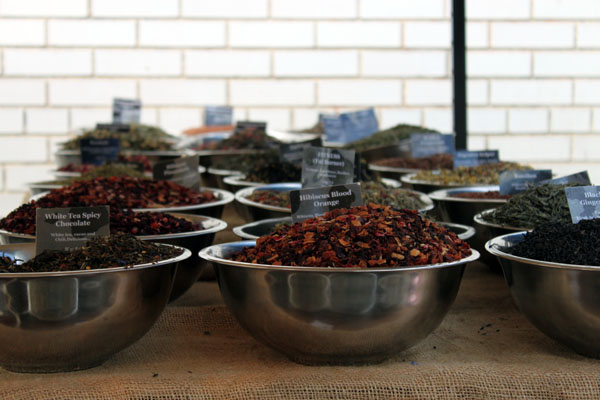 So many spices and blends were calling to me. It was a bit deafening, actually. What to do? Which to choose? Feeling pressured to make the right decision, quick-like, I feared becoming "that person" who holds up a line. I chose the Hibiscus, Mango Papaya  and Strawberry Rhubarb tea blends.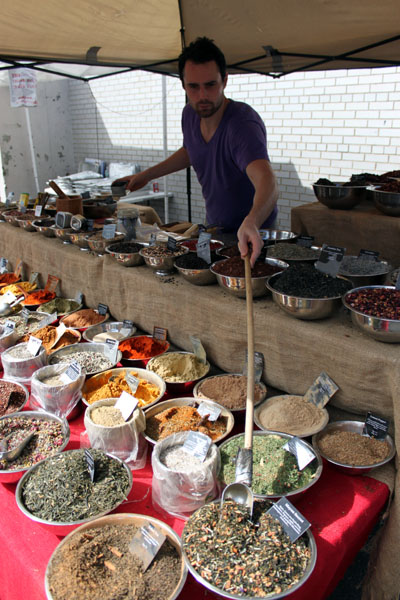 "What will you do with them, Christina?"
"I don't know yet, but I will think of something.  If anything, I am gonna drink some tea!"
Well, since I have been home, the tea blends have worked their way into three recipes, a main dish, a snack, and this…a breakfast that can rendezvous as a dessert. The combination of fruity sweetness with the rich, floral tanginess pairs with the prunes seamlessly.
While this loose tea may not be available to all (I can't wait until they can ship!), similar teabags can easily substitute.  Play with the flavors. Even though I am in love with it, hibiscus is not for everyone.  Hibiscus, or not, prunes, or a fruit of your choice, stewing fruit in tea is a great twist on an old favorite. The tea adds depth of flavor while opening opportunity to lessen the sugar that is added.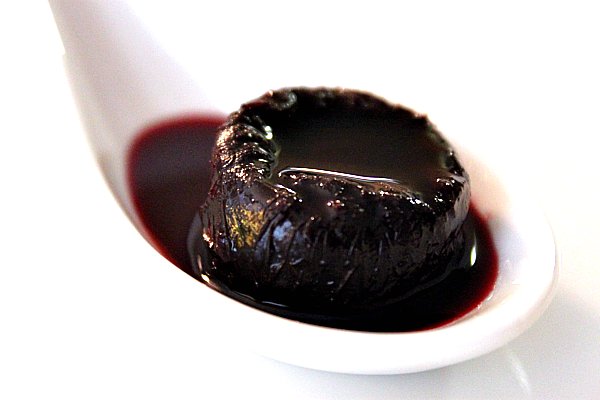 Tea-Stewed Prunes
2 cups water
1 tsp. finely ground turbinado sugar, (granulated sugar works, too)
3 (Scant) Tbsp. loose tea (like Hibiscus, Mango Papaya)
Zest of 1 small lemon
2 tsp. fresh lemon juice
2 cups pitted prunes
Bring the water to a boil.  Remove from heat, add tea and let steep for 5 (the longer it is left to steep, the stronger the taste). Strain. Return to the stove; bring back to a low boil.  Add prunes, sugar, lemon zest and lemon juice. Stir to dissolve sugar.  Reduce heat to simmer and let stand for 15-20 minutes. Remove from heat and let stand for 10 minutes. Serve warm. 4-6 servings (an average serving size of plain, pitted prunes is 5).
Cook Notes:
– If you don't want to stain with loose tea, place the tea in a cloth spice bag or a cheesecloth sachet.
– I also eat cold, with Greek yogurt, for breakfast, or with Granola.
– Sweetness can be adjusted according to preference.
In addition to being an AM lifesaver in my quest to be October Unprocessed. Since I am the host for this week's this edition of Weekend Herb Blogging, #304, I think this is a perfect addition to the round up.
Other Stewed Prune Fans –