spezie/spices
If you're following Andrew's challenge, you're learning a ton.  I know I am!  The posts have undeniably helped me with October Unprocessed.   While I could list the important points that I have internalized, the key (for me) has been planning. My recent Nashville trip was super difficult to go unprocessed, so I am counting it as my "interrupter" weekend.  I did the best I could, regrouped quickly when I arrived home, and planned my week's noshes.
I am a picker, a snacker, a nosher.  I am more apt to pop something in my mouth several times throughout the day than I sitting down to a meal.  So, grab and go's are an essential part of any regimen if I am going to be successful.  Easiest?  Nuts. I can gobble up from dry roasted nuts faster than a bird flying to its prey.  But, there needs to be a limit, so portioned out snack bags help me contain my fervor. Most times, with almonds or walnuts, I allot for 1 oz. portions, but that may vary for other's nutritional needs.
Dry roasting nuts is much easier than it may sound.
Dry Roasted Nuts
To Roast Nuts in the Oven:  Preheat oven to 350° F.  Spread the nuts in on even layer on a baking pan. Transfer to the prepared oven and cook 5-10 minutes, stirring occasionally, until the nuts are fragrant and lightly browned.  Do not to overcook, as the nuts will continue to cook after being removed from the oven. Cool on paper towel. Sprinkle with salt/seasoning and toss.
Additional flavor?  Toss the nuts in canola oil prior to placing on the baking sheet and proceed.  (1 tsp. oil to 1 cup of nuts)
To Roast Nuts on the Stove Top: Heat a heavy skillet over low heat.  Add a single layer of nuts.  cook slowly, stirring or "shaking" the pan – like you would with the old school Jiffy Pop. Cook about 10-15 minutes, or until fragrant and lightly browned.
Nuts proved to be a life saver on my recent road trips. For many of us, road trips can be detrimental on eating, and all eating/nutrition rhyme or reason flies out the window. From drive thru windows to Gas-Mart stops to a small town grease pit, "unproccessed" seems like it is a cuss word. These spice toasted pecans were my fast food avoiding snacky snack.
Even though I usually dry roast using the procedures above, a non-blogging friend mentioned tossing nuts in egg white and sugar before cooking.  hmmm….interesting!  You know I had to try.  The result was a batch of addictive, now-you-see-them now-you-don't nuts. Since my first attempt, I have made these nuts several times and look forward to switching the flavors up a bit when I grab hold of some more loose teas.
Do you like spicy nuts?  How to you roast them and with what flavors?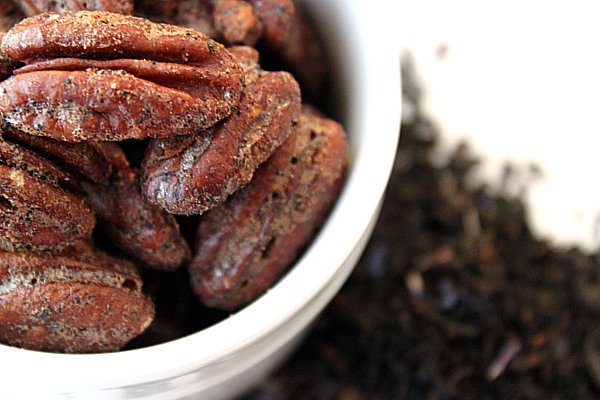 Tea Spiced Pecans
1 lb pecans
¼ cup raw sugar (regular, granular sugar would work)
2 Tbsp. Strawberry Rhubarb (loose) tea (or preferred flavor/blend)
½ tsp fine sea salt
1 egg white
1 Tbsp water
Preheat oven to 325°F.  Line baking sheet with parchment paper.  Place the pecans in a large bowl; set aside.
In a spice grinder, finely grind the sugar, tea and salt. Transfer the powder to an airtight container and set aside. (You will have more than you need for this recipe.)
In a small bowl, whisk egg white and water until combined and foamy. Add the dry ingredients and whisk until incorporated. Let stand for 10 minutes.
After the wait time, the sugar should have (mostly) dissolved. Stir again, and then pour over nuts. Toss to coat, stirring several times to glaze pecans. Transfer to baking sheet, in an even layer, and bake for about 35-45 minutes, or until crisp.  (To test, remove a few nuts from oven and let cool 3-4 minutes before tasting.) Store in airtight container. Yield: about 8 servings
Cook's  Notes:
This will work with any flavor tea or spice
Pecans can be substituted with other nuts of choice.
Cooking time may vary according to climate and crunch preference.