frumento/corn
This time last week I was in the midwest, in a state I had never traveled, learning about corn, industry, and tradition.  I was one of the bloggers who participated in The 2011 Iowa Cornucopia Tour, a two day whirlwind trip hosted by the Iowa Corn Growers Association and the Iowa Corn Promotion Board.
My first blogger trip, I didn't know what to expect. And, I learned a long time ago, expectations are overrated.  Simply appreciative to be invited, my mind was open to whatever experiences that awaited me. It turned out to be a fantastically educational trip with which I don't think the one or two posts I plan will be able to detail the full impact of my time in Iowa.  But, I will do my best.
Before I begin, however, I want to express one thought. It may come off more as a rant than a thought, but please know that whatever you call it, my words are my own, personal, and not the thoughts of any persons I met while in Iowa. Maybe I am naïve, too wrapped up in my own world trying to rebuild, or maybe I just don't have patience for arrogance.  But, I was bothered by the deluge of negative tweets that flooded twitter after a visit to Iowa State, when a Dr. MacDonald professor answered our questions…scientifically. I think it was the #IACornTour tweet that came from the tour was about processed foods being okay in moderation, with healthy choices that sparked the frenzy, followed by the high fructose corn syrup debate. Follow up tweets from the Twitterverse were rude beyond debate or banter.  Let me make this clear.  By no way, shape, or form was the information provided to us in a dominant, in-your-face manner.  Throughout the trip, we were being given lessons in industry, about the faces behind the industry, and sustainability. A lot of this was new information, at least for me.  As an educated, lifelong learner, (I feel) it is my responsibility to listen to the information offered, then digest what I can according to my thoughts and beliefs.  Regardless of how I feel about this, that or the other, good, bad, or indifferent, the minute I refuse to listen to other points of views is the minute I lose. Apparently, others feel differently, and it is unfortunate. But, that's enough about that.  On to the good stuff.
Arriving late in the evening Tuesday night, it wasn't until early Wednesday morning that I met my wonderful travel mates (listed below).  After coffee and initial introductions, our journey began.   We headed to breakfast at the Machine Shed, a family style restaurant that serves hearty food, including a cinnamon roll that is the size of a dinner plate….literally!
We placed the creamer there as a point of reference the gigantic size of this cinnamon roll.
While at the Machine Shed, Vatchel White offered his thoughts on farming, and how his family farm fits into the overall picture.  And, as if running Eden Ridge Farms and being a new dad aren't enough to have on his schedule, the triathlete is a full time employee Pioneer. Oh the free time he has….ha! Knowing his hours are spread thin, it was wonderful that we were able to spend a few hours with him.
After breakfast, we headed for Living History Farms, a "living in the moment", interactive museum that presents real life recreations that detail "the changes that have occurred in farming methods, concepts and technology."  Although the facilities were closed to the public at the time of our visit, the group was able to tour the historical reservation and learn about how things used during the days of old.  The Farm was a perfect preface to our next journey, almost futuristic in comparison.  Touring the ethanol plant at Lincolnway Energy, after leaving Living History Farms made me feel very Judy Jetson-like.  Our gracious hosts, Kevin Ross, President of the Iowa Corn Growers Association,  Bill Couser, board chairman for Lincolnway Energy and owner of the Couser Cattle Company which earned the 2010 Environmental Stewardship Award from the Iowa Cattlemen's Association, and Deb Keller, Chair of the Iowa Corn Growers Association (and a farmer herself) walked us through a "day in the life" after we touring the plant where we learned about the processing of corn, fermentation and distillation, how much syrup, DDG, and ethanol are produced.
From the plant, Mr. Couser introduced me us to the world of Combines when he took us to his farm.  Would you check out this city girl!?!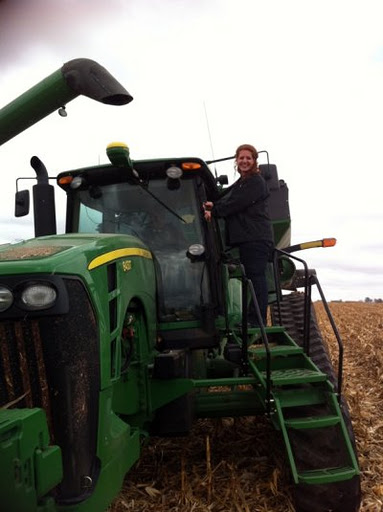 Admittedly, I wish we could see more of the farms many functions, but we had to move onto Iowa State.
It was at Iowa State that the group had the pleasure of speaking with Dr. Ruth MacDonald about Food Science.  I had no idea there were programs that led to degrees in Food Science.  It would be a big fat lie if I said Iwasn't bummed that I just figured that out. Applying for another go-around of schooling actually crossed my mind (and stayed lingering in my brain).  How cool would that be?  Going to school and learning all about the ins and outs of food…scientifically?  Maybe after I make a small dent in the doctorate loans I have been paying….
While at Iowa State, we extracted DNA from a strawberry.  Yup! DNA in a strawberry,  Who knew? So often we I connect deoxyribonucleic acid to humans.  But, as all living things come with DNA, and strawberries are living, the DNA lays out a blueprint for its berry goodness. Cool, right?  I thought so too, which is why I brought the experiment back to my bill-paying job.  The 7th grade science classes study DNA, so now, they'll be extracting it from berries (pending no one is allergic), too!
Following our trip back to college, the bus headed for downtown Des Moines.  The destination?  The Meredith offices; the very company that publishes magazines like Successful Farming, and Better Homes and Gardens. The opportunity that was before us had the group in a blissful daze.  Touring the BHG test kitchens….really?  I was able to cross off an item on my bucket list.  Now, if I could just be employed to work in a test kitchen, more items on the list could be crossed off. heee! Pictures from the inside will be in the next Iowa post.
At the end of the day dinner at Jasper Winery with amazing farmers who took time out of their harvest to converse with our group closed out a spectacular day.
The trip presented opportunities for farmers and industry professionals to speak with laypersons (like me) and share knowledge about agriculture in general, as well as specific to their farms and individual businesses. I had no idea the amount of work, commitment, organization and technology it takes to run and maintain a productive farm;  the intricacies within are countless.  The farmers we met demonstrated their dedication, not only to their craft, but to environmental stewardship. I now have a better understanding about the critical role farming (whatever the crop) has in local and global economies, at a level I unaware.
So, while the objective of the trip was to bring us together to learn about "how one food product makes its journey from field to fork", it was much more…in depth.  Iowa's agricultural history has had a tremendous impact, in technology and with companies finding ways to be self-sustaining with careful planning and wise use of their resources and people.
There is a strategy many teachers use as they begin a new concept/skill called a KWL.  What do you know, what do you want to know, and what did you learn.  Well, I didn't know much of anything going in.  Hell, I didn't even realize there was a difference field and sweet corn!  I wanted to know what role corn played in my life.  I don't eat much, so I assumed corn didn't play a big role in my daily routines.  I learned that I didn't have a clue. The impact and connections between what happens on those fields and how everything is effected, from rural to urban areas, parks and natural areas, people and wildlife are intriguing. I didn't realize corn was present in so many things, depending on if its dry milled or wet milled: snack foods, cereals, doughnuts, marshmallows, batteries, chalk, paints, shampoo, soaps & cleaners, carpet tile, antibiotics, and the list goes on…kind of cool, actually.
Thank you, Iowa Corn, for organizing this trip.  I appreciate everything and feel very lucky, not only to have had to opporunity to learn about a part of US agriculture and its impact across the globe, but to meet the farmers who work 365 days to keep their farms afloat.
Disclaimer:  All my expenses were paid on this trip.  However,  I was not compensated, nor did not I guarantee a blog post of review in exchange for my trip. All comments and points of view are my own and not of the others who hosted or participated in this trip.
Blogger Travel Mates
Kelly of Once A Month Mom
Heather of Farmgirl Gourmet
Emily of Busy Mommy
Leslie of The Hungry Housewife
Kristy of the wicked noodle
Brenda of A Farmgirl's Dabbles
Jyl of The Post-It Place
Kristin of Iowa Girl Eats
This ice cream came about, oddly enough, as a result of a conversation I had with Mike McCarey when he visited ISAC the weekend before I flew to Iowa.  Intriqued by the idea of popcorn ice cream, then traveling to the land of corn? I knew I had to try it.  Using the same base I did with my donut ice cream, I whipped up this tasty treat, a kind of cold Butter Popcorn Jelly Bellies dessert!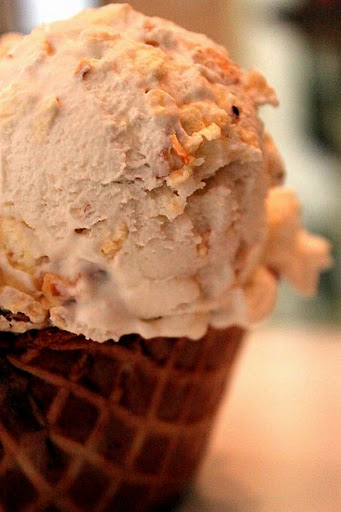 Popcorn Ice Cream
1 ½ cups whole milk
1 ¼ cups granulated sugar
3 cups heavy cream
½ tsp vanilla extract
6 cups kettle corn or butter popcorn
In a medium sauce pan, combine milk, sugar. Bring to a simmer. Do Not Boil! Add 4 cups popcorn and stir until it becomes saturated. Remove from heat, cover with foil, and let stand for about an hour.
After an hour, strain milk over a medium bowl to remove any soggy, popcorn remnants. Stir in the heavy cream and vanilla. Turn the machine on; pour the mixture into freezer bowl, and let mix until thickened, about 20 to 25 minutes for a soft, creamy texture. Add the remaining popcorn and continue to "cook"/freeze for another 10-15 minutes.
Transfer the ice cream to an airtight container and place in freezer for about 2 hours. Remove from freezer about 15 minutes before serving.
No machine? Add the donuts to the mixture, in the airtight container, and freeze.
Cook's Note: This steeping method can work with many flavors. Don't be afraid to play around and find what works best for you.