alimento sano/healthy food
I am completely intrigued and enamored by gluten-free flours and foods. As I read more and increase culinary experimentation, some preferences have formed in my brain. I am definitely a huge fan of nut and rice flours. But, we all know quinoa has been a long time favorite of mine.
Even with quinoa being a staple in my home, it wasn't until now that I worked with quinoa flakes.  When I saw them in the same vicinity as the gluten free flours, and noticed how similar the flakes were to oatmeal, grabbing a container was a no brainer. So, the same weekend I made a colleague Paleo Bread, I tried my hand at baking with quinoa flakes.
This bar "cookie" I made was tasty, but (again) I like quinoa and have "trained" my palate to give new flavors a try.  Some non-adventurous eaters may take a moment. But,  its subtle sweetness will satisfy hunger in a healthy, fulfilling way.
Have you used quinoa flakes?  How so?  Do tell.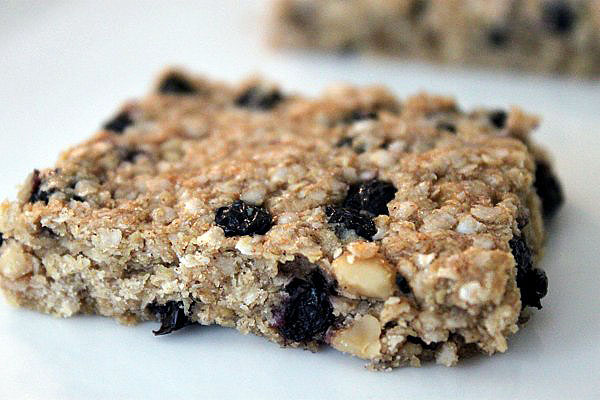 Quinoa Fruit and Nut Bar
from The Quinoa Cookbook
1 cup mixed dried fruit (I used dried blueberries)
Juice from one large orange (I used 3 Tbsp. OJ)
1 tsp. vanilla extract
4 Tbsp. butter
3 cups quinoa flakes*
½ cup chopped walnuts
½ cup brown sugar
½ tsp ground cinnamon
½ tsp. salt
2 eggs, slightly beaten
Soak the dried fruit in the orange juice and vanilla for one hour.
Preheat oven to 325° F. Line a 9X13 pan.  Spray with canola spray.
Combine the flakes, walnuts, sugar and cinnamon; set aside.  Melt butter, then add to the quinoa flake mixture.  Stir to coat completely; set aside.
Add eggs into the fruit; mix well. Pour into the quinoa and stir to combine. Transfer to the prepared pan, press in an even layer, and cook for 15 – 20 minutes, or until the bars begin to turn golden brown. Do not overcook.
Remove from oven and score into squares. Cool completely on a wire rack.
*can be substituted with rolled oats, but moisture levels may need to be adjusted.