arcobaleno/rainbow
Rainbow carrots never fail to catch my eye. They are the pot of gold at the end of the farmer's market aisle. The combination of purple, orange, white and yellow hues attached to long, leafy greens are magnetic, and their freshness call to me.
While these beauties have been around for decades, my love affair became public last summer with some Roasted Rainbow Carrots and Ginger Garlic Miso Butter. I enjoy their bright flavor, healthy attributes, and the fact that they are a WFV – waste free veggie. Many times, we're so quick to chop and toss carrot greens to the side.  No!   The greens are edible, too! C'mon now! Add those greens to a soup, salad or in a pesto (which is what I did!)
The carrot green pesto is for another day, though.  Right now?  The roots. I try not to alter rainbow carrots because I enjoy their crisp, natural state. And that's what I did here. Channeling my inner Angie and remembering a bookmarked recipe from Gourmet, these pickled sticks are my refreshing attempt to hold tight to summer just a little while longer.
These carrots pickled ended up with lovely flavors, and I have been munching on them all week.  Although they won't last much longer, I am still sending the recipe to Graziana from Erbe in Cucina (Cooking with Herbs), the host of both the Italian and English editions of Weekend Herb Blogging.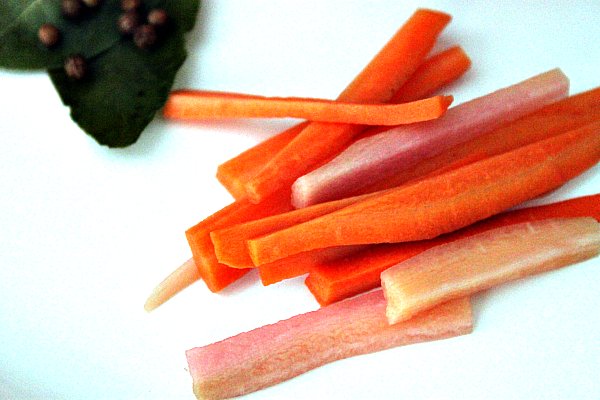 Pickled Rainbow Carrot Sticks
1 pound carrots, cut into matchsticks
1 cup water
1 cup apple cider vinegar
¼ cup sugar
2 garlic cloves, crushed into a paste
2 Tbsp. whole coriander seeds
1 Tbsp. whole mustard seeds
1 ½ Tbsp. salt
2 bay leaves
Place carrots in a heatproof bowl; set aside. In a medium saucepan, bring the remaining ingredients to a boil. Reduce to simmer and leave on heat for 2-3 minutes. Pour pickling liquid over carrots and let cool, uncovered. Transfer to sterilized jars. Refrigerate at least 1 day for flavors to marry.