vegetariano integrale /vegan
Don't click away just yet!  I am not really a tofu girl, either.  It's a texture thing, for me. Until recently, despite a few adventures in tofu, the bean curd had to be camouflaged (like in the  Sundried Tomato Spread or Vegetarian Moussaka).  But, I believe I am about to turn the corner. As long as I stick to firm tofu when it is the star of the dish, I may be able to avoid permanent regression.
To date, these wraps may be my favorite tofu-at-home recipe. The marinade offers tremendous flavor.  But, if you are still giving me the eyebrow, it's okay.  The marinade will work for your protein of choice, chicken, beef, or fish.  Just watch your marinading times, though.  Fish does not need much soaking at all, no more than 30 minutes.
Enjoy!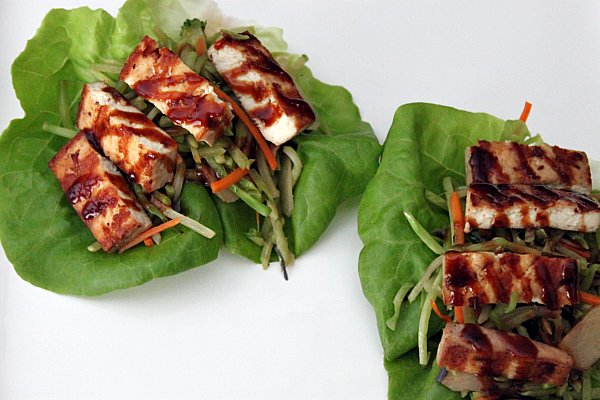 Grilled Tofu Lettuce Wrap
12 oz. extra firm tofu, drained (like Wild Wood)
4 large lettuce leaves (like Bibb)
1 Tbsp. olive oil
2 cups shredded cabbage
¼ cup water chestnuts, thinly sliced
Salt & pepper
Tofu Marinade (recipe follows)
Finishing Sauce (recipe follows)
Cut tofu crosswise into 4 "steak" slices. Arrange in a single layer in a shallow pan, cover with marinade, and refrigerate for about 5 hours.
When ready to cook, heat 1 oil in a large skillet oil over medium heat. Add cabbage, water chestnuts . Cook until cabbage is softened, about 3 minutes. Season with pepper and stir in 1-2 Tbsp. of the Hoisin-Ponzu sauce. Stir to heat through.
In the meantime, spray a grill pan with canola or olive oil and heat to high.  Carefully remove tofu from marinade with a slotted spatula, place on the pan, and cook 3-4 minutes per side until grill marks appear and tofu is heated through, turning only once. Remove from heat, transfer to a cutting board and slice into strips.
To assemble, place the lettuce leaves on a serving platter.  Divide the cabbage stir fry between the leaves, top with the grilled tofu and Hoisin-Ponzu sauce. Serve immediately. Serves 4.
Marinade
¼ cup Bragg Liquid Aminos (or low-sodium soy sauce)
¼ cup rice wine vinegar
1 clove garlic, minced
1 inch piece fresh ginger, peeled and grated
1 Tbsp. sesame oil
Hoisin-Ponzu Dipping Sauce
from RasaMalaysia
3 Tbsp. hoisin sauce
1 Tbsp. Japanese ponzu sauce
½ tsp. Sriracha chili sauce (I omitted)
1 Tbsp. warm water (to dilute the dipping sauce)
Stir all the ingredients to combine. Store extra in an airtight container, in the refrigerator.