crostata di fico/fig tart
One day, I will live in a house with a real yard, not the band-aid strip I have now.  In that yard, there will be two trees with which I will love and care for as if they were my children: A lemon tree and a fig tree. Luckily, lemons are available year round, so I can satisfy my admiration quite easily.  Figs, on the other had, have a very short season. Maybe I need to move next to Brandi so I can assist her with her fig picking; I'd be a nice neighbor! Until then, when fig season rolls around, I gorge. Thank goodness they're healthy.  A good source of dietary fiber, figs are also cholesterol-free, fat-free and sodium-free.  Whoohoo!
Will all those "free" facts, let's add another.  How about gluten-free?  You may have noticed I have been playing with gluten free cookinga little more than usual. I decided to include my GF adventures to my writing for Patch, which is why this Frangipane Fig Tart was made. Since then, I have made the tart a few times, in various ways, including mini and free form.
To me, its just that good! So now, I bring it to you. And, since Susan from The Well-Seasoned Cook, is hosting this week's Weekend Herb Blogging, I will send it to her for the round up as well. Enjoy!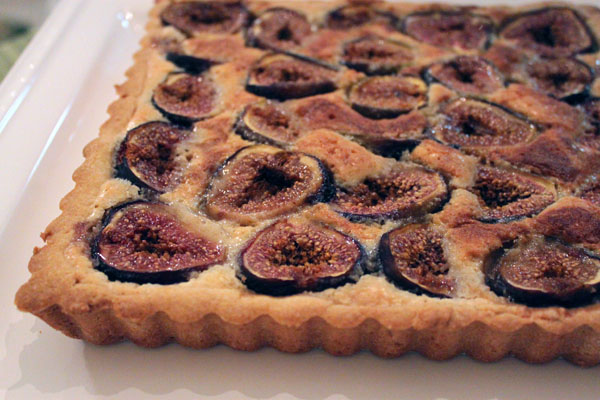 Frangipane Fig Tart (Gluten Free)
Gluten-Free Pastry Dough
2 ¼ cups brown rice flour
½ tsp salt
¾ cup cold butter, cut into pieces
¼ cup turbinado (raw) sugar, fine ground [caster (fine), white sugar is okay]
1 egg, lightly beaten
4-6 Tbsp. cold water
Frangipane
½ cup ground almond meal
¼ cup turbinado (raw) sugar, fine ground [caster (fine), white sugar is okay]
1 egg
3 Tbsp. butter, room temperature
1 Tbsp. brown rice flour
¾ tsp. vanilla extract
¼ tsp. salt
12-15 fresh figs (about 1 pound), halved*
2 Tbsp. honey
1 tsp. water
Preheat the oven to 375 ° F.
Prepare the tart shell: Place flour, salt, butter and sugar in a food processor and pulse several times until butter is incorporated. Add the egg and pulse to incorporate. Gradually add cold water and pulse until the dough begins to form a ball. Remove from bowl and press into a disk (If dough is too dry, sprinkle water on top and knead it into the mixture). Wrap and refrigerate for 20-30 minutes.
Prepare the Frangipan: In a food processor, grind the almond meal, sugar, egg, butter, flour, extract and salt to make a smooth and creamy, somewhat fluid paste (similar to a really thick pancake batter). Spread the almond mixture in the base of the  chilled tart. Arrange the figs, cut side up, on top of the almond mixture. Be sure to gently push the figs into the batter slightly for stability.
Place the filled tart on a baking sheet and bake until the almond mixture is puffed and golden, 40 to 45 minutes.
About 5 minutes before the tart is done baking, warm the honey and water in a small saucepan mixed. Once the tart is removed from the oven, use a pastry brush to lightly coat the top of each fig with the honey mixture. Let cool. Serve at room temperature.
* Don't have access to fresh figs? Plump up dried by reconstituting the dried figs on the stove top. Simmer in water for 5 minutes. Let the mixture cool completely. Strain before using.