decadente/decadent
Even though my days are long, my weeks fly. To be honest, with three weeks into the school year, I am still a little weirded out that my job is so cool.  That being said, I am looking forward to this long weekend, to chill out and not set my alarm!
So I can get to my "chillaxing" (chill/relax), let me get right to the Black Cherry Cupcakes. The directions are somewhat different from cupcakes on here, as I lost focus multitasking.  Even so, the result led to beautifully domed cupcakes that held the filling well.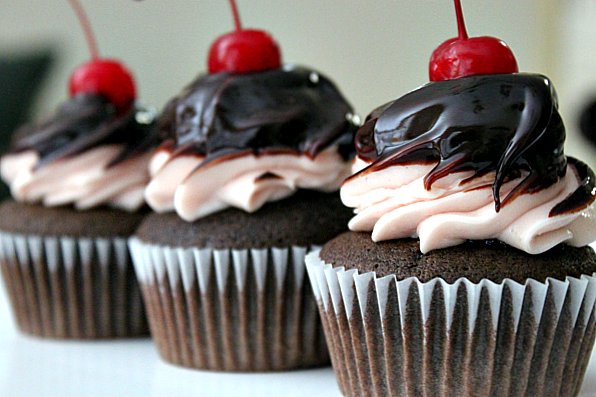 Black Cherry Cupcakes
1 cup good quality unsweetened cocoa powder (I used Scharffen Berger)
4 cups all-purpose flour
2 tsp. baking soda
2 tsp. baking powder
½ tsp. coarse salt
1 cup hot water
1 lb. unsalted butter, softened
2½ cups sugar
6 eggs, room temperature & lightly beaten
1 Tbsp. vanilla extract
1 ¼ cup sour cream, at room temperature
~3 cups Black Cherry Jam  (like Polaner All Fruit)
Buttercream (recipe follows)
Ganache (recipe follows)
Fresh (or maraschino) cherries, with stems
Preheat the oven to 350˚ F.  Line cupcake pans with preferred paper liners.
In a large bowl, whisk together the flour, cocoa powder, baking soda, baking powder, and salt; set aside.
In a medium saucepan, combine the water, butter and the sugar over medium heat.  Heat  until the butter is melted, stirring frequently.  Remove from the heat and allow to cool for about 10 minutes. Carefully pour into the bowl of an electric mixer. On medium-low speed, beat until mixture is cooled enough for the eggs.  Add eggs, , scraping down the sides of the bowl if necessary, then add vanilla.  Alternately add flour mixture with the sour cream, beginning and ending with the flour.  Mix just to combine.
Using a small-medium scoop, fill cupcake liners, no more than ¾ full.  Bake 18-22 minutes, rotating the pans halfway cooking time,  until the cake springs back to a light touch and a toothpick comes out clean. Allow the cupcakes to cool in the pan 5-10 minutes, then transfer to a wire rack to cool completely.
To fill the cupcakes, insert a large piping tip or corer into the center of the cake, twist into the center without touching the bottom, and remove to make a hole. Using a spoon or piping bag, add the jam filling to each cupcake.
Decorate each filled cupcake with buttercream. Refrigerate while making the ganache. Once ready, dip the top of each buttercream-topped cupcake in the ganache, twist, raise, and place on a wire rack.  Top with a cherry. Makes about 45-48 cupcakes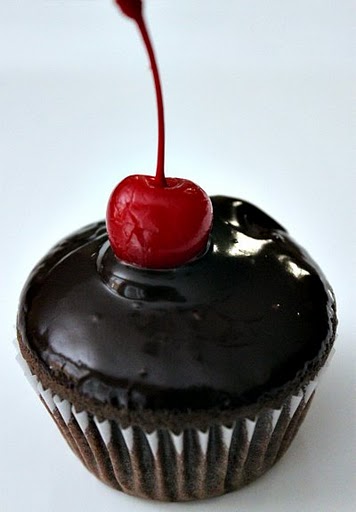 Without buttercream
Buttercream
2 lbs unsalted butter, room temperature
6-8 cups sifted confectioners sugar
1/4 tsp.  kosher salt
2 ½ tsp. vanilla extract
¼ cup maraschino juice
Cream butter on medium speed until smooth. Reduce speed to low and add 6 cups of  sugar. Carefully mix all the sugar is incorporated. Increase speed to medium, add vanilla extract, salt, cherry juice.  Mix for 3- 5 minutes. Add additional sugar for stiffness preference.
 Ganache
3/4 cup heavy cream
8 oz. good quality bittersweet chocolate chips (I used Scharffen Berger)
1 Tbsp. unsalted butter
1 tsp. vanilla
Place chocolate chips and butter in a large bowl. In a saucepan, heat cream until it begins to bubble around the edges. Remove cream from heat and pour over the chips. Let stand 1-2 minutes. Whisk until smooth. Stir in the vanilla until well blended.
If not using right away, cover with plastic and allow to cool at room temperature, or in the refrigerate.
* This is a large quantity recipe.  I have halved it as well and it makes about 24 cupcakes.