tagliatelle/noodles
Part of my daily routine at my new K-8 school is perusing the cafeteria during lunches.  Although I head up the middle school, I try to support the elementary teachers as well.  And, who am I kidding.  The little ones are precious! Because of special circumstances, the school does not have a full service cafeteria and staff.  Instead, the lunches are provided by Creative Cafe. The meals that are provide to our students impress me every day, and it warms my heart to see the kids eating up every bite.  Tami, the chef/owner, doesn't believe in pizza and tater tots make up a proper meal. woohoo! The lunches she supplies? Fresh and balanced…really and truly.
The proof is in the (healthy) pudding. Don't ask me…ask the kids and parents! I spoke with a parent yesterday who told me how her daughter raves each day about what she eats for lunch. Mom explained how she is not much of a cook and her daughter's palate has not be previously exposed to the new foods being presented.  Family discussions over the last week led these parents wanting to continue their kindergartener on the school lunch plan to expose her, and their family, to new ways of cooking.  In fact, since fish taco day, the little girl has asked for fish every day.  And now, despite mom's trepidation about cooking fish, their family has plans on trying a fish recipe at home.
Healthy school lunches sparking family discussions and family time…If that is not powerful, I don't know what is.
My lunch this week?  Peanut-Ginger Noodles. Simple, healthy and tasty, the balance of peanut butter, ginger with a hint of spice has made my tummy a happy camper all week.
Since this dish includes a decent amount of ginger, I will be sending this over to Rinku from Cooking in Westchester, the host of this week's Weekend Herb Blogging. Ginger is the catch-all for positive health benefits.  It is said to assist in the treatment of everything from cancer to migraines, has  anti-inflammatory properties, is a powerful natural painkiller, and is helpful to the digestive tract. All that, and delicious. Sweet!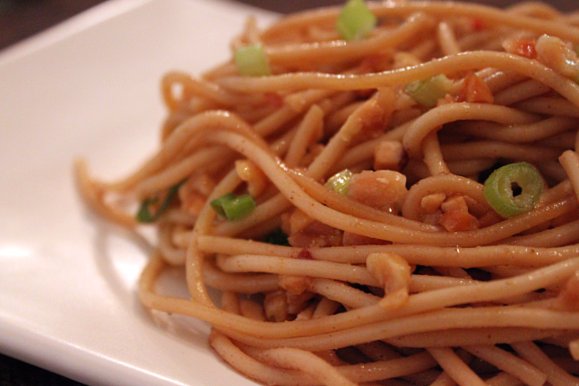 Peanut-Ginger Noodles
Adapted from Eating Well
8 oz. soba/udon noodles
¾ cup smooth peanut butter
2 Tbsp. Bragg's Amino Acids (or low-sodium soy sauce)
1 Tbsp. sesame oil
2 tsp. minced garlic
¼ tsp. ground red pepper flakes
1 ½ tsp. minced fresh ginger
¼ cup diced green onions
1 cup chopped peanuts (for garnish)
Cook pasta in the boiling water according to package directions, or to preferred doneness, reserving 1 cup of the liquid.
Whisk peanut butter, amino acids/soy sauce, oil, garlic, red pepper flakes and ginger in a large bowl. Gradually add the reserved liquid, 1 Tbsp at a time, to thin out the sauce to a preferred consistency. Add the noodles and onions; toss well to coat. Garnish with peanuts. Serve warm or chilled. Serves 6-8

 You may also like:
Mushroom Medley with Udon Noodles
Udon Noodle Vegetable Salad
Or how about these:
Nombudsman – Soba Noodle Stir-(Salad)-Fry
Just One Cookbook – Zaru Soba (Cold Soba Noodles)
Married to a Meat Eating Military Man – Peanut Soba Noodles
Cupcakes and Kale – Soba Noodles with Spicy Peanut Sauce 
VKitchen – Sesame Soba Noodles
Epicurious Vegan – Dijon Basil Burger with Chilled Soba Noodle Salad