panino al burro di arachidi e gelatina/peanut butter and jelly sandwich
The quintessential brown bag lunch…a peanut butter and jelly sandwich. Who didn't find one, mushed next to an apple, in their sack as a kid at some point? Sitting next to classmates eating square cardboard pizza, some of us garbley chatted about this and that as our tongues admanantly stuck to the roof of our mouths because of the peanut butter bread moosh mix.
Ahhh, the memories.  Even with my fond lunchtime PBJ sandwich recollections, I do believe I am determined to see it cross over to meals. Remember my play date with peanut flour that resulted in Peanut Butter and Jelly Pancakes? And the sandwich's cousin, PBB (banana) put into a cupcake, as Peanut Butter & Banana Cupcakes. You can imagine my excitement when I saw the Peanut Butter & Jelly Bars on Apple a Day. How did I miss the Bon Appetit recipe?
The voice behind Apple a Day, a teacher, positioned her post around the first day of school. Perfect…for her and me! Since I like to bring baked goodies into work for my new staff (which I can do easily now with such a small group), I thought these bars were ideal.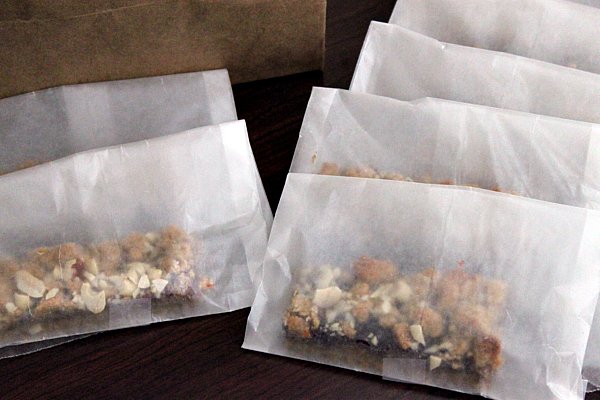 Packed and ready to go!
I doubled the recipe and baked them in a larger pan than Kelsey did, according to her note. So, my weren't as thick. But, no biggie….these bars are super adaptable for preferences. And, they will disappear.  Peanut/Peanut butter lovers were asking for the recipe, a sure sign of delicious success.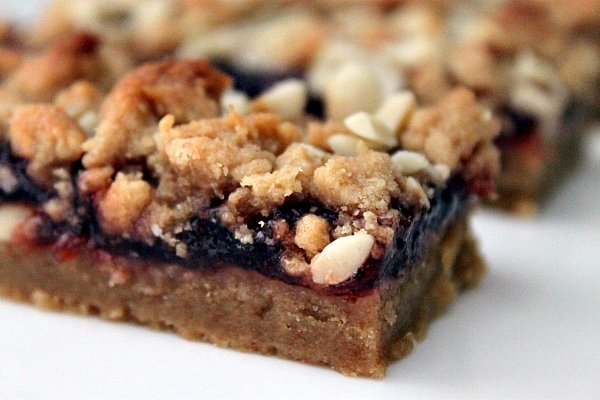 Peanut Butter and Jelly Bars
Seen on Apple a Day; Adapted from Bon Appetit
3 cups pastry flour ( all purpose flour is okay)
1 tsp. baking powder
½ tsp. salt
1 ½ cup smooth peanut butter
1 ½ cup light brown sugar
1 cup (2 stick) unsalted butter, room temperature
2 large egg
2 tsp. vanilla extract
32 oz. strawberry jelly (or preferred flavor of jelly or jam)
1 ½ cup. unsalted dry-roasted peanuts, coarsely chopped
Preheat oven to 350°F.  Line metal sheet pan (about 18″Wx13″Dx1″H) pan with foil, leaving an overhang around edges. Spray with nonstick spray.
In a small bowl, whisk together flour, baking powder, and salt; set aside.
In large bowl of an electric mixer, cream peanut butter, sugar, and butter until smooth. Add in eggs, one at a time and vanilla and beat on medium speed until smooth. Add flour mixture, beating on low speed just to blend. Transfer half of dough to prepared pan.  Wrap the remaining dough in plastic wrap and place in freezer for 10 minutes. Using fingertips, press dough evenly onto bottom of pan.  Spread jelly over in even layer.
Remove the dough from freezer; break into pea-grape sized pieces and distribute evenly over jelly layer. Sprinkle with chopped nuts.
Bake bars until top is golden brown, about 30-35 minutes. Cool completely in pan on rack.  Using foil overhang as aid, lift bars from pan. Gently peel foil from edges. Cut into 36 squares.  (Can be made up to three days in advance and stored in an airtight container.)