perdita/loss
With school starting in a few days, life has been hectic the last few weeks.  As compared to summertime, I haven't been on Facebook or Twitter much, despite having access on my phone.  That's good and bad. Sometimes its nice to be obvious. but it can also slap you with reality when that you miss important information. A reality that life is short.
While a dinner with Tami the other night, she spoke about the Peanut Butter Pie she made for Jennie.  Why?  I asked.  And, that is when I heard the heartbreaking news of the loss of her husband, who suddenly passed away this weekend of a heart attack.
I don't know Jennie personally, only meeting her briefly at BlogHer. But, as a reader of her blog and a fellow blogger, I am very well of her positive presence.   I am so saddened by her husband's sudden passing…for her, her kids and the entire family.  When I watched the touching video she posted, "one last dance", I got a lump in my throat.  Sitting in my office last night, late in the evening, video streaming, I wept. It's just not fair.
Trying to think of the words to write in this post, I hesitated, wanting to make sure I said the right things. But what can you say.  Sometimes there are no words. While I have had loss in my life, this is different. So, I am going to end here.  And leave you Jennie's words. In her post, she writes "For those asking what they can do to help my healing process, make a peanut butter pie this Friday and share it with someone you love. Then hug them like there's no tomorrow because today is the only guarantee we can count on."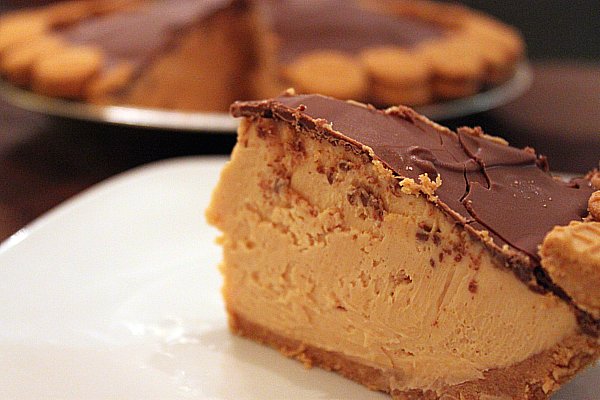 Nutter Butter Pie
20 Nutter Butter cookies, finely crushed (about 2 ½ cups) *
2 – 8oz packages cream cheese, softened
¼ cup butter, melted
1 cup confectioners sugar
1 ¼ cup creamy peanut butter
1 cup whipped topping
Nutter Butter minis
1 cup milk chocolate, melted
Add the Nutter Butter cookies in a food processor and pulse crumbs.  Tranfer to a bowl. Add butter and stir into fully incorporated.  Press firmly and evenly into a 9-inch pie plate. Refrigerate until ready to fill.
In a bowl of a stand mixer, beat the cream cheese until smooth.  Add sugar, then peanut butter.  Cream until  light and fluffy. Fold in whipped cream. Pour into crust, smooth, and refrigerate for at least 15 minutes.  Once chilled, pour the melted chocolate over the top and sooth. Garnish with arrange over the top Nutter Butter minis. Refrigerate for at least 4 hours. Serves 6-8
*Can be substituted with Oreos, Graham Crackers, Ginger Snaps or any preferred cookies