tempi perfetto/perfect timing
It's Friday, and what a week I've had. The first week of school for the '11-'12 school year is officially complete and all is….wonderful. I actually think I got it right this time. Although I am not baking full time, which would be the ideal, my new school has rejuvenated my love for education. The teachers actually enjoy their job (what a concept!), the parents are actively involved (imagine that), and the kids love learning (blow me over!). Oh, and did I mention that the lunches are healthy and balanced? So, I am going to ride this wave for as long as I can, for the time being, for sure.
With that, I find it interesting how life happens, how world's collide. After certain instances over a period of time, along with some frustrations, it was my intention to walk away from Mele Cotte this week. Then, I received a message on Facebook from a former student, a jewel, who now attends Georgia Southern. "I checked out your website and it made me hungry..lol It looks great. Oooh and I'm going to try making some food from your blog this semester at school."
What timing.  She brightened my day more than I can say; her words make up the ultimate blog-compliment. For now, I will keep the blog going.  We will see what happens. Thanks Atia.
(Since I am hosting  Weekend Herb Blogging, this week, this is my gingery submission.)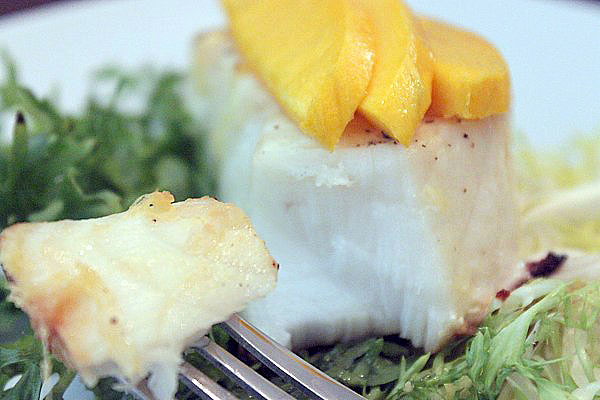 Mango Orange Sea Bass
2 sea bass fillets, about 4-5 oz. each
½ mango, sliced
2 cups fresh orange juice reduced to 1/2 cup (reduce by boiling over high heat)

Marinade
1 cup orange juice
2 Tbsp. Bragg's Amino Acids (or Soy Sauce)
1 garlic clove, minced
½-inch piece fresh ginger, peeled and grated
Freshly ground black pepper
Place the marinade ingredients in a seal-able plastic bag. Swirl to combine.  Add fish fillets, release the air from the bag while sealing the bag, and rotate the bag to coat the fish with the marinade. Refrigerate for at 30-60 minutes.
Preheat the oven 400◦F.  Line a baking pan with foil and spray with canola oil.  Place the fillets on the baking pan, top with freshly ground black pepper and mango slices.  Bake for 10-15 minutes*, until opaque. Serve immediately, topped with the orange juice reduction.
*baking time will vary with the thickness of the fillets.
Other sea bass recipes you might enjoy…