gridare di gioia/shout for joy
My friends are beginning to reach "that" mile marker. 40. It's staring us down like a hawk on its prey. Weren't we just celebrating our 30s? What happened to the last decade? I know, it's not that bad. But, its 40 now, then bam, middle age rushes in with a snarky grin.
And if the 40 year old hawk is not scary enough…how about a husband and family wanted to celebrate that marker?
It all began two months ago with an email: "Christina, I had to drag Sharona May kicking and screaming into having a party for her 40th. One of the conditions for her having the party is that you cater the desserts! Can you do it? She specifically mentioned something about cake-pops? "
Desserts? For Sharon May? She was one of the first girls I met when I moved into my home some years ago. She contributed to my blog before starting hers. We have cooked together. She's been a wonderful friend. So, the short answer? Yes! (That was a no-brainer, for sure…)
With the exception of the cake-pops request, I had total freedom with what to make. Her husband just said…have at it! Love that. I decided to go with an array of minis, including some old favorites and several new ones that will be posted in the future.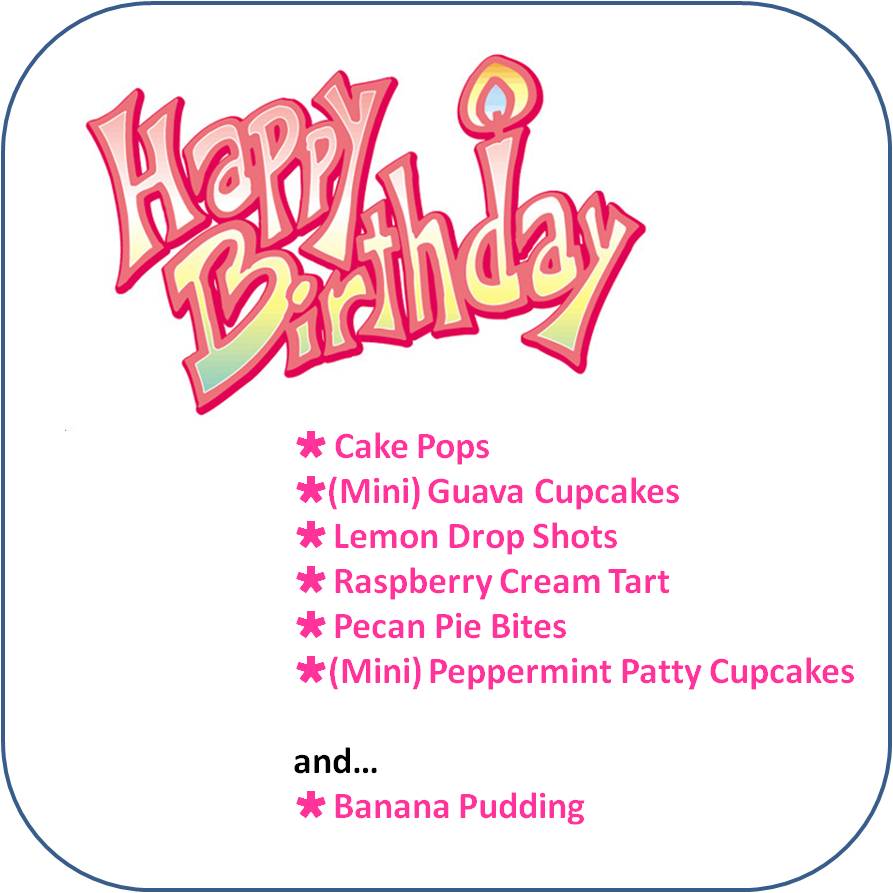 When all is said and done, these coconut bars taste like an Almond Joy Bar, with a crunch. While there were several revisions of this bar, adding here, subtracting there,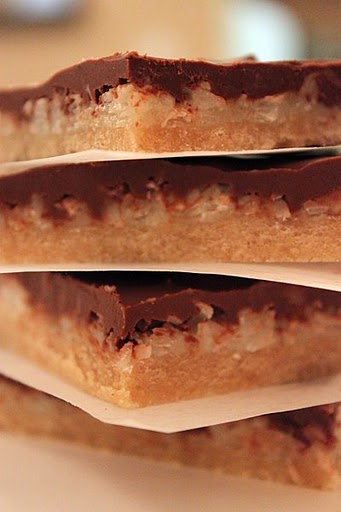 earlier versions: a much thinner layer of coconut filling

the last and final version is my favorite. And, I think it was a favorite at Sharon's as well.
Even so, I must confess. This summer has tested my patience with chocolate. I have had the worst problem with blooming and it makes a beautiful dessert look positively dreadful! It first happened with the Twix and then the Whatchamacalits, too! Those weren't for a party, though. You can imagine my horror when I saw the fat bloom, the cocoa separation's rise to the surface, on the morning of the party.
There wasn't any time to remake the bars. Desperate to save the desserts, I used the chocolate melts left over from the cake pops to cover the bloomed layer. Phew! ( I figured I couldn't go wrong with a double layer of chocolate, right?)

 Almond Joy Bars
10 Tbsp. unsalted butter, room temperature
¾ cup light brown sugar, packed
2 ½ cups pastry flour (all-purpose works as well)
½ tsp. fine sea salt
28 ounces of sweetened condensed milk
28 ounces shredded coconut
1 tsp. vanilla extract
4 cups Bittersweet Chocolate Baking Chunks (like quality Scharffen Berger)
¾ cup creamy peanut butter
Preheat oven to 350° F . Line a sheet pan (like a 15X10X1 pan) with aluminum foil and coat with canola or vegetable spray.
In a small bowl, cream butter and brown sugar until combined. Add the flour and salt. Carefully mix to combine until it resembles chunky bread crumbs. Transfer into the prepared pan and evenly press the batter into an even layer. Bake for 8 minutes. Cool on a wire baking rack while preparing the coconut topping.
In a large bowl, combine the condensed milk, coconut, and vanilla. Spread over the crust and bake for another 20-25 minutes, until it begins to brown.
Melt the chocolate over a double boiler. Add peanut butter and stir until melted and smooth. Pour over cooked coconut bars and spread into an even layer. Allow to cool then refrigerate until hardened, about 1 hour. Cut into 36 squares.