fragole/strawberries
Happy Eat. Live. Be. Monday!  I completely flaked last week.  It was Secret Recipe Club posting day, which apparently caused me to have tunnel vision. Forgetting to Eat. Live. Be. last week was apropos because the topic (#29) was about wake-up calls.  Managing my time has been a huge struggle for me as of late.  And, little moments like forgetting ELB, brings that to the surface. For some reason, remember specifics, multi-tasking, and showing up anywhere on time has been had been a thorn in my side. All ability to focus has disappeared.
I have figured out where a lot of my absentmindedness comes from and I am working on it. I have  slowly begun to minimize with my surroundings and my obligations.  Part of that plan is benching my baking. Now, I am not going to stop altogether.  But, because I love it so much and wish I was doing it full time, I tend to blow off other things in order to stay in the kitchen.  No good. My sweets don't pay the bills, so the eggs, flour, and sugar are moving back into their former position – a stress reliever.
Interestingly, enough, this week's topic (#30): What do you do when you are too tired to (cook, exercise, whatever your challenge is)? I read cookbooks, stumble, and/or bake, and any combination of the three.  Case in point?  Strawberry bread.
With a ridiculous amount of strawberries left over from my Blue Ridge weekend , I wanted to make something that I could use all the quickly-withering berries.  Luckily, I "stumbled" upon Brandie's site and her Strawberry bread was perfect! While is makes two (2) 9 x 5 inch loaves, I used some smaller cardboard loaf pans and shared the bread with friends and neighbors.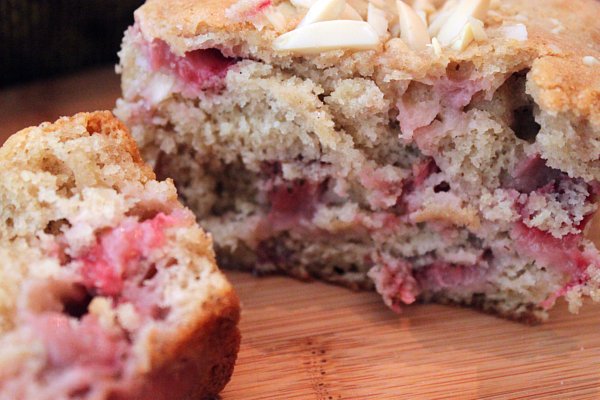 Strawberry Bread
Adapted from The Country Cook
1 cup (2 stick) unsalted butter, room temperature
1 ½ cup sugar
6 large eggs
2 teaspoon vanilla extract
4 cups all-purpose flour
4 tsp baking powder
1 tsp baking soda
½ tsp salt
2 tsp ground cardamom
1 cup sour cream
3 cups chopped fresh strawberries
1 cup sliced almonds
Preheat oven to 350 F. Grease and line two 9 x 5 inch loaf pan with parchment paper hanging over the long sides for easy removal.
In a large bowl, whisk together the flour, baking powder, baking soda, salt and ground cardamom; set aside. With the paddle attachment of an electric mixer, beat the butter and sugar until light and fluffy, about 3-4 minutes. Add the eggs, one at a time, beating well and scraping down the sides of the bowl after each addition. Add the vanilla extract. With the mixer on low speed, add the flour mixture and sour cream alternately, starting and ending with the flour. Mix until just combined. Gently fold in the chopped strawberries and half the almonds.
Divide the batter between the prepared pan and sprinkle with the remaining almonds. Bake about hour, or until the bread is golden brown and a toothpick inserted in the center comes out almost clean.
Place on a wire rack to cool and then remove the bread from the pan. Serve warm or at room temperature. This bread can be frozen. Yields two 9 x 5 inch loaf.
I am a strawberry fan…Here are some other recipes you may enjoy.
Jammin' with Apricots, Kiwi & Strawberries
Cilantro Sugar Macerated Strawberries
Strawberry Bavarian Cream Mini Tarts
Strawberry & Cream Sandwich Cookies