ciliege/cherries
I am addicted to cherries. When summer rolls around, I can't resist the ruby red juicy bits of goodness. I am fully aware I have a problem. Even so, with all my cherry consumption, there aren't many posts that include the fruit. There was some Cherry Basil Frozen Yogurt and Cherry Pepper Salsa Recipe, but that's really it.
Why? My mouth. The bags of cherries that make it home don't actually last long enough to land in any kind of recipe.  Consumption. It's a bit ridiculous, I realize. So, I am a little surprised this slaw made it on time for the Whole Foods Market® Cherry Fest Kid-Friendly Recipe Contest for Food Bloggers, a contest posted on the Whole Story blog last week. Whole Foods is "challenging food and family bloggers to show how you whip up summer treats for kids using delicious, nutrient-dense cherries."
A cherry recipe contest. How fun!  Cherries just make me smile.  They are one of the foods that alert me summer has arrived and triggers happy memories from when I was a kid.  Growing up, cherries weren't in the neatly packed bags stores offer now.  Back then, cherries were  displayed in bins. It was my job to stand in front of the cherry bin and choose one pound worth of blemish free, ruby red Bing cherries. [Confession alert] It was not unusual for me to be shifty and sneak a sample or two while bagging (admittedly swallowing the pits so I wouldn't get caught).  Then, the position (and same shiftiness) extended to home on the weekends my father brought a case of cherries from the Haymarket Square farmer's market in Boston. Truth be told, I couldn't get enough of cherries then, and I can't get enough now. It's never gonna end.  And, I am okay with that, as there are worst addictions. Right? The funny thing is, to this day, every time I feel full, I think the fullness may just be that cherry tree my mom said was growing in my tummy from swallowing all the pits. Thanks for that, ma!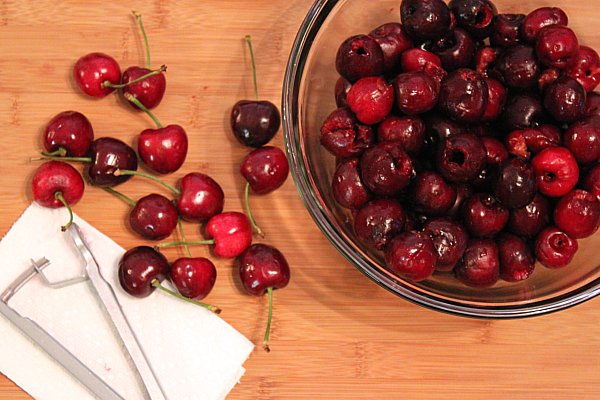 Until I was an adult, cherries were always a snack or dessert.  Naturally, when I began thinking about what to make, my attentions went immediately to desserts. The result? Delicious gluten free pop tarts.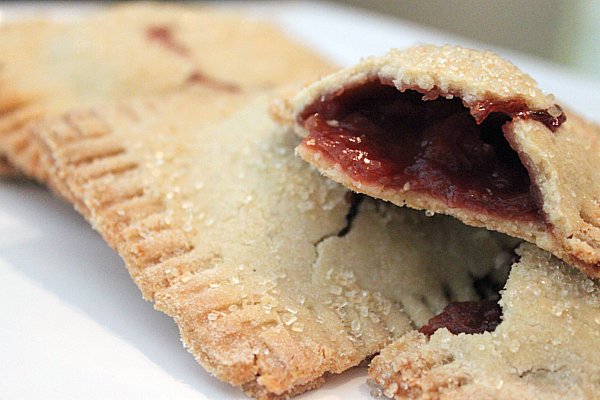 Then, I read the contest rules.  Oops.  Leave it to the educator to act first, read directions later. While they were great for kids, my over anxiousness caused the pop tarts to have to wait to be posted later this week.
In place of the tarts, I decided to play with a recipe I have made up for years.  Usually made with dried fruit, this slaw is a wonderful dish to bring to picnics, barbeques, neighborhood block parties, and even packs up beautifully in a lunch box. Since it doesn't contain dairy, the risk for spoiling is lower, as is the fat content found in other slaws. In fact, in addition to being super tasty, this salad is extremely healthy.  Cherries high levels of antioxidants, beta carotene, vitamins and fiber and cabbage's low-glycemic and cancer fighting elements, make this salad a homerun. It will become your go-to side.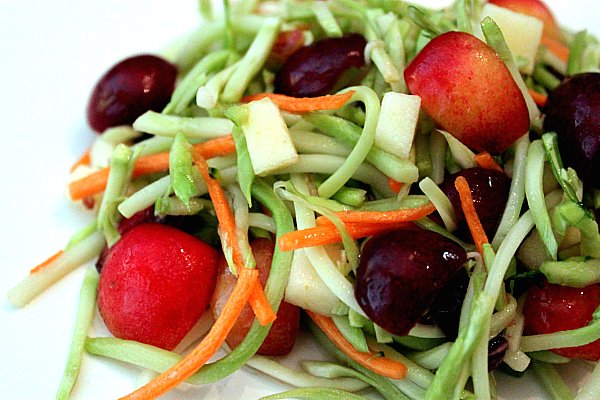 Cherry Slaw Salad
Dressing
½ cup apple cider vinegar
½ cup sugar
3 Tbsp. vegetable or canola oil
Salad
1 12-ounce bag of cabbage or broccoli slaw
1 cup chopped cherries
1 cup diced Gala apple (or any sweet apple will do) – peeled or not, its according to your preference
In a small saucepan, heat vinegar and sugar mixture over medium heat until sugar is dissolved. Set aside to cool (while preparing the salad).  Once cooled, whisk in oil.
In a large bowl, combine the slaw, cherries and apples. Add dressing and toss to combine.. Chill until ready to serve. Serves 4-6.
Cook Notes:
Gala Apples brown quickly, so I suggest cutting the apples right before you're ready to add in the dressing.
Chilling is an important step;  it allows the salad to absorb the dressing and its flavors.
Dried fruit works well, if fresh is not available. Cherries, cranberries, raisins…all delish.
The cherry pitter I use, and love, is Westmark.