gamberetto/shrimp
As July 4th weekend is in full swing, there are Independence Day celebrations galore throughout the United States. With those parties, family gatherings, barbecues and picnics surround us around fun and food.  Stereotypical barbecues include burgers, hot dogs, ribs and chicken. Add grilled cooking?  Who can resist?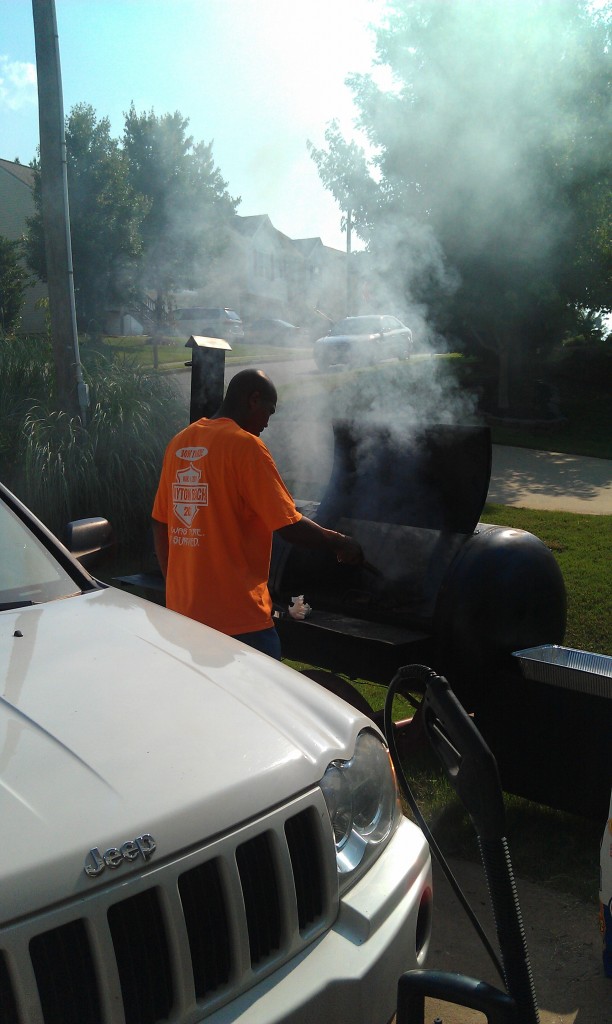 While the meat dishes are very tasty, I have phased them out of my diet. I do eat meat every now and again, but for the most part…gone. Why?  In short?  I like meat, meat doesn't like me. 'Nuff said.
Not wanting to draw attention to myself with "Aren't you going to eat?" questions, I always end up trying something…usually chicken.  And, nine times out of ten, I end up getting ill.
Since I am not a fan of being ill, I improvise.  With my "don't show up empty handed" mentality, I bring food I know I can eat.  For example, because overly creamy and egg-y potato and/or pasta salads are not this first food item I run to…or the 10th for that matter, Patriotic Potato Salad is a Mele Cotte replacement. I might also bring a plate of Deviled Eggs or a 7 layer Dip.
Recently, I made some shrimp that turned into my next "don't show up empty handed" contribution.  Light and refreshing people (who are not food fanatics like us) always think shrimp that's not fried is so fancy! Throw some fresh herbs in the mix, and …well… five star!
What is your go-to party-bringing dish/dessert?
Whether you're in the United States observing its Independence, to the north celebrating Canada's birthday, or somewhere else on the globe rejoicing whatever is important in your world, I wish you a wonderful and joyous weekend filled with memories that last a lifetime.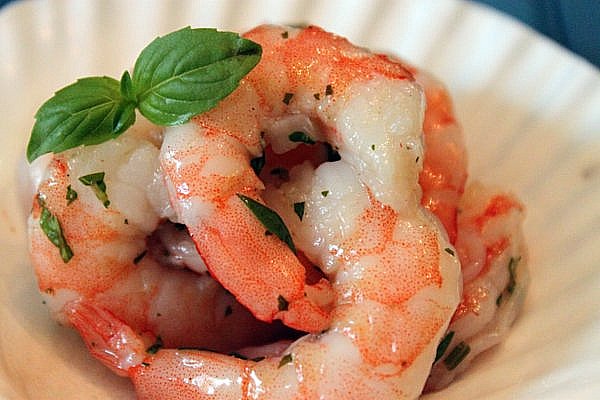 Lemon Basil Shrimp Appetizer
½ cup fresh lemon juice (approximately 3 lemons)
1 Tbsp. white wine vinegar
2 Tbsp. white truffle oil (or olive oil)
1 ½ lb. large shrimp (20 to 25 per pound)
1/4 cup finely chopped fresh basil leaves
fine sea salt
In a deep baking dish, whisk together the lemon juice, vinegar, and oil. Set aside.
Peel and clean shrimp, leaving tails on. Partially fill a pot with water, add salt, and bring to a boil. Add shrimp and boil for 1 ½ to 2 minutes, or until shrimp turns pink & opaque. Reserve about 1 cup of the poaching water, then drain immediately. Transfer the hot shrimp into lemon marinade. *The marinade should cover the shrimp.  If not, add a few tablespoons cooled poaching water. Cover and refrigerate for 2 – 3 hours, turning the shrimp at least once.
Other tasty Shrimp Dishes on Mele Cotte:
Guacamole Peppered Shrimp Tostadas
Shrimp Burgers with Avocado Aioli
Quick and Easy Spicy Grilled Shrimp
Other tasty Shrimp Dishes:
Running with Tweezers: Räksmörgas
Flanboyant Eats: Chilled White Asparagus & Ginger Soup W/Grilled Shrimp
Kalyn's Kitchen: Shrimp with Mustard-Horseradish Sauce
Perfect Pantry: Shrimp and Edamame Salad with Sesame Ginger Vinaigrette
Cookin Canuck: Mini Grilled Pizzas with Shrimp & Roasted Red Pepper
Never Enough Thyme: Summer Shrimp Cocktail
The Kitchn: Shrimp and Grits
White on Rice Couple: Crispy Shrimp Tacos
What's Cookin Chicago?: Ten Succulent Shrimp Recipes