complimenti/compliments
Happy Happy Eat. Live. Be. Monday!
I have started today's post, about my weekend in Blue Ridge, over and over again.  Write some, walk away, erase then write a little, cook something, write, eat, write and grab a drink.  Nothin'. Don't get me wrong.  There were words, but my thoughts resembled Swiss cheese rather than cohesive thoughts. It is important to me that my little getaway is given justice, so I am shelving that post for another day this week.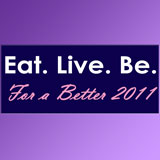 Today's Eat. Live. Be. topic, #28, revolves around compliments; we are to share a compliment we've received. I am not going to kid ya. This topic makes me uncomfortable. I give compliments as much I can. However, accepting compliments is difficult. I am not sure why. I think one part of uneasiness comes from thinking compliments bring opportunity to let others down. Disappointing people is terrifying. The other part comes from my overall distrust in people. Sad, but true.
Even so, I receive them. Compliments come my way two fold, first with food and then with work.
Food & the blog: A few people have come revisited and said they have tried/enjoyed one of the recipes on Mele Cotte.  That is an amazing thank you and one I enjoy. With food in general, well, I can bake a thing or two. Now, I am no Bakers Royale or Sweetapolita, but I can hold my own.  So, comments like yum!, What'd deliciousness did you bring?, and the Oh, you're the one who made that [insert dessert here] we keep talking about are good for the soul.
Work:  The ultimate compliments that forever remain with me are ones I receive from students. The simple thanks are wonderful, of course. Then, there are the individual instances.  For example, there was a the young "skater" who laughed as he told me, years after being in my class, listening to music wasn't the same because he continuously picks up the literary devices throughout the lyrics.  Then, a young man let me know he decided to major in English because of my class and a few girls told me they learned more in my English class than in any other.  And, the Facebook messages are amazing to read:
"Hey Ms. A!  I need some advice. I want to major in education when I go to college…"
"Ms. A, I am realizing the self-potential that you must've caught on to nearly 10 YEARS AGO!!! (I feel old writing this lol). I remember how you called my mom's house to keep me in check at school smh (I didn't like that so much lol). I even remember that you wrote me up when I was acting up in class (I really didn't like that lmbo). However I also remember how you gave me the black journal so I can further my talents. I am nowhere close to what I can possibly achieve but I'm on the way. I am pursuing my music as well as other multimedia goals. I just wanna say THANK YOU VERY MUCH for helping me grow and explore my talents."
Compliments.  They're perplexing little suckers. Even so, I appreciate the thoughts, the times it to give a compliment and the people from whom the kind words are spoken.
Speaking of compliments…how about a dessert that includes honey, figs, and the creaminess of Sabayon. Each component compliments the other flawlessly.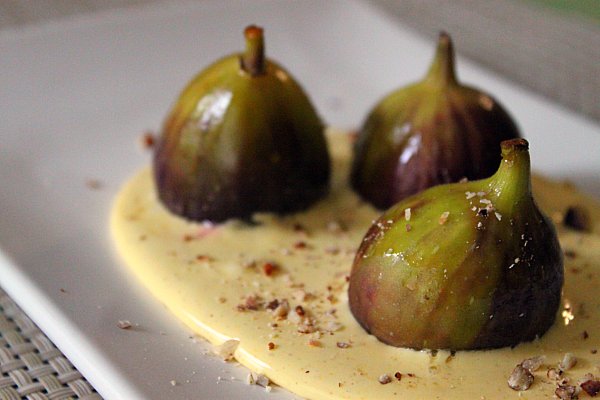 Honey Roasted Figs with Sabayon
¼ cup honey
¼ tsp. cardamom
6 fresh figs
2 egg yolks
2 tsp. castor (superfine) sugar
¼ cup white wine
2 Tbsp. chopped pecans
Preheat the oven to 400F. Line a small baking dish with parchment paper.
Wash figs and pat dry. Arrange in the baking dish at least ½ inch apart; set aside. Combine honey and cardamom in a small pan and heat on low, stirring to combine. With a pastry brush, lightly coat each fig with the honey. Roast in the preheated oven for about 5 minutes, or until heated through and glazed. Remove from oven and set aside under a foil tent, to keep warm.
In the top of a double boiler, whisk the egg yolks and sugar until the mixture is thick and pale yellow, about 12 minutes. Whisk in the wine. Set the bowl over the simmering water anand continue to whisk constantly until the sabayon is pale yellow and very thick, about 8 minutes. Spoon equal portions in the center of three plates. Arrange 2 figs to each plate and sprinkle with pecans. Serve immediately.