mirtillo/blueberry
Happy Eat. Live. Be. For a Better 2011 Independence Day Monday! Like many of you, I will be spending the day with celebrating July 4th with dear friends, good food, and (probably) a cold beer.  Anxious to get my party on, today's post is a quick and to the point.
For today's Eat. Live. Be. topic, #27, my assignment is to explain what I can't live without and why. That's a toughy.  The last two years have presented the toughest challenges for me both personally and professionally. Yet, the trials and tribulations have also opened my eyes to what's important.  And, my possessions are not it.  Okay, I look at my mixers and other baking supplies and they look back at me with puppy dog eyes.  I love them.  I do!  But, as much as I hate to say it, the tools of the trade are replaceable.  What I cannot can't live without is my memories.
My memories have become more and more prevalent in my everyday life.  And, I am not exactly sure why. Usually cooking sparks many of the remembrances.  Case in point, this Blueberry Polenta Cake.  Although the cake isn't one I grew up with, it has a moist, dense, delightful texture that makes you wish it was around all the time. The cake kind of represents the vivid sweet personality of the matriarchs in my family, especially with the fresh berries and zing of the lemon. Its summer freshness brings about memories of playing bocce ball with my Pop Pop in the front yard of my grandparents Katonah, New York home…the one with the 200 foot hill driveway, while my brother stayed in the back shed working on his car. Or, the lemony brightness reminds me of when my mom and I walked the many gardens of various historical landmarks in Budapest, laughing and sharing moments I will forever cherish.
The smallest inkling can spark a memory, good or bad.  Even the bad are there (I think) to keep us moving forward.  Without the memories, our personal sustenance would be compromised.  So, as you build your memories today and everyday, think about what makes them special.  Then, share those thoughts with those you hold dear.
Be safe and have fun!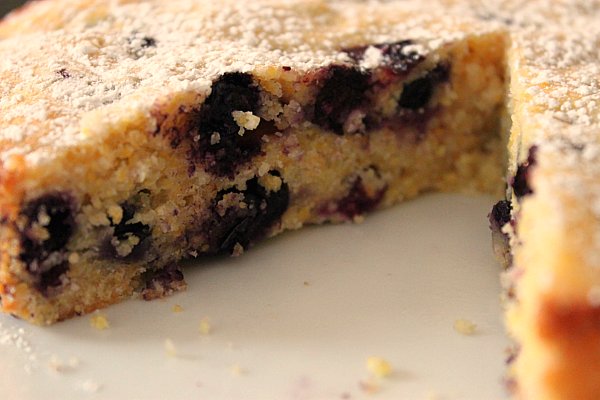 Blueberry Polenta Cake
1 cup pastry flour
1 cup polenta (or yellow cornmeal)
1 tsp. baking powder
¼ tsp. salt
1 cup sugar
¾ cup canola oil
1 large egg
¾ cup sour cream
Juice and zest of 1emon
8 oz. fresh blueberries (frozen will work, too)
1 Tbsp. confectioners/powdered sugar (optional)
Preheat oven to 350°F.
Line the bottom of a 9-inch round cake pan with parchment paper, and coat paper and sides of pan with butter. Set aside.
In a small bowl, whisk the flour, cornmeal, baking powder and salt to combine.
In a large mixing bowl, whisk together the sugar, oil, egg, sour cream, lemon juice and zest.  Add flour mixture and fold it into the wet ingredients until just combined.  Once combined, fold in blueberries. Pour into the prepared pan.
Bake 30-40 minutes, or until the cake center springs back and the edges are brown. Cool on a wire rack for at least 10 minutes before inverting cake. Cool to room temperature before dusting with confectioners' sugar.
* raspberries, blackberries or sliced strawberries will work as well
Other Blueberry Beauties that might interest you:
I made a Blueberry Mango Soup last month that was Marcus Samuelsson delicious!
Merry Gourmet:  Blueberry Ice Cream Pie or Oven Baked Blueberry French Toast or Blueberry Cobbler
Leite's Culinaria: Blueberry Tea Cake
Browney Eyed Baker: Blueberry Muffins
Family Fresh Cooking:  Gluten Free Blueberry Layer Cake or Lemony Blueberry Muffins
Barbara Bakes:  Blueberry Struesel Muffins
Healthy Green Kitchen:  Blueberry Lavender Rhubarb Jam
Eggless Cooking:  Vegan Whole Wheat Blueberry Muffins
Kalyn's Kitchen:  Low-Sugar Double Blueberry Yogurt Parfait