fiori di zucca ripieni/squash blossoms stuffed with ricotta
Finally.  Squash blossoms have made their way into my kitchen.  It's quite exciting, really. I have been talking about them for weeks now, since I have been eyeballing the blossoms and squash in the horticultural gardens at work.
Interestingly,despite hearing  and reading other blossoms and other cook's adventures with them, I have never eaten a squash blossom, until now. Now, I completely understand that I am so far behind everyone else in experiencing these enchanted little flowers that look like they can double as a skirt for a pixie dancing in its hollow. But, honestly, as beautiful as they are, I have a thing with eating flowery things. I haven't a clue why. I don't like to wear flowers on my clothes, either, if that helps. Maybe my hesitation stems from the squash blossom's delicate texture which presents an twinge of vulnerability. Who knows.
Nonetheless, I dove in last week…head first.
Once the blossoms made it into my kitchen, I panicked a bit.  The blossoms had to be cleaned, but how? Thankfully, Tiffany's simple and quick post helped tremendously. While I cleaned and removed the flower's inside, I noticed that I had a mix of male and female dainty delights.  The horticultural teacher was so sweet to cut and refrigerate them for me; I didn't even think to mention we should save the males, to allow the squash to keep producing.  What's the difference between male and female?  Here is a great pictorial and a little information.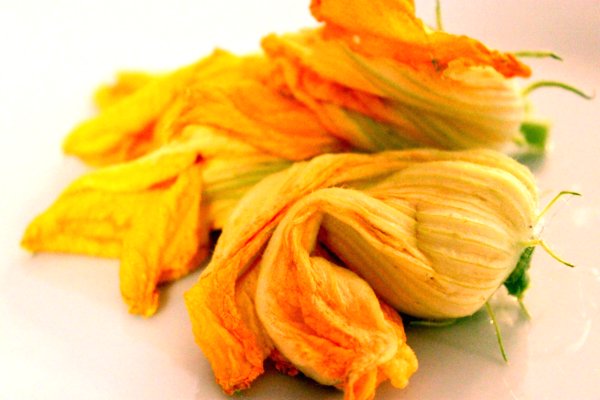 Once cleaned and patted dry, my thoughts moved onto the filling. Originally, goat cheese consumed my thoughts.  Goat cheese, in general, is a favorite ingredient of mine, especially as a fillings. Everything is scrumptious with its tangy creaminess, right? Unfortunately, I didn't have any.
Looking in my refrigerator, I had ricotta cheese.  Perfect. A little ricotta, sautéed veggies, some seasoning, and I was good to go. Being my first try, I did realize that each blossom is different, so I had to be careful not to overfill the center, no matter how much I was tempted.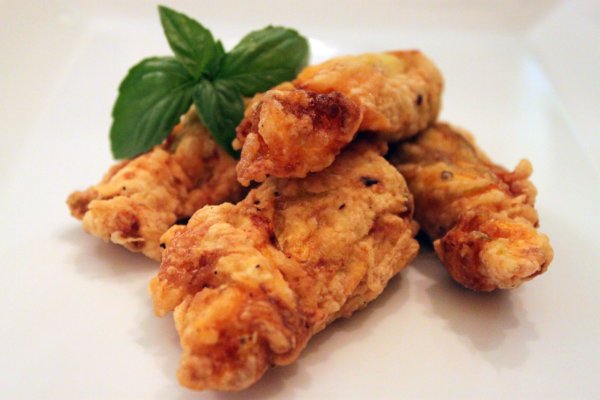 Squash Blossoms Stuffed with Ricotta
6-8 medium squash blossoms – washed, cleaned and trimmed
1 Tbsp. olive oil
1 cup diced yellow squash
½ cup diced mushrooms
½ cup diced & seeded tomatoes
1 cups Ricotta – room temperature
2 large eggs – beaten
1 cup rice flour (plus more if needed)
canola oil
salt/pepper
Place squash in colander, salt, and toss. Leave to drain for 30 minutes, then rinse and pat dry.
Heat oil in a medium pan over medium heat. Add squash and mushroom until tender, about 5 -8 minutes.  Add tomatoes and cook another 2 minutes, or until warmed through.  Season with salt and freshly ground pepper. Transfer to a bowl and allow to cool.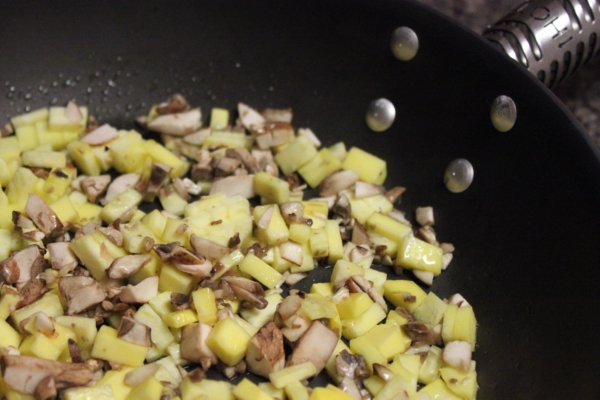 Prepare dredging station, setting the lightly beaten eggs in one shallow dish and the rice flour, seasoned with pepper, in another dish.
Meanwhile, wash and clean the squash blossoms.  Gingerly, pat dry.
In a bowl, prepare the stuffing by stirring together the ricotta and squash mixture.  Taste and season, if needed. Carefully open the blossoms and, using a spoon or piping bag filled with the ricotta mixture, fill with about one 1 teaspoon of the mixture.  Amounts will vary with the sizes of the blossoms, but avoid overfilling the blossoms. Twist the top of each blossom to close. Place on a lined baking sheet until ready to dredge.
To dredge, dip blossoms into the egg mixture, then with the flour. Tap off any excess flour and return to the lined baking sheet. Continue until all blossoms are coated.
Pour canola oil into a deep skillet to a depth of about 1-inch. Heat over high heat to about 350 degrees.* Carefully, working away from your body, slip each stuffed blossom into the hot oil. Do not over crowd the pan. Cook until golden on all sides, about 2-3 minutes. Using a slotted spoon, transfer the golden blossoms to paper towels-lined dish to drain. Immediately sprinkle with salt.  Serve hot.
* Don't have a thermometer? Two heat tests that I heard about, then tried are: (a) Carefully drop a popcorn kernel in the oil. When the kernel pops, the oil is between 350 -365 degrees. (2) Using the end of a wooden spoon, dip it in the oil. The temperature is ready when bubbles surround the spoon. And, the more bubbles that boil, the hotter the oil.
Want to see how others are prrpating their blossoms?  Here are are few to check out…
Alice Q Foodie
Paula @ Bell' alimento
Alisa @ The Art of Food
Stephanie @ The Culinary Life
Katy Elliott
Veggie…Test Kitchen
Live to Cook at Home
Healthy Green Kitchen