lampone/raspberry
Summer is sizzling here in Atlanta.  Despite scorching temperatures, summer is my favorite eating season. The steamy heat evaporates my cravings for heavy foods that cause me to feel weighed down.  However, the fruits and vegetables speak to me with the low, seductive Barry White tone that leaves me wanting. I can't help myself. If I was to equate my fresh produce infatuation with an analogy, it would look something like Chris: summer produce :: bees: honey.
Don't believe me? If a camera journaled my last several weeks, evidence would show me eating fruit like it's going out of style.  Mangoes, strawberries, blueberries, blackberries, no bells or whistles, just as that are. While I do make an effort omit  fruit (or carbs) after 2:00PM,  one might consider what happens in the morning as gluttony.  My problem is I tend to buy like I am a family of ten, instead of a household of one. Yikes! Then, I end up in scramble mode because of the over abundance of produce in my 'fridge.  I end up having to eat up the fruit until I am ill, or try to make a dish that includes large quantities of certain items.  Case in point?  The Blueberry Mango Soup. Three cups of blueberries…that's a lot of berries.
This past weekend wasn't any different that the above mentioned  similar scenario.  In addition to the insane amount of the apricots, strawberries, and Asian pears waiting patiently for their inevitable fate, I had 4 cups of fresh raspberries I feared would go bad before I had a chance to use/eat them.  Determined to beat the "fuzz" to the punch, I decided to make Raspberry Crumb Bars I saw in Taste of Home for my neighbors.  Jen and Marcus are two of the greatest people I have had the pleasure of knowing; they have both been so helpful and supportive.  So, when I can do something for them, like bring them goodies, it is the least I could do.
After baked, sliced, and packaged, I was pleased with the raspberry bites' brightness and allure. But, what would Jen and Marcus think? Saturday evening, after the drop off,  Jen text me a thumbs up.  When I saw Marcus at the gym on Sunday?  He told be they bars were all gone.  Ha!  Love that!
What do you love about summer?  What are you favorite dishes to make and share?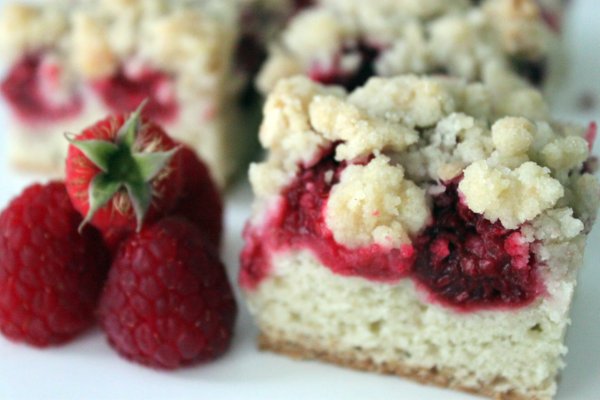 Raspberry Crumb Bars
Adapted from Taste of Home
3 cups all-purpose flour
1 ½ cups sugar, divided
1 tsp baking powder
¼ tsp. salt
½ tsp. cardamom
1 cup butter
2 eggs, lightly beaten
1 tsp. almond extract
½ tsp. vanilla
1 Tbsp. cornstarch
4 cups fresh raspberries
In a large bowl, combine the flour, 1 cup sugar, baking powder, salt, and cardamom. Cut in butter until mixture resembles coarse crumbs. Stir in eggs and extracts. Press two-thirds of the mixture into a greased 9-in. x 9-in. baking dish.
In a large bowl, combine cornstarch and remaining sugar; add berries and gently toss. Spoon over crust. Top with remaining crumb mixture.
Bake at 375° for 35-45 minutes or until bubbly and golden brown. Cool on a wire rack. Cut into bars. Store in the refrigerator.  Yields about 16 bars.
Taste of Home Note: If using frozen raspberries, do not thaw before tossing with cornstarch mixture.
Other Bars You May Enjoy:
Brandy's Baking:  Blackberry Bars
Louanne's Kitchen: Strawberry Bars
Back to the Cutting Board: Berry-Orange Fruity Oaty Bars
Italian Food Forever:  Strawberry Crumb Top Breakfast Cake
Brown Eyed Baker: Raspberry Streusel Bars
Once Upon a Plate: Double Raspberry Streusel Bars
Chubby Chef:  Raspberry Squares