pesca/peach
Happy Eat. Live. Be. For a Better 2011 Monday! And, what a Monday it is.  It's the last day of spring and summer officially begins tomorrow.  I am technically off contract until July, so that means I make my own schedule.  Oh happy day!
Happy…happiness…bliss, cheery, delight, joy…all lovely adjectives that lead me to the next Eat. Live. Be. topic: What Makes Me Happy? What brings me personal happiness and how do I make sure I have "these things" in my life? There are lots of things that make me happy.  Too many to note here. But, if I quickly brainstorm…a few items come to mind.
Hanging out with my mom: If you're a regular reader, you know my mom is my heart.  She is all the family I have/speak with, so our bond is precious. Unfortunately, the 900 miles between our homes prevents us from seeing one another often.  So, when I do get the chance to hang out with her, I cherish those moments.  The moments, memories forever engraved in my brain, make me happy.
The Mountains: I was never an outdoorsy kind of girl.  Then, I moved to Utah and spent my afternoons hiking various trails in the Wasatch mountains.  I even managed to sneak in come paragliding! Whether it was on foot, up in the air, or on a horse, the majestic splendor of the mountains brought about such an inner peace; I am not sure I can put my thoughts in words. The clean air and freedom that went along with Donut Falls, Gobblers Knob, and Willow Heights was like nothing I have ever experienced. We have beautiful mountains here in Georgia, and that is how I keep hiking in my life.  But, if I am being honest, I hope to move back to the mountains of Utah one day.
Food: Food is comfort. 'Nuff said.
Cooking/Cake Decorating: I love losing myself in the kitchen. Creating delicious foods that bring smiles  and warm the soul is happiness. Luckily, I cook everyday, so I feed my happiness without hesitation. I am not decorating cakes anymore, unless for a special occasion, so that's a bummer.  But, I will sneak a fondant cake in every now and again.
Speaking of food, how about a summery bruschetta.  Bread, peach, and honey?  That screams happiness. After I came across Lynda's Peach and Blue Cheese Bruschetta with Honey and Thyme a few weeks back, Icouldn't get it out of my head.  I even mentioned it to Tami during one of our outings. Then, Tami passed along some Cypress Grove Humboldt Fog Goat Cheese.  How could I resist?  The creamy, subtle tangy flavor of the goat cheese would be part of the bruschetta. I made; I conquered; I am hooked.  This bruschetta is ridiculously addictive.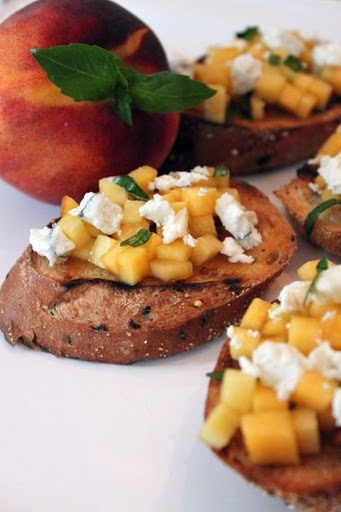 Peach & Goat Cheese Bruschetta
Adapted from TasteFood
4 slices country-style multi-grain bread, cut ½-inch thick
Extra-virgin olive oil
2 ripe, but not too soft, peaches, pitted & diced
¼ cup crumbled goat cheese
2 Tbsp. honey (Savannah Bee Company Sourwood Honey)
4 basil leaves
Preheat oven broiler.
Chiffonade basil leaves.  Toss the diced peaches with 1 Tbsp. of honey and basil; set aside.
Brush both sides of the bread with olive oil and place on a baking pan.  Broil, turning once, until golden brown on both sides. Remove from broiler and transfer to a plate.  While still warm, brush the top of each slice of bread with the remaining honey.
Top peach mixture on bread. Sprinkle with goat cheese.  Serve immediately. Makes 4