giorno dell'indipendenza/Independence Day
Fourth of July, Independence Day, is right around the corner.  The day commemorating the July 4, 1776 declaration of independence from Great Britain is met with fireworks, parades, barbecues, picnics and joyous celebration. Fun, laughter, someone's famous BBQ ribs lead to wonderful memories. Usually, I arrive to shindigs with sweets in hand.  However, I am veering a different direction this year and am showing up with a salad. (I hope that doesn't create sweet tooth issues.)
Typically, "creamy" salad cause me to wince.  A lot of the time, an over abundance of dressing in the salad causes me to wonder if need a fork or a spoon as a utensil.  But, I am torn because I actually like cole slaws and potato salads. The way I get around my aversion to soupy salads is to (1) make them myself and (2) use Vegenaise.
Now, if you're a soupy salad person, never fear.  Use all the dressing in the recipe below.  If you're like me, gradually add the dressing until you reach a preferred saturation.  That being said, I did something different this time.  And, it was kind of by accident.  My original intention was to add the vegetables to the potatoes, then add the dressing. However, as I whisked the Vegenaise with the other ingredients, I inadvertently added the Trinity.   Oops.
So, I decided to strain the vegetables, then add them to the potatoes.  Even with the straining, dressing remained, which allowed transference when I tossed the Trinity with the potatoes.  Score!  The end result was a salad with just enough dressing for me.  There was no need to use the remaining cup of dressing, but I can use that for another salad later this week.
What are your favorite picnics/barbecues eats? Do you have a go-to dish you bring to share?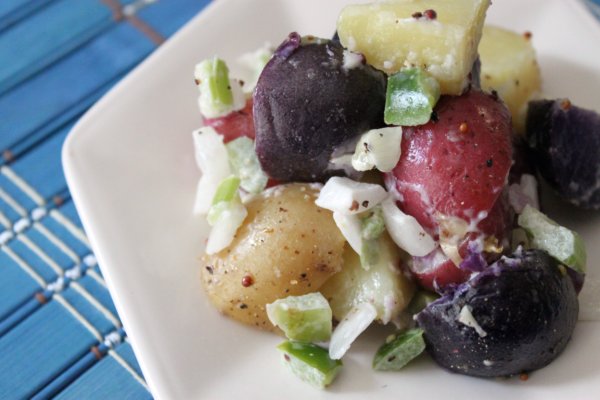 Patriotic Potato Salad
1 lb. unpeeled small or baby red-skinned potatoes
1 lb. unpeeled small purple or blue potatoes
1 lb. unpeeled small white potatoes
1 cup Vegenaise (or mayonnaise)
1/4 cup white wine vinegar
2 Tbsp. whole grain mustard
2 Tbsp. honey
1 Tbsp. minced garlic (about 1 large clove)
1 teaspoons salt
1 teaspoon ground black pepper
1 cup chopped Trinity (celery, green peppers, onions)
Place potatoes in large saucepan, in enough salted water to cover by 1 inch above. Bring to boil, reduce heat to medium, and cook until tender, 10 to 15 minutes (time will vary depending on size and variety of potatoes). Drain and cool to room temperature.
While the potatoes cook, whisk together the vinegar, mustard, honey, garlic, salt and pepper. Add the Trinity. Cover and refrigerate to chill.
Cut potatoes into ½-inch-thick slices and place in large bowl. Add dressing and toss gently. Cover and chill at least 2 hours and up to 1 day. Makes about 6-8 cups.
Other festive dishes you might enjoy…
Other Fabulous Links –