caramellato/caramel
Every once in a while, I end up with something in the kitchen that causes me want to hoot and holler. Case in point?  Twix Bars.  Homemade Twix bars.  You see, while reading Amanda's To Do List,  Liz's Twix Bars struck a chord with me  on a couple of levels.
First, the post referenced candy. I am a candy-aholic.  Yup.  Addicted.  As healthy as I eat, with my farro, legumes and fish, I cancel it all out with candy.  There.  I admitted my Achilles heel.  I am a sucker for tart candy like Lemonheads, Sour Patch Kids and Sprees, as well as sugary bites, like Necos, Boston Baked Beans, and  Good n Plenty. Oddly, I am really not a chocolate girl, despite baking with it all the time. Being allergic to chocolate might have something to do with my aversion. Even so, I do find myself sneaking a Twix every now and again.  There is something about the gooey caramel and chocolate colliding with the cookie inside that makes me swoon.  So, you can imagine my glee when I saw Amanda's link to Liz's homemade version.
The second chord that strummed for me was its eerie déjà vu-like familiarity/presence as I ogled at the picture on my screen.   After pondering for a while, then (virtually) flipping through my bookmarks, low and behold I found the Twix Bars.  Turns out, I bookmarked Liz's Twix Bars long ago.  Sadly, the link became a needle in the haystack of "favorites", another "must try" recipe abandoned. Until now.
I hopped in the kitchen this week, borrowed the idea, and played.  What better way to amuse myself than with shortbread, caramel, and my new colossal bag of Scharffen Berger Bittersweet chocolate? During my playtime, I decided to travel a different route with the bar's caramel.  Why?  Lack of brown sugar.  Then, I was going to remedy that issue with castor sugar and molasses.  No molasses.  Really? What ingredient-eating monster invaded my cabinets? Grrr. So, all I had left in my bag of tricks was Dark Corn Syrup.  The end result is the recipe below…and it works.  It works well.
Happily , I shared my twix bars with Tami, Erin, Patti, Lee, and Broderick.  They seemed to like the bars as much as I did.  That's a good thing! I have a feeling this is going to me my new go-to sweet when I need to whip up something.  They're super simple and irresistible.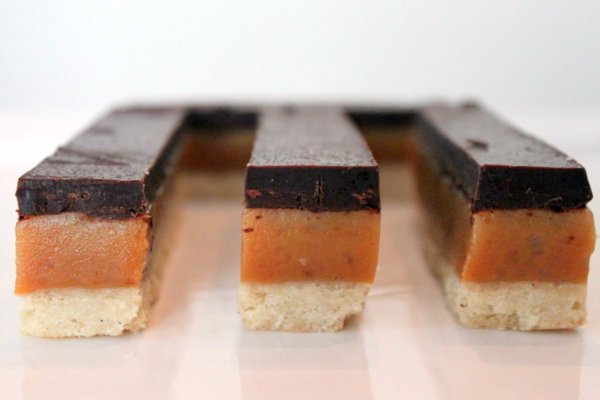 Homemade Twix Bars
Inspired by Hoosier Homemade
Shortbread Base
1 ¼ all purpose flour
½ cup unsalted butter
¼ cup castor (fine) sugar*
2 tsp. vanilla bean paste or vanilla extract
Caramel Filling
¾ cup unsalted butter
½ cup sugar
¼ cup dark corn syrup
1 14- oz. can sweetened condensed milk
Topping
10 oz. bittersweet chocolate** (like Scharffen Berger)
Preheat oven to 350°F. Grease/Spray and line the bottom of an 8-inch square pan.
Combine butter, flour, sugar and vanilla in a large mixing bowl.  Beat for 1 minute on medium speed until the batter starts to come together. Do not overbeat.  While together, but still crumbly, transfer dough into the prepared pan and press evenly to make the base.  Bake for 20-25 minutes, or until golden.
Meanwhile, make the filling.  Place the butter, sugar, dark corn syrup, and condensed milk in a medium saucepan over medium-low heat.  Stir frequently. Once the sugar dissolves, increase heat and bring milk mixture to a boil, then reduce heat back to medium-low heat.  Cook, stirring frequently,  for 8-10 minutes until the mixture becomes thick and begins to pull away from the sides of the pan.
Pour over the baked shortbread base and let cool for 15-30 minutes. Place in the refrigerator to cool, and firm, completely.
Once firm, melt the chocolate in a heat-proof bowl, over a saucepan of simmering water.  Heat the chocolate, stirring frequently, until melted. Cool slightly.  Carefully pour over the caramel. Use an off-set spatula to even the layer and make any desired "wave" or pattern.
Chill to set. Cut into desired bars.  Store in an airtight container for up to a week. Makes about 16, 4-inch sticks.
*If you can't find fine sugar, place the sugar in the food processor and pulse to make it fine.  Then, measure accordingly.
**semi-sweet works as well
Other Twix recipes you might enjoy:
Not without Salt
Foodie with Family
One Bite at a Time
Back to the Cutting Board
Cooking Books
Guilty Kitchen