mangiare al ristorante/eat out
Happy Eat. Live. Be. For a Better 2011 Monday! Did you have a fabulous weekend?  Mine was low-key.  The highlight of the weekend was hanging out with Tami during her birthday shindig.  Then, I spent my Sunday in the kitchen. Good times.
One task I actually accomplished…from my couch… was noting several restaurants I want to get to in the coming weeks.  Among some favorite eateries,  I added several new (to me) places. Excited about venturing into the unknown, there is also trepidation attached with new restaurants. Eating out can easily derail any journey of healthy eating. Indulging every now and again is fine.  All the time?  For me and my hips?  Not so much. And, that brings me to today's ELB topic, #26: Healthy Living in the Real World.  Can you be healthy and eat out? Can you be healthy and travel? (Of course!)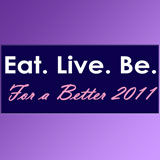 Yes.  Eating healthy can translate in and out of the house, for everyone. I believe some people really do not know how to eat well, for whatever reason, but most can put the basics into practice.  And, while I have always known, somewhere in the back of my brain, it is possible to be healthy and eat out, I haven't always done right by my hips. It was a choice, I know. To put it all out there, eating out/travel eating  used to be my excuse to be scandalous with what I consumed.  It wasn't until my Utah job that it all connected and made sense. I worked at a fitness "camp" as a program manager and part time chef.  It was my job responsibility to balance meals and educate the clients, while practicing what I preached.  Not wanting to overwhelm and/or scare anyone trying to make a change, I broke some basic information down to helpful and applicable tips for eating home or while traveling. Here is some of what I shared.
Breakfast: Stay away from bagels, sweet pastries, croissants, and juices.  Healthier choices are yogurt, oatmeal, and a (fresh) fruit. Order an egg white omelet, and add vegetables.
Eat Lean Protein: When ordering, choose baked or grilled entrees over fried. Chicken, fish, and shellfish are the healthiest protein selections.  When choosing beef, watch the cuts. The leanest to fattiest cuts of beef are strip loin, flank, sirloin, tenderloin, rib-eye, and T-bone.  Pork is best when it's from the leg or loin, and avoid (don't yell at me…) pork belly and bacon. Stay away from processed meats (sausage, ground meat, hot dogs).
The "fixins": Hold the cheese, "special" sauce, mayonnaise, and/or fries. Say no to bread – if you must, go for a whole wheat option.
Soups & Salads: Choose soups you can see thorough. Broth or stock based soups are healthier than ones made with cheese, cream, or milk. Ask for dressings on the side and/or choose non-cream based, light/ fat-free salad dressings.
Miscellaneous: Avoid descriptors like stuffed, double, triple, slammed, dunked, crispy, or glazed. Whole grain pasta with tomato or broth base sauce. Choose vegetarian options.
Portion control:
Average serving size for vegetables – 1 cup (exception is leafy greens where two (2) stuffed measuring cups full only counts as 1 serving.
Average serving size grains – ½ cup cooked brown rice, ½ cup cooked whole wheat pasta, ½ cup cooked hot cereal, 1 slice whole wheat bread, 1 cup dry cereal
Need a visual?
1 cup of vegetables – two hands cupped together
1 slice of bread = CD case
½ a bagel =  hockey puck
1 cup cereal = two hands cupped together
½ cup cooked grain or pasta =  tennis ball
1 piece of fruit = the size of a tennis ball
3 oz. Meat or chicken =  deck of cards
3-4 oz. Fish = a checkbook (for those of you who still keep one)
Potato = computer mouse
1 oz. of cheese  = domino
1 Tbsp. nut butter – peanut, almond, etc  = golf ball
Salas dressing/butter = 1 large die
So, don't be afraid to go out…eat!  Mangia!  And enjoy. 

*Picture from KidsHealth.org