mischiato/mixture
Happy Eat. Live. Be. For a Better 2011 Monday! I hope you all have a wonderful weekend.  Did you go to your local Bake Sale, eat great dessert goodies and give to a great cause?  The Atlanta Bake Sale was fabulous and we blew away the $1600 we raised last year for Share Our Strength. There ended up to me more than 3000 dollars reasons why Atlanta's day was such a success, and the day's recap will come later this week. But I couldn't start this week by saying congratulations.  Congratulations to all the wonderful bakers and supporters who helped make this day possible once again, this year.  When you read about how the money helps,
$1 can help provide a hungry child with 10 healthy meals.
$4 can help provide a child facing hunger with a backpack full of healthy food over a weekend when school meals are not available.
$9 can help connect a child with healthy lunches during summer when school is out.
$35 can help a child care center provide free afterschool snacks and suppers to at-risk children all year long.
$65 can provide a grab-n-go breakfast cart to an elementary school so that every student starts every school day with a healthy meal.
can you imagine what the thousands upon thousands of dollars raised across the U.S. will do?  I wonder if Gaby knew, when she spearheaded this whole thing last year, that it would morph into such a success? Way to go food bloggers!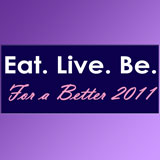 Participating in the Bake Sale not only let me give to a great cause, but it helped me with my Eat. Live.Be.  "habit breaking" mission. And, this week just so happens to be a check-in with Topic #20: Habit Breaking Part 2 week. Looking back at the habit(s) I mentioned I wanted to break two weeks ago, I am supposed to report back on my progress.  My goals were to stop buying more food that I can use within a week and to socialize more. Have I been successful? What do you think?
Yes?  No?  How about Yeno.  That's my way of saying "kind of".
First, the food.  I have been doing better, despite finally renewing my Costco membership. So far, I have limited my Costco purchases to fruit (in particular, blackberries and sliced mangoes) and individual packs of hummus and ruby red grapefruit.  I go through the fruit quickly because it serves as my snack throughout the day. Luckily, the time stamp on the hummus and grapefruit packs buys me a eat-up time. Knowing I have time to consume it all pleases me as I grab a couple in the morning to make it through the day.
That has been the best I have done with breaking the food habit.  Again, I have done better since I mentioned my decision to include as part of my habit breaking, but my refrigerator and cabinets has still had leftovers at week's end. Lunch meat that didn't get placed into my lunchtime hummus roll, veggies I didn't have time to prepare for dinner because of late work nights, or expired milk that never made it into my Kashi cereal I chose to eat dry…all still remain.
My socializing? Well, I made it to the Bake Sale this weekend. Does that count? While I am aware there are always reasons excuses on why I don't go somewhere, the month of May really is tricky.  It's the last month of school here.  End of Course Tests, finals & Advanced Placement (AP) Exams, Prom, Senior Week, state finals in this sport and that sport, and the elephant in the room?  Graduation.  Along with another administrator, she and I are responsible for making sure all goes well. No pressure. None at all.  *Biting my nails.* On top of that, there is other drama going on at work that, while I would love to vent about here, I will hold my tongue. As a result, many after school meetings have been happening.   Late nights have led to canceled dates (Yes…dates…with possible suitors. I am not winning at the good first impression corner.), canceled media dinners, and rescheduled trainer sessions.
So, going back to the original question at hand, Have I been successful at breaking my bad habits, the answer is, Yeno.  Yes. I have made attempts and changed a little.  No. I have only made minimal progress and have a long, long, long way to go.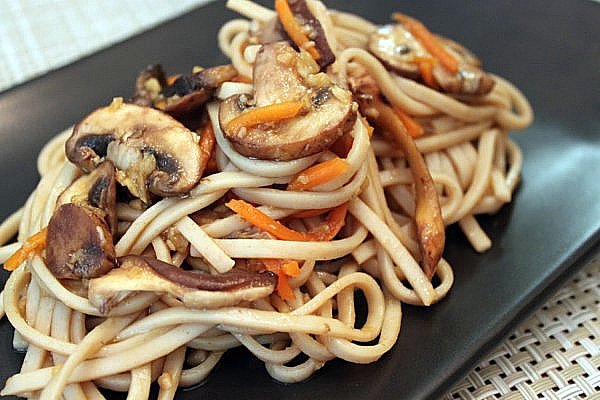 The end of the school year (with kids and teachers) is two weeks away. My work doesn't end, but my schedule eases up a bit. With the increase of flexibility, I am excited for the Yeno to become an astoundingly loud, Yes!
Whipping up dishes that can step in as lunch, then again as dinner, allows me to make dents in my habit breaking  progress. This Mushroom Medley with Udon Noodles are one of those dishes. My love of mushrooms is an added bonus.  Growing up, it was all about button mushrooms.  There weren't the varieties available back then that are around now.  And, let's face it.  My mom was raising four kids with four different schedules, and food was fuel.  "Fancy" preparations were saved for holidays and company.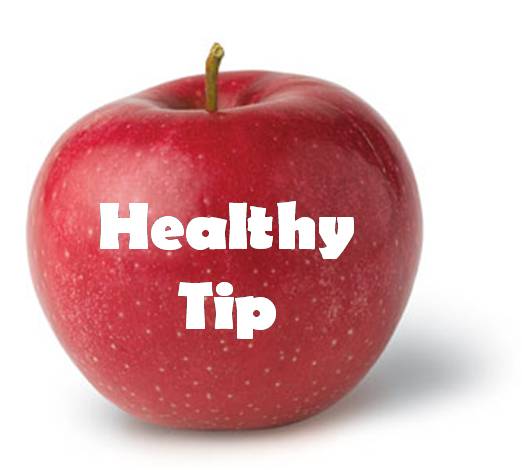 Since my teen years, my palate and love for mushrooms have developed. Shitake, Oyster, Portabella, Cremini, Clamshell…doesn't matter. Bring 'em on!  The edible fungi, which are packed with of proteins, vitamins, amino acids, and antioxidants, help lower cholesterol, can contribute to weight loss (with their levels of protein, low carbs, high fiber, and lack of fat), and rich in calcium.
So, when I saw the mix of cremini, shiitake, and oyster, I knew the convenient little package work for me.  Mix them with the combination of mirin and soy sauce, I wanted to sing.  Add the ginger, garlic, carrots, and mushrooms?  That singing might end up out heard by others.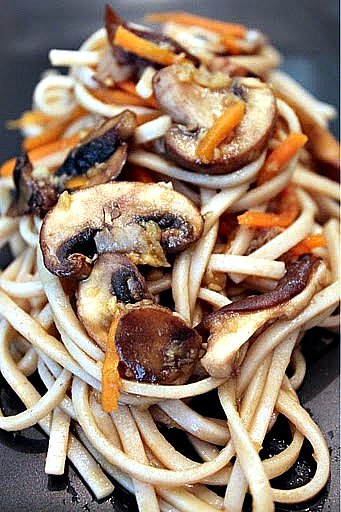 Mushroom Medley Udon Noodles
The Get Healthy Go Vegan Cookbook by Neal Barnard, MD and Robyn Web from
1 8-oz package (whole wheat) noodles
1 ¼ cups vegetable broth
1 Tbsp. minced garlic
1 small onion, thinly sliced
2tsp. fresh ginger, minced
½ cup grated carrot
2 cups assorted mushrooms, sliced (shiitake, cremini, oyster)
¼ cup mirin
1 Tbsp. soy sauce*
Cook noodles according to the package directions. Drain, rinse, set aside.
Heat ½ cup broth in wok or heavy skillet over medium high heat. Add garlic and onion; cook for 2 minute.  Add ginger and cook for 1 minute.  Add carrots and cook for 3 minutes.  Stir in mirin and cook until it evaporates. Add broth, soy sauce, and cook for 2 minutes.  Gently add noodles and toss to combine.
*I used Braggs Amino Acids.
Other mushroom recipes you might enjoy…
Oyster Mushroom Omelet Breakfast Burrito
Roasted Turkey Cutlets with Shiitake Cream Sauce
<script src="http://www.stumbleupon.com/hostedbadge.php?s=5″></script>