mirtilli/blueberries
Today is Minimalist Monday.
The post was written. The pictures were edited. I hit save and a white screen appeared, the hour glass began to spin…poof. Post-be-gone.
So, there will not be any Eat. Live. Be. For a Better 2011 Monday check-in, or BlogHerFood '11 recap.  With all that is going on at home and at work, there isn't a whole lot of extra time to rewrite the details that just vanished into thin air.
I will say that the weekend included lovely days of fun, food, and forums with amazingly talented people. Reconnecting and meeting everyone was worth more than any the registration fee. Priceless, in fact.  Posts down the road will include specific and poignant moments and people who made an impact.  But, until then…here's some soup.
This soup called to me as I came across it one afternoon.  It's a sneaky soup, actually…a double agent with its versatility and ability to be an appetizer or a dessert. What's better?  It is fast, easy, and easily adaptable.
The predominant flavor is the blueberry, in case you couldn't tell by the dark color.  Ha!  The cardamom also adds a wonderful hint of "something" as it travels over your taste buds.  I added a swirl of sour cream here.  Creme fraiche, cream, or yogurt would work, as well. Not a fan of the added garnishes?  No worries; the soup is delicious on its own.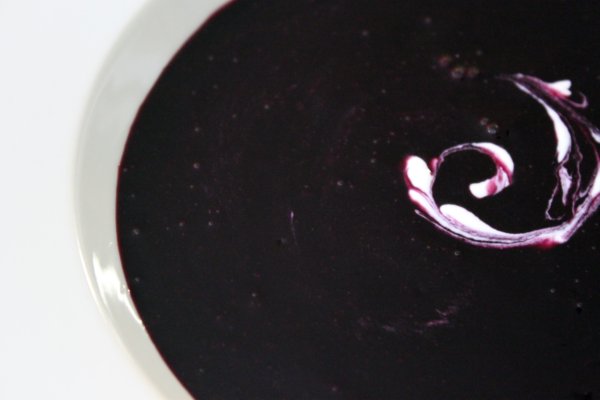 Blueberry Mango Soup
An adapted Marcus Samuelsson recipe
3 cups fresh blueberries*
1/3 cup Sugar
2 Tbsp. lemon juice
½ tsp. ground cardamom
¾ cup mango purée
2 Tbsp. honey
In a saucepan, combine blueberries, sugar, lemon juice, and cardamom. Bring mixture to a boil over medium-high heat.  Cook and stir until sugar dissolves, about 7 minutes.
Allow the blueberry mixture to cool, about 15 minutes. Transfer to a blender container, add honey and purée. Strain mixture through a fine sieve or strainer. Transfer to a bowl and whisk in mango purée. Cover and chill completely.
Ladle soup into shallow soup bowls or dessert dishes.
Yields about 3 cups
* Frozen blueberries can also be used