carciofo/artichoke
Happy Eat. Live. Be. For a Better 2011 Memorial Day Monday, the unofficial start to summer. What does that mean? Freedom and peace of mind.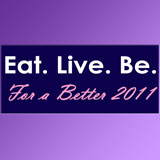 This weekend, I began working on my home, cleaning and organizing it back to what it was. I used to be oober organized, neat and tidy.  The last two years have been, well, not so organized, neat and tidy. My home OCDness got lost somewhere between Georgia and Utah. Nonetheless, I am confident it will return. Not, don't misunderstand.  My house is never dirty…I just don't always put "stuff" back where it needs to be. So, its on…the great purge. It won't happen overnight, but it will occur room by room. When the time comes to put the house back on the market, I can make a clean break for it.
It helps that school is out and I don't have a structured work schedule.  My stress levels will be lessened without students and teachers around, at least for a couple of weeks. Working at ISAC on whatever work needs to be done helps my peace of mind, too. Working there is happiness.
Most importantly, summer means culinary rejuvenation.  I can be adventurous in the kitchen again.  Sure, I can be exploratory anytime, but freedom and creativity comes best (for me) when my mind is freed from the minutia of the school day. There was a time when flavor profiles and recipes would pop in my head, sometimes at the most inopportune times. Being back in school has dampened those inspirations a little.  So, with summer having a different aura my cravings shift and eating returns to super simple, fun and healthy with the bumper crops of fruits and vegetables.
Other  than that, I am looking forward to going with the flow.  I am anxious to get back what I have lost in recent years, and enjoy the beauty around me. And, seeing my mom in July.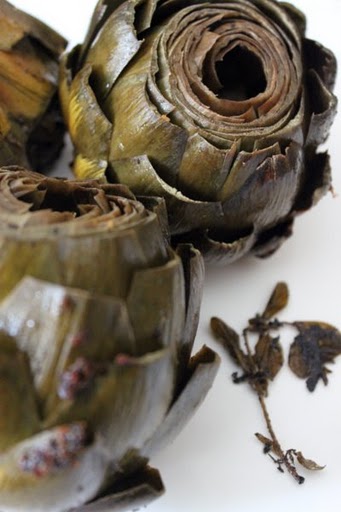 Artichokes Braised with Garlic and Thyme
from Gourmet
6 medium artichokes (1/2 lb each)
18 fresh flat-leaf parsley sprigs
¼ cup olive oil
8 fresh thyme sprigs
1 head of garlic, cloves separated and left unpeeled
1 cup water
¼ tsp. black pepper
1 tsp. salt
1 Tbsp. extra-virgin olive oil
Working with 1 artichoke at a time, cut off top inch of artichoke and gently pull open center. Scoop out sharp leaves and fuzzy choke from center with a melon-ball cutter or a spoon. Trim bottom ¼ inch of stem (if present), keeping stem attached, and peel stem. Put artichoke in a large bowl of cold water. Repeat with remaining artichokes.
Remove artichokes from water and push 3 parsley sprigs into center of each. Heat ¼ cup olive oil in pot over moderate heat until hot but not smoking, then add artichokes, thyme sprigs, garlic, ¼ cup water, pepper, and ½ teaspoon salt. Cover pot and braise artichokes, turning occasionally, until artichokes are browned in spots and bases are tender when pierced with a knife, about 35 minutes.
Transfer artichokes, thyme, and garlic to a platter. Add remaining ¾ cup water to pot and deglaze by boiling over high heat, stirring and scraping up brown bits, 1 minute. Pour pan juices (they will be dark) into a small bowl and stir in extra-virgin olive oil and remaining ½ teaspoon salt. Squeeze pulp from 2 of garlic cloves into juices and mash into sauce with a fork.
Divide artichokes and remaining garlic cloves among 6 plates and drizzle with sauce. Garlic cloves can be peeled and spread on crusty bread. Serves6
Cooks' note: Artichokes can be cleaned and trimmed 8 hours ahead and kept in bowl of water in refrigerator.
* My changes:  I made 3 large artichokes, but did not change the amounts of the other ingredients.  I replaced parsley with basil and thyme with oregano. Instead of garlic cloves, I whisked a Tbsp. of crushed garlic into the oil.