crostata di cipolla/onion tart
Spring Break!  I am very excited.  It has started off pretty great, beginning with The Legends of Hip Hop Concert on Saturday night. Other than the gym?  Nothing.  I didn't set my alarm. I didn't leave my house.  Kitchen, couch, bed. Very exciting.  You may be thinking, Why not get up and out during your time off? I will.  This week will be busy doing this and that. But, the first two days of limited human contact was quite enjoyable.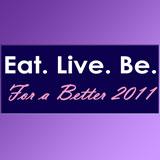 One thing I did do, while morphing with my couch, was plan out my food for the week.  Since I will be off my regular routine, there are tempting fattening food scenarios around every corner.  I can't let that happen.  So, this week's Happy Eat. Live. Be. For a Better 2011 Topic (#14) arrived in just in time.  The subject, Creative Ways to Eat All Your Fruits and Veggies –   "eating a rainbow", gets me to ask, How do I get in my 5 servings a day?
While it may seem easy for someone like me, who eats fruits and vegetables more than any other food, there are days incorporating 5 servings can be difficult.  Besides trying to incorporate vegetables into my lunch and dinner, through salads or sautéed medleys, I generally try to follow a plan for breakfast and snacking.
First, nibbling on about 1 cup of some kind of fruit, blueberries, cantaloupe, strawberries, or a half of a ruby red grapefruit, when I get into the office around 6:30AM gets my day going.  Or, I may throw blueberries into some cottage cheese as my breakfast as well.  Although I enjoy orange juice, I try to stay away from it because it is easy to overindulge.  A glass, for most people, equals multiple servings, more than the 1 or 2 servings recommended.  Even if the juice is 100% juice without sugar added, fruits naturally contain high levels of sugar.  The high levels even lead to some fruit juices containing the same amount of sugar than soda. Yikes!  That's a lot.
As far as snackin', well, who doesn't love snacking?  My problem, in the past, has been that I snack on the wrong things.  Now?  I am fairly calculated with what I munch on and using little snack baggies helps me stay on track by packing my nibbles ahead of time. I love almonds, but also choose to munch on servings of little grape tomatoes, carrots, peppers and celery that fit perfectly in the baggies.
As far as actively and consciously incorporating fruits and veggies into my daily eats, that's about the extent of it.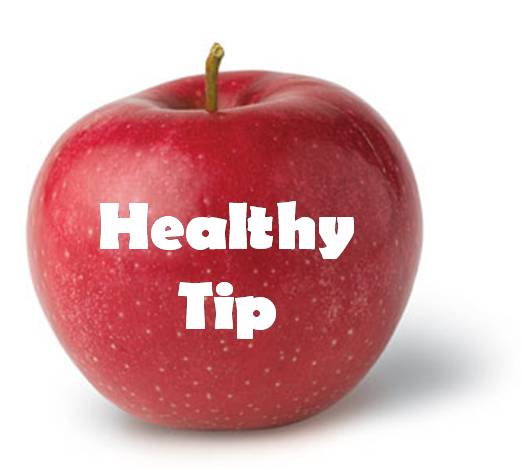 But, I have other ideas with which I could do a better job, like using applesauce is breads or oatmeal.  Or, I think it would be fun trying a new fruit, vegetable, or recipe each week. I found this fun page on the CDC website that helps with that.  Since one of the veggies the CDC points out for April is Tomatillo, my mind goes eight to Tomatillo Salsa Verde and Tomatillo Salsa. Yum!
The lingering thought that hangs over my head is that eating healthy can be pricey.  We all know that.  And, the CDC understands it as well.  While perusing their site, I came across 30 Ways in 30 Days to Stretch your Fruit and Vegetable Budget which offer wonderful suggestions on how to stretch the veggie dollar. This comes in very handy for someone like me, who has to constantly watch pennies.
Speaking of extras and stretching vegetable usage, I did a little stretching with this tart.  After buying a bag of sweet onions, I decided to use the unused onions for a tart with the Jarlsberg cheese I brought home from Go Savor. The tart served as three-four meals.  Whoohoo!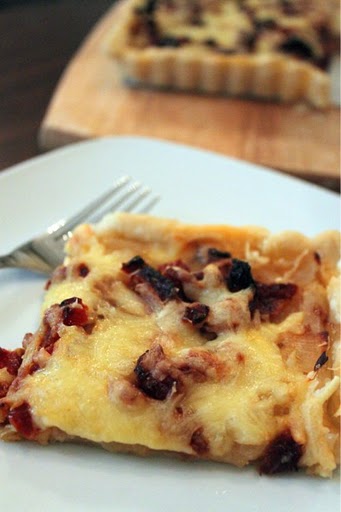 Sundried Tomato Onion Tart
4 sweet onions
2 Tbsp. unsalted butter
1 tsp. fine sea salt
2 cups swiss cheese, like Jarlsberg, grated and divided
½ cup sundried tomatoes, in oil, drained
pie crust, from scratch (recipe follows) or prepared
To prepare your own crust. Roll out on a lightly floured surface to ¼ inch thick. Transfer to tart pan and place in refrigerator until ready. (9X9 square pan was used here.) Wrap and reserve extra dough for later use.
Preheat oven to 375 ͦ F. Set an oven rack on the lowest position in the oven.
Melt butter in a pan over medium heat.  Sauté onions until golden, about 20 minutes, adding salt as needed. Remove tart from the refrigerator and spread half the grated cheese in the tart, then top with onions.  Sprinkle with sundried tomatoes.  Top with remaining cheese. Bake for 30-40 minutes, or until golden brown. Serve immediately. Serves 6-8
Cook's note:  (1) The amounts of cheese, onions, and tomatoes can be altered according to preference. (2) Can be made into mini/individual tarts as well, although baking times may vary.

Tart Crust
2 cups all-purpose flour
1 stick (1/2 cup) cold unsalted butter, cut into 1/2-inch cubes
¼ cup vegetable shortening
½ tsp. salt
4 to 5 Tbsp. ice water
Blend together flour, butter, shortening, and salt in a bowl with your fingertips, pastry blender , or in a food processor, until the mixture resembles coarse meal. Drizzle evenly with 4 Tbsp. ice water and gently stir with a fork, or pulse in processor, until incorporated. Test consistency by squeezing a small handful.  It is ready if the dough holds together.  If no, add more ice water, ½ Tbsp. at a time, repeating the incorporation then testing again. *Do not overwork mixture.*
Turn out mixture onto a lightly floured surface and roll out dough to fit your tart pan. Transfer to pan and trim off excess dough. Lightly prick bottom with a fork and chill until firm, about 30 minutes.