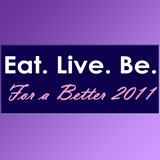 Happy Eat. Live. Be. For a Better 2011 Monday! Okay….I realize it's Tuesday night.  But, it was my intent to get this post up before heading to work Monday morning.  Obviously, that didn't happen.  So, better late than never. Take 2: Happy Eat. Live. Be. For a Better 2011 Tuesday!
Did you have a beautiful weekend? Has your week begun famously? Minus the terrible storms here in Atlanta on Friday night, Saturday and Sunday were beautiful.  Having said that, my thoughts and prayers go out to those who fell victim to the tornadoes.
On my side of town, I had the please of attending my High School's prom.  This was the first prom I have been to since I went as a sophomore to the Junior/Senior prom when I was a teen.  I never went as a junior or senior.  So, it was quite the experience!  Held in midtown Atlanta, the kids were excited and danced the whole night.  It was great to see the enjoyment they experienced.  And, the icing on the cake was that there weren't any problems, fights, kids caught with "contraband", etc.  Woohoo!
I also headed over to ISAC to take pics of the Mark Seaman sugar class.  I enjoy Chef more and more, each time I see him.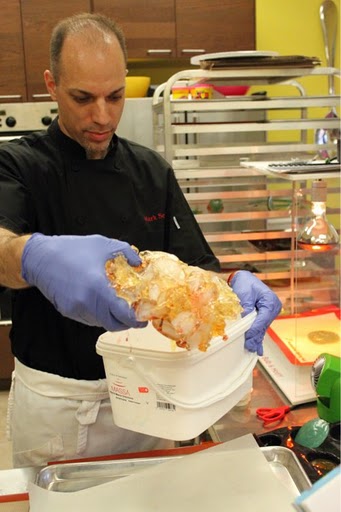 This post comes at a perfect time to bring Chef Mark Seaman up because he is the picture of health.  Sure, he works with sugar and yummy, decadent, and calorie-packed desserts.  But, he's also an avid runner and is currently training for a marathon.  Prime candidate for Eat. Live. Be. For a Better 2011, right?
I don't enjoy running like Mark.  But, I try.  When on the treadmill, I (think I) run. My trainer calls it jogging.  Whatever.  It feels like I am getting chased by someone!  no matter what you call it, I couldn't run without my music.  In fact, if I forget my iPod at home, I will turn the car back around, just to have music while working out.Which brings me to Eat. Live. Be. Topic #16: What's On Your Playlist?  I am supposed to spill the beans about the soundtrack I listen to as I work toward my healthy goals.
Well, here it goes.
I have mentioned before, when I baked for the "hip hop moms" and attended the The Legends of Hip Hop Concert, but for those of you who missed it….I love rap and hip hop. While I enjoy other genres, and appreciate all music, I always end up at hip hip.  It's funny, because I will catch students off guard when they come into my office and my iPod is playing.  "Whatchu know about this, Dr. A".  I laugh, as I have been listening to rap since before they were born. Then, at the prom, I got "caught" singing and "bobbing my head".  I forgot….teachers and administrators are not supposed to know/like the same …anything…as teens.
My gym playlist  a bunch of saggy jeans, tattoo-covered guys…the likes of Travis Porter, DJ Khalid, Lil' Wayne, TPain, Krizz Kaliko, TI, DMX, Rick Ross, Gucci Mane, Ludacris,Wiz Khalifa.  I can't explain why I like it…but it keeps me going on on the treadmill.
While the music I listen to is anything but clean and refreshing, the summer caprese below is.  Most of use know of, and eat, caprese salads.  Caprese Salad, the simple Italian salad consisting of fresh buffalo mozzarella slices, plum tomatoes and basil, lightly seasoned with salt, black pepper, and olive oil.  Delicious, right?  Well, a couple of years ago, I made an Orange Caprese, with prosciutto and spinach leaves.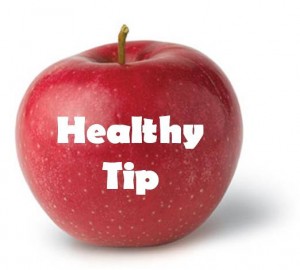 Oranges in a caprese salad are a bit unorthodox, but are a healthy and add a different flavor profile. The benefits of oranges, like how they help prevent kidney stones, lower cholesterol and blood pressure, and helps digestion. But, let's not forget the biggy, right in front of us.  Vitamin C! The Victimize C is a nutrient that helps the body fight cancer. [Inserting shameless plug for Cooking to Combat Cancer here]. And, I am not just taking the flesh of the orange, I mean the peel, too!  The peel is also said to help in the fight against cancer, so don't be so quick to toss it in the trash.
What do you think?  Willing to veer to the left a little and try a caprese salad with oranges?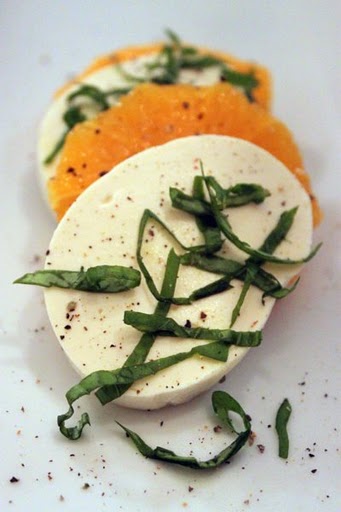 Summer Caprese
½ pound fresh mozzarella cheese, sliced 1/4-inch thick
2 large navel oranges, sliced in rounds, 1/4-inch thick
1/3 cup fresh basil leaves, chiffonade
Coarse salt & freshly ground black pepper to taste
¼ cup extra-virgin olive oil
In a circular design around the side of a serving plate, alternate fresh mozzarella slices on a large platter (or on individual plates if you are doing individual portions) with sliced oranges, overlapping for effect.
Sprinkle the basil over the slices. Add salt and freshly ground pepper to taste. Just before serving, drizzle on some top-quality extra-virgin olive oil.  Makes 4 servings.