istigare una lotta / put up a fight
Spring is in full bloom and summer is about to heat up. I don't know about you, but I adore the foods that coincide with the warm months.  Rosemary and other herbs & spices like turmeric and curry, garlic, seaweed, berries, green leafy vegetables, avocados, tomatoes, and fish…so many to choose from, so little time.  In addition to spring and summer foods being absolutely delicious, the majority are really healthy.  So much, in fact, that many are considered cancer-fighting.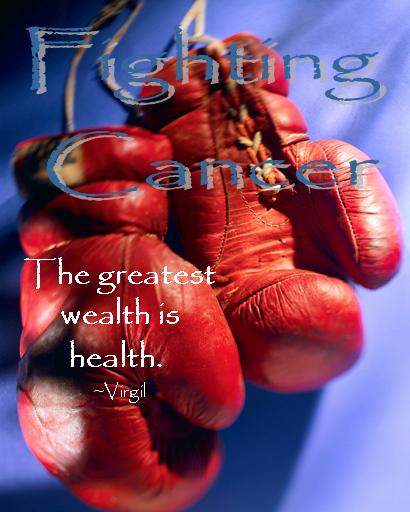 These cancer-fighting foods bring me to the reason for this post. I have struggled the last couple of years about whether or not to continue with certain blog events, as their impacts (in my opinion) have appeared to diminish over recent years.  Maybe it's just with the ones with which I host/participate who knows. Even so, I have decided that even if I am the only one participating, Cooking to Combat Cancer will continue, as long as I have Mele Cotte.  Why?  If you've been a reader over the last several years, you may remember reading that I lost my grandmother to pancreatic cancer in November 1993. Then, I was diagnosed with Thyroid Cancer on April 29, 2001.  So, like most of you, cancer has had a pretty big impact of my life. Therefore, I have decided to host Cooking to Combat Cancer for year number five. Will you help me put together another fantastic round up?
It's easy.  Here is what you need to do:
Create an edible creation that includes something that will help the body fight cancer. In short? Healthy recipes, regardless of course.  Meal, snack, drink…it's all good!
You must post your cancer combating culinary creation, with a link back to this posting, no later than Friday, April 29, 2011. 11:59 EST. (Feel free to pick up the above logo for your post.)
After you post, please send an email to me at melecotte (at) gmail (dot) com, with Cooking to Combat Cancer in the subject time. Then, in the body of your email, include
– your name (as you go by on your blog/twitter)
– the name of your blog (if applicable)
– the name of your recipe
– a permalink to your post (if applicable)
– a picture
***You do not need a blog to participate! Feel free to send me the above information, and even the recipe (if you want). It's all about getting the word out. ***
Need help finding healthy recipes . Mayo Clinic Recipes is a great place to look, as well as the places online Kalyn suggested a couple of years back – including this list of Cancer Fighting Foods and Spices, and this list of 11 Cancer Fighting Foods. I also find this online Thyroid Cookbook a great resource, as there were several occasions I had to follow a low-iodine diet during my recovery.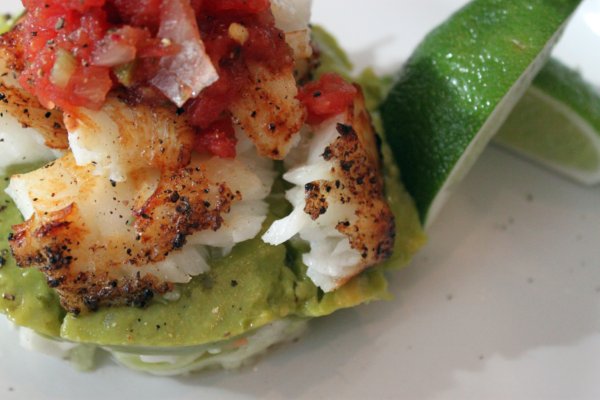 To start off the Cooking to Combat Cancer "match", I am presenting a prize fighter with deconstructed tacos. Every component includes a cancer-fighting ingredient.
(1) Green, leafy Cabbage, a cruciferous vegetable, has indole-3-carbinol which has been researched to combat certain cancers. (2) Avocados are rich in antioxidants. (3) Tomatoes contain lycopene, an antioxidant studied for its part in fighting cancer. (4) Fish is a great source of Omega-3s which are said to reduce risk for inflammation and cancer. To get the greatest benefits from fish,  bake, broil, grill or poach your fillets, rather than fry, which I have done here. While you can use any fish, I used Sea Bass in this taco. There is great information about Sea Bass on the Livestrong's Smart Shopping tips page.
Cool, right?
While fish tacos have been around forever, they have only been in my life for the last couple of years.  I wasn't because I thought fish tacos were/are gross or bad; obviously.  It simply took me a little while to wrap my head around fish as the protein with the spicy goodness that typically sits in the tortilla.  Luckily, once I came to my senses, I was sold. But, why deconstructed?  Where are the tortillas?  Well, what had happened was….
When the hankering for fish tacos hit, I hopped over to the store, grabbed some cabbage slaw and other ingredients to make some salsa and guacamole, and headed home to fulfill my craving. La, la, la…tinkering away in the kitchen…I went to grab the tortillas…the tortillas…the tortillas?  Where were the tortillas? Ah! With all my shopping, I didn't pick up any tortillas.  What to do?  How would my craving be satisfied? From these deconstructed fish tacos.  The combination of cool slaw, spicy guacamole, warm fish, and salsa made my tastebuds sing!
Deconstructed Fish Tacos
4 (8-ounce) sea bass fillets, or any white fish
¾ cup plus 3 tablespoons fresh lime juice
1 cabbage, finely shredded or one package of shredded coleslaw mix
1 medium carrot, shredded
3 tsp. extra virgin olive oil
fine sea salt & freshly ground pepper to taste
guacamole (recipe follows)
chunky salsa
Pour ¾ cup into a gallon-sized zip-sealing plastic bag. Place the sea bass fillets into the juice and seal, leaving a small amount of air. Carefully, work with the bag to distribute the juice over the sea bass, but do not break the fillets. Reopen the bag to re-seal after squeezing out as much air as possible. Refrigerate for 30-60 minutes.
Prepare the guacamole, cover, and refrigerate.
Preheat the broiler (grill). Position the rack 4 inches from the heat source.
In a large bowl, toss the cabbage and carrot with the oil and the remaining 3 tablespoons of lime juice. Season with salt and pepper. Refrigerate, covered, until ready for use.
Line a baking pan with foil, then lightly spray with cooking spray. Remove sea bass fillets from the juice (then discard marinade), place fish on the prepared pan and season with salt and pepper. Broil (grill) until the fish is opaque throughout when tested with a tip of a knife, about 8 to 10 minutes, or longer depending on the size/thickness. Remove from oven and let sit for 3-5 minutes.  With a fork, flake or chunk the fillets.
To serve, with or without tortilla wraps, stack each serving:  slaw, guacamole, fish, and salsa.  Top with freshly ground pepper. Serve immediately.
Guacamole
4 avocados
1 onion
2 serrano chiles
2 cloves of garlic
¼ cup cilantro leaves
1-2 limes, juiced
Preheat your oven to 450°F. Spread the chiles and garlic on a baking sheet, evenly in a single layer. Roast for about 4-5 minutes until the skins blister, watching carefully so they do not burn. Transfer into a plastic or paper bag and close/seal for 10 to 15 minutes. Wearing gloves, remove from bag and peel to remove and discard the skin, seeds, and the veins (of the peppers).
Mince the peeled garlic and chiles with the cilantro, place in a large bowl; set aside.
Remove the flesh from the avocados and add to the chiles, garlic, cilantro mixture. With the back of a fork, mash together until the avocado has the desired texture. Gradually add the juice and salt to taste.
Cook's Note: (1) Most avocados in the stores are not ripe and need 3-5 days to get there.  After keeping your avocados at room temperature, use your the tip of your finger to pop out the stem nub at the top of the avocado.  If it comes out easy, the avocado is ready to eat. (2) Wear gloves when working with hot chile peppers, fresh or dried, and do not touch your eyes! It may be helpful to coat your hands with a small amount of cooking oil prior to working with the chiles to thwart  the pepper oils from sticking to your skin, then, wash your hands well thereafter.