nutriente/nutritious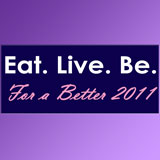 Happy Eat. Live. Be. For a Better 2011 Monday! Did you enjoy your weekend?  Whether you celebrated Passover or Easter, my hope is that you and your families shared lots of love, laughter, and many happy memories.
I did not spend the day with my mom, as she was home celebrating the day with her grandchildren.  Even so, the memories of childhood Easter mornings, waking up to a trail of jelly beans that anticipated our every morning routine movement before celebrating at church were in my thoughts all day. And those memories are what I can't live without, which also happens to be the next topic this week. Topic #17: What Can't You Live Without? – In your goal-reaching journey, what have you discovered that you can't live without?
There are a few other things I cannot live without (as they do or don't necessarily work  into my goals)…
Starbucks Venti Hot Passion Tea, unsweet
A charged iPod when at the gym
Cherry Tomatoes
Diet Coke (I know…part of my goal is to omit it from my diet, but I do sneak one in every so often.)
My love for swimming (I just need work in more time to in the pool more than twice a week)
My daily chats with my mom
Soup
I love soups, during all times of the year.  While I truly believe Tami is the Soup Guru, I do try to dabble in some hearty, liquid-y goodness here and there. Like this simple Carrot-Ginger Soup. It not only satisfied my tummy, but warmed my soul as I spent the day relaxing. And, made with the delicious Vidalia onions Tami gave me, did I mention it was Bugs and Easter Bunny approved?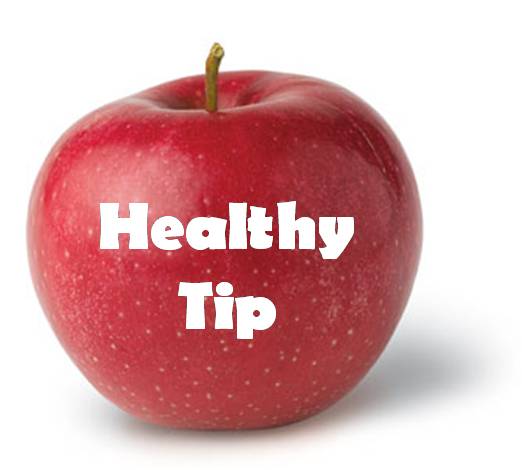 Satisfying and warming of the soul, plus healthy, make this soup a perfect recipe for Eat. Live. Be. but works well for Cooking to Combat Cancer. Why? Ginger is said to have cancer-fighting components. Its extracts are also thought to be helpful with nausea/vomiting, upset stomach, lowering cholesterol and reduce inflammation.  Carrots, too, are said to fend off certain cancers.  In addition, carrots are said to reduce cholesterol, thwart heart attacks, and continue to be a good source of vitamin A, Vitamin C and potassium.
What are you cooking for Cooking to Combat Cancer?  Deadline is this Friday, April 24th.
Looking for other soups?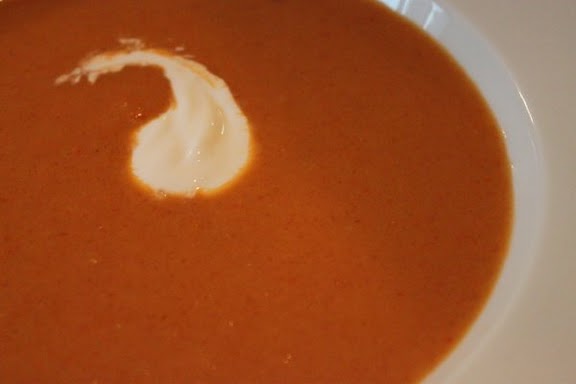 Carrot-Ginger Soup
adapted from the Whole Foods Market Cookbook
1 Tbsp. canola or olive oil
2 Vidalia onions sliced
1-3″ piece of fresh ginger, peeled and roughly chopped
4 cups low-sodium vegetable broth
2 cups orange juice
8 large carrots peeled and cut into smaller like-sized discs
Fine sea salt & fresh ground pepper to taste
¼ tsp each –  cumin, ground fennel, allspice
sour cream or plain yogurt – to drizzle on top (optional)
Heat oil in a large sauce pan, add onions and cook until translucent. Add ginger and sauté an additional 2 minutes. Add spiced and cook one minute, until fragrant. Increase the heat to medium and add the carrots, broth and juice. Simmer until the carrots are tender. Season and puree in a food processor.
Yield – 6-8 servings.  Freezes well.