ossessionato/obssessed
Obsessed.  I think I am obsessed.  Since I brought home my ice cream machine last year, I have made more ice cream than I think I have even consumed in the last decade. I am not really sure where the obsession comes from because I am actually not a fan of ice cream.  The cream…can't do it. But, man…it is so much fun to make.
Some of the cold, creamy goodness created (and posted) since the Cuisinart taken residence in my kitchen have included black truffle ice cream, red wine ice cream, peach ice cream,  cherry basil frozen yogurt, pink champagne sherbet,  and tomato basil sorbet. Yeah…really?  That's a lot for one girl. Even though "they" say admitting the dependence is the first step to recovery, I don't see my addiction going away any time soon, especially with the ice cream post in the wings and the machine churning another recipe as this post is being written.  So, keep your eyes peeled!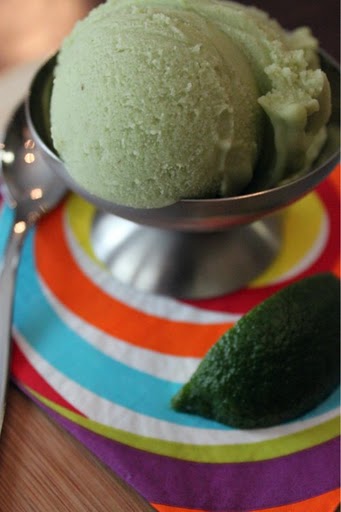 I saw this avocado ice cream on the Eating Well site.  The recipe notes that Rick Bayless has served [this] in his restaurant Frontera Grill for years. How could it not be delicious? Plus, it includes tequila.  Party on, people!  My version is the same, with the exception of a few ingredient amounts I changed slightly.  And, since this is dairy-free and made with sweetened water, fruit juice or puree, liqueur, I am calling it sorbet so it wouldn't be deceiving.
Out of all the frozen desserts I have made over the last year, this may be my favorite.  I have a tendency to share what I make with others.  Not this one.  I have been enjoying this batch all…by…myself.  (and gettin' a little tipsy, too!)
*Avocado Tip* Confused on when an avocado is ripe and ready to eat?  Most avocados in the stores are not ripe and need 3-5 days to get there.  After keeping your avocados at room temperature, use your the tip of your finger to pop out the stem nub at the top of the avocado.  If it comes out easy, the avocado is ready to eat.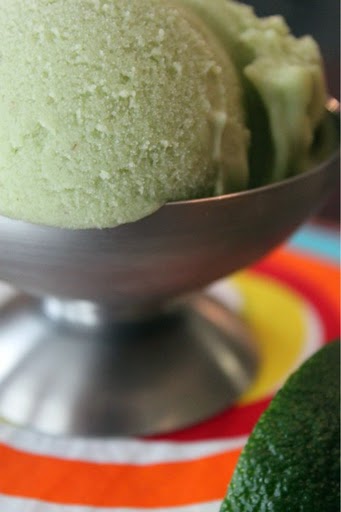 Avocado Sorbet
From EatingWell (w/ some ingredients amounts changed)
2 cups avocado puree, from about 3 ripe large avocados
1 ½ cups water
1 ¼ cups sugar
¼ cup fresh lime juice
1/3 cup tequila
Lime zest/slices for garnish
To make avocado puree, peel and pit 3 ripe large avocados.  Place in a food processor and pulse until smooth. Measure out 2 cups for the ice cream; reserve any extra for another use. Place the measured out avocado puree back into the food processor, add water, sugar, lime juice and tequila; pulse until well combined. Refrigerate the mixture for 1 hour or overnight.
Once chilled, transfer the avocado mixture into an ice cream maker. Freeze according to manufacturer's directions. Transfer sorbet into an airtight container and place in the freezer to firm up before serving. Garnish with lime zest, if desired. Yields 8 ½-cup servings.  Store in the freezer for up to 1 week.
Cook's Note: (1) No food processor?  You can use a blender or food mill.  An immersion blender, hand mixer, and even a pastry blender or dough blender, or fork may work. The level of smoothness in the puree with vary. (2) The alcohol can be left out.  I would, however, add a little more lime juice.  And, keep in mind that the sorbet will become harder when frozen.  The sorbet is softer when alcohol is included since alcohol doesn't freeze.