stuzzichini/appetizers
I am very proud to be an Italian. While my growing up didn't include the stereotypical family colloquialisms and mannerisms, there were afternoons spent with my grandparents playing bocci in their front yard or listening to my grandfather play Sweet Adeline on his organ, Sunday evenings eating at dining room table waiting for the roasted nuts bowl  to come out with the fruit after our meal, and the holidays or other important celebrations with which relatives gathered together. Additionally, two specific food memories etched in my mind are struffoli we could never get my mom to make outside of Christmas time and the soppersata my dad would cut in thin rounds, then quartered. The ¼-inch pieces were a tease that kept me coming back for more. Whether it was the soppersata, roasted peppers, or thinly sliced cheeses, the simplicity made more of a meaningful impact that any grandiose, multi-course meal I have ever eaten. Our family's version of Antipasto, a word meaning "before the meal", stayed with me throughout these years.
While antipasto plates vary from family to family, compilations generally include foods like marinated artichoke hearts, Genoa salami or some other cured meat, olives, capers, fresh mozzarella, and maybe even nuts. Whatever the combination, one thing is for sure. Antipasto is a delicious, memory-provoking appetizer.
When I went to the school's prom a few weeks ago and the executive chef's VIP spread included antipasto skewers, I thought I had died and gone to heaven. Once I ate the first skewer, I was hooked, knowing the appetizer was on the fast track to being recreated. Simple. Delicious. Irresistible.
The original plan was to use a similar, colorful/striped tortellini like the club's chef included. But, I couldn't kind any.  So, I used Organic Basil, Asiago & Pine Nut Pesto Ravioli that I found in Whole Foods. The change made little difference.  It was just as tasty. A must try.  I promise you that these skewers will become the "Are you bringing the…?" item.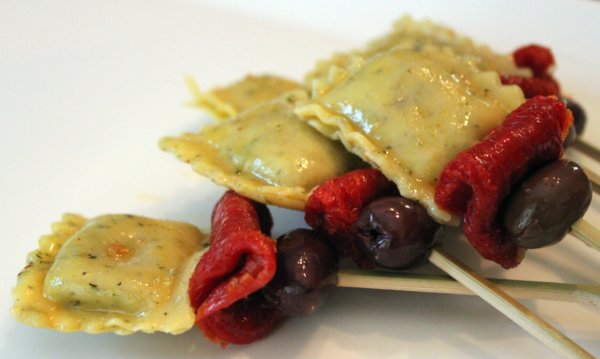 *skewers were purchased at World Market
Antipasto Skewers
12 pieces of cooked tortellini or ravioli
12 sundried tomatoes pieces, 2 Tbsp. oil reserved
12 cured black olives
12 short skewers
In a medium bowl, toss the ingredients in the reserved oil. Thread skewers with alternating ingredients, or as you prefer. Serves 6.
*Will complete the Cooking to Combat Cancer Round Up this weekend. Send in your posts, even though the deadline has past…the more the merrier.
I am entering this in "Get Grillin' with Family Fresh Cooking and Cookin' Canuck, sponsored by Ile de France Cheese, Rösle, Emile Henry, Rouxbe and ManPans."