ricetta /recipe
It's my turn!  I am hosting this edition of Weekend Herb Blogging (#275). Managed and organized how by the one, the only, the wonderful Haalo, I meant to include something from earlier this week.  But, instead, as I am down to the wire, I am adding my dish to the final round up.
As you peruse through the delicious dishes that are included in this week's round up from around the globe, ask yourself, where is my dish?  Did you complete a post, at all?  Why not?  Weekend Herb Blogging is in its 5th year, and like it's early beginnings when Kalyn was at the helm, each week brings in an amazing compilation of healthy, and mouth-watering recipes perfect for all of us. Like Haalo explains, if you'd like to join in, the rules are simple – post about any herb, fruit, vegetable, nut, seed, flower – in fact if it is plant based then we'd love to hear more. Your post can be informative –  spotlight a particular ingredient and include information about how they are used in cooked and/or include a recipe where your chosen ingredient is one of the primary ingredients in the recipe. You can find further information on the rules page.
My dish this week includes simply roasted purple potatoes.  An heirloom fingerling potato, the creamy, rich, and entirely edible bites are not only vivacious but a great source of antioxidants. The high levels of anthocyanin, a flavonoid, has been tied to studies showing anti-cancer and heart-protective effects. Great, right? The simple recipe is below the round up.  But, it is important to cover the amazing participants in this week's round up first, starting with Ela. Enjoy!
*If I inadvertently left anyone out, please let me know!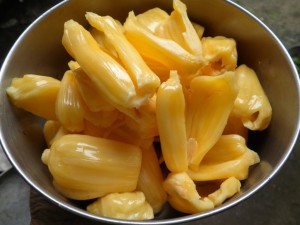 Ela (Everything's Herbed), in the Philippines, sweetens our day with sweetened Jackfruit.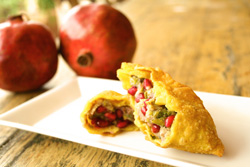 Katie (foodie and the chef), in Sydney, Australia, whipped up some vegan pomegranate and pea samosas.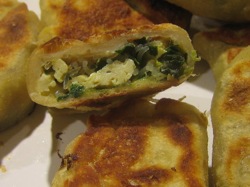 Gaga (gaga in the kitchen), in California, made chive boxes for us to enjoy!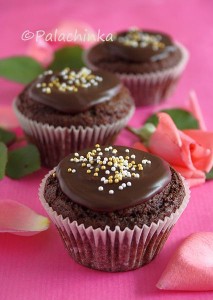 (Palachinka) brings some delectable Date Cupcakes to the round up.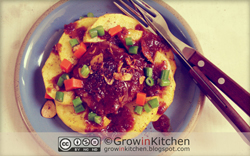 Fikranilam (Growin' Kitchen), in Indonesia, made a delicious beef stew/semur betawi.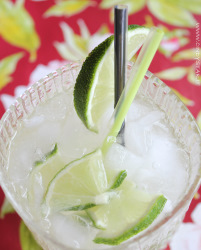 Cinzia (Cindystar), from the beautiful Garda Lake, Italy, brings the life to this party with her Caipiroska.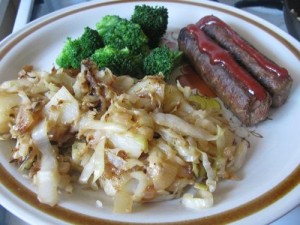 Johanna (Green Gourmet Giraffe Blog), in Melbourne, Australia, brings Cabbage and Potato with Parmesan to the round up.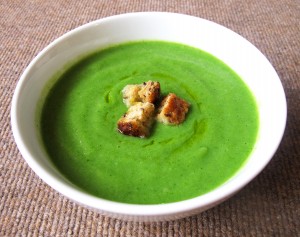 Shu Han (Mummyicancook), London, England, made a Naked Broccoli Soup with Garlic Herb Sourdough Croutons Soup I would like to dive into.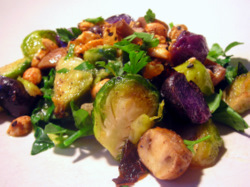 Stash (Spamwise), in New York City, makes me hungry with this winter vegetable and watercress salad.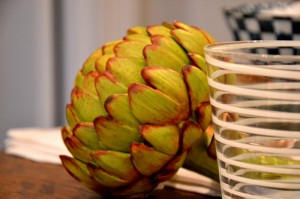 Amie (The Healthy Apple), also in in New York City, offers a delicious vegan gluten free grilled artichokes with basil curry sauce.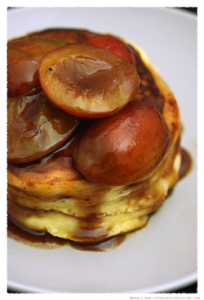 Haalo (Cook Almost Anything), our gracious hostess, rocked my world this week with her Spiced Sugar Plums.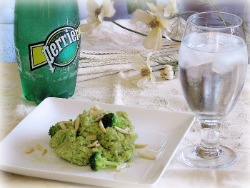 Gwen (Simply Healthy Family), in Phoenix, AZ, brings quinoa to life with her Spicy Broccoli Quinoa.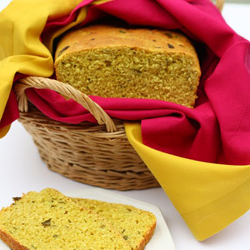 Claire (Chez Cayenne), in Houston, Texas, reels us all in with her Curry Leaf Bread.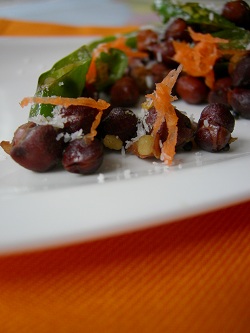 Shri (Tiffin Carrier Antic/que's) taught me something new with this South Indian Black Chickpeas Salad. I have never seen Black Chickpeas…now, I need to be on the hunt.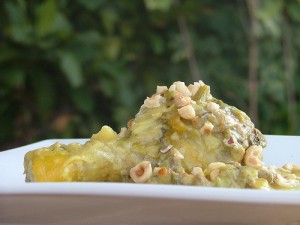 Brii (Brii's blog in English), in Valsorda on the Garda Lake – Italy, flies in with a wonderful dish – Flygande jacob – flying jacob.

Thyme Roasted Purple Potatoes
1 lb. Purple Potatoes
1 Tbsp.fresh thyme leaves
1 clove garlic, crushed
1 Tbsp. olive oil
Kosher salt and freshly ground pepper to taste
Preheat oven to 400F. Scrub the potatoes well. Dry and quarter. In a bowl, toss the potatoes with the remaining ingredients.  Transfer onto a baking sheet to form a single layer.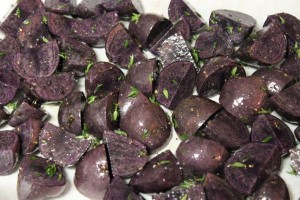 Bake potatoes for 15-20 minutes, until fork tender. Rotating and turning the potatoes midway through baking. Remove from oven and serve immediately.
Serves 4.