verza/cabbage
Ready for some more student grown veggies?  More cabbage? Remember when I made the Vegetarian Cabbage Rolls, followed by the Steamed Broccoli with Creamy Gorgonzola Sauce? All these veggies were grown in the gardens of the high school by our Horticulture classes. And, I just can't get enough.  Seriously, would you look at this cabbage?!?
And,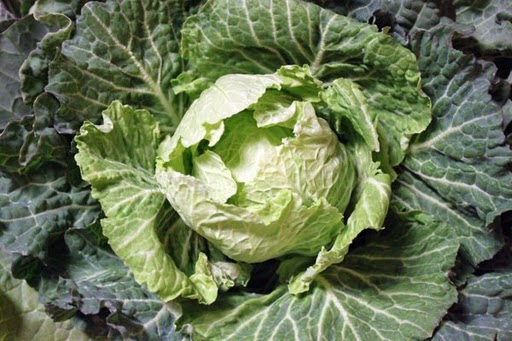 Having said that, it has been a long time since I have participated in Weekend Herb Blogging, coordinated by Haalo. It's hosted this week by the lovely Winnie from Healthy Green Kitchen, and I wanted to make sure I start contributing again. And, I thought this cabbage would be a great addition.
I love cabbage. It is just an added bonus that it is high in Vitamin C and considered roughage. Fiber-filled cabbage helps stomach ulcers, indigestion and eczema.
But, although the other recipes were special in their own right, this recipe here is more meaningful because it is my version of Jackie's dish.  Jackie, one of my colleagues by day, the Chef de Cuisine of her own kitchen by night, emailed me her successes this past weekend.  Her version, however, included cream.  I left that part out. My cook times and "covering/sweating" times varied.
Other than that?  Cosa meravigliosa! Amazing thing! Thanks Jackie!
And, now, I am off to Savannah this tomorrow for the Go Savor Culinary Retreat.  I will be joining a great group of gals including:
See you on the other side!  😀

Sautéed Cabbage with Onions and Pancetta
1 – 2 pounds Savoy cabbage (Napa or green will work, too)
1 Tbsp. olive oil
1 Tbsp. unsalted butter
1 large sweet onion, sliced thin
½ cup pancetta, chopped
1 Tbsp. water
2 Tbsp. grated Parmesan
salt to taste
Wash and chop cabbage leaf into bite sized pieces, drain, pat dry; set aside.
Heat oil and butter in a large skillet or pan over medium heat until hot and the butter is melted.  Add onion and, stir frequently, cook for 5 minutes until the onion begins to soften. Add a pinch of salt and continue to cook until soft and sweetened, about 5 minutes.
Add pancetta, stir, cover and cook for about 2-3 minutes. Carefully remove lid, add water and deglaze the pan.  Add cabbage and stir to incorporate.  Recover and cook about 6 minutes, until the cabbage is wilted.  Remove lit and stir. Continue to cook, allowing some of the liquid to evaporate, and the cabbage to soft tender.  (If a softer cabbage is preferred, add a little more water, cover, and cook longer.)
Stir in Parmesan cheese and season liberally with freshly ground pepper. Serve immediately. Serves 4.