Have you been enjoying the last day of Carnival?  Today, Mardi Gras/Fat Tuesday, marks the end of Carnival and tomorrow as the beginning of Lent.  Although I am non-practicing, its a time many of us Catholics (Christians in general) give something up we do a lot of, and something we enjoy. It is seen as a not only a discipline for self-control, but to identify with Jesus' sufferings while remembering the true pleasures that come from following Christ.  (I think I got that right…) But, Lent is not until tomorrow.
Let's just think about the tons of temptations along the way to Easter, though. Forty days is a long time!  March Madness begins soon with opening tip offs on the 15th, then there is St. Patrick's Day…oh the opportunities to sin deliciously with food.  Just fantastic!
What I like most about the month are the foods being served up that can be so easily interchanged.  In fact, it was the topic of my most recent Patch article. Who doesn't like spicy foods at Mardi Gras festivals that can also be brought to sports gatherings?  Spicy wings and dips "ain't got nuthin' " on a bowl of rice an Seafood Étouffée with your buddies while you all yell at the Flat Screen as armchair centers or shooting guards?  Don't feel like putting Étouffée-time into a meal at the moment? These grilled shrimp are a cinch to throw together and serve up during any festivity, casual or formal.
Enjoy! 
How are you celebrating Fat Tuesday?  What about March Madness?  Are you having people over to your place to woot, holler and cheer on the teams ?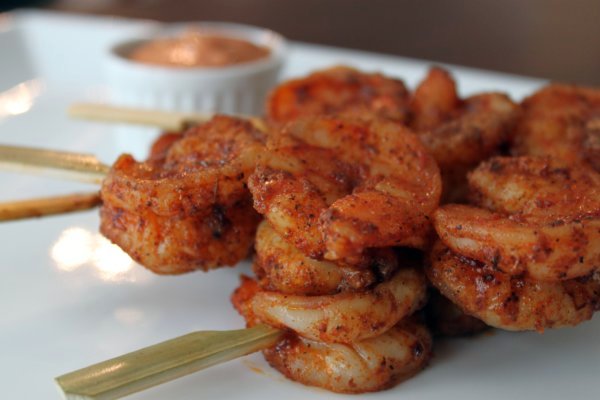 Spicy Grilled Shrimp
1 to 1 ½ pounds shrimp, de-shelled, de-veined, tails on
Cajun Spice Paste (recipe follows)
salt and pepper
fresh lime wedges (optional)
Remoulade Sauce (optional)
Option 1 – Grilling:
Toss together the shrimp and the paste to fully coat, in fridge for 30-60 minutes. Meanwhile, soak bamboo skewers in water for at least 30 minutes.  Thread shrimp on skewers and grill or broil for about 2 minutes on either side.
Option 2 – Broiling:
Toss together the shrimp and the paste to fully coat, in fridge for 30-60 minutes. Preheat broiler, place the seasoned shrimp on a cookie sheet or broiler pan. Place in the broiler and cook for 4 to 5 minutes, turning the shrimp halfway through the cooking time.
Option 3 – Sautéing:
Toss together the shrimp and the paste to fully coat, in fridge for 30-60 minutes. Pre-heat large skillet over medium to medium-high heat. Add about ½ Tbsp. oil (watch the amount because the paste has oil) to heat.  Once hot, add shrimp (being careful not to overcrowd the pan) and cook about 2 to 2 ½ minutes per side.
Cajun Spice Paste
1-2 cloves garlic, finely minced
1 Tbsp. Cajun Spice, like Tony Chachere
1 tsp. cayenne, or to taste (optional)
½ tsp. golden brown sugar
Coarse salt to taste
about 2 Tbsp. olive oil, more if needed
Mash all ingredients, except the oil, together, or blend in a small food processor. Add oil, 1 tsp at a time until a thick but workable paste results.   Store in an airtight container in the refrigerator, or move onto coating shrimp.