a strati/in layers
Are you knee deep in March Madness?  Do you have your bracket picks at close hand?  Does everything in your house come to a standstill, with Television channels preset to ESPN, CBS, TNT, and/or TBS. Are the surround sound decibels in the man/woman cave deafened only by the boisterous shouts of various armchair coaching?  Ready for Round 3?  Who are your picks this weekend?  Kentucky vs. West Virginia or North Carolina vs. Washington?
More than anything, are you wondering whose blog this is?  Yeah, I thought that too after rereading that opening paragraph.  I am the most non-athletic, not-interested-in-going-to-any-kind-of-game girl I know.  In fact, working at a high school this year has been the only reason I can check "attended" to any game listing because I am required to go (or get sucked into the requests of the students who butter me up by saying, saying things like "You have to come Dr. A!  We always win when you're on the side lines with us." Or "You have to come and cheer those old school, goofy, 'burb cheers you chanted when you were our age…way back in the day.") Before this year, I can only claim having attended one Patriots/Miami game in 92-ish and one Falcons preseason game about 3 years ago. Yeah…I am that girl.
Even so, I can cook for the occasion!  There are several yummies I have posted that are great for sports gatherings, whether or not I have labeled them as such, like the Spicy Grilled Shrimp that are just as yummy hot, as they are room temperature.  Or maybe try the pizza muffins, Chipotle Chicken Tostadas and Guacamole Peppered Shrimp Tostadas, or Chicken Empanadas.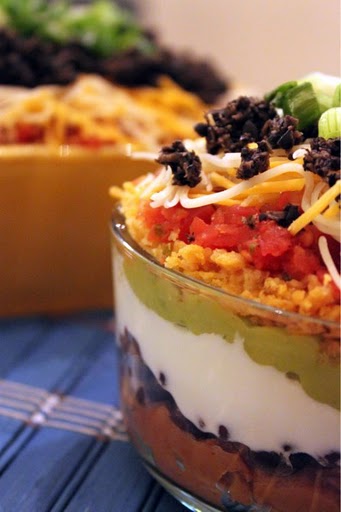 This weekend, I made a 7-layer Dip, a first for me.  I have seen layer dips at parties and out at restaurants before, but have never made one at home.  Part of the reason is I tend to be someone who doesn't like all the elements to be mushed together, without me being the musher.  It's a texture thing. Nonetheless, when Jamie, my (oh-so-patient) trainer extraordinaire at LA Fitness (who I have mentioned before) told me about his mother's amazing, guaranteed-crowd-pleaser 7-Layer Dip, I was sold.  Why is his mother's dip so much better than others?  Well, it's his mother recipe. Period.  I never question the positive relationship between a man and his mama. But, if you're not buying it and that's not enough for you, there is the secret weapon ingredient.  Fritos. Yup!  Fritos.  Added into the laying, with its corny saltiness, brings the overall dip full circle and cause taste buds to sing like their working for a grammy.
Jamie was kind enough to forward me the list of ingredients a while back.  When I recreated it, I used some prepackaged/store bought items, like salsa and guacamole, as well as some reduced fat/sodium ingredients.  (Did you realize that Edens Organic Black Beans only have 15 mg of sodium per serving?  Totally worth the extra expense.) If I had more time, I would use my own, freshly made salsa and guacamole, but not this month.  Too much going on and there aren't enough hours in the day. It didn't seem to matter, though. This was a delicious dip. I will, though, remake this with homemade ingredients on day.  And, use the full fat sour cream, just because it is thicker and I adore it. But, however you choose to add your layers, I can assure you that this dip will talked about from sports party to sports party.
How do you put together your 7-layer dips?  What secret ingredients are you willing to divulge?
Other delicious sports-day noshes
Edamame Guacamole Spread
Edamame Hummus
Tomatillo Salsa Verde
Avocado Salsa Verde
Celebration Crostini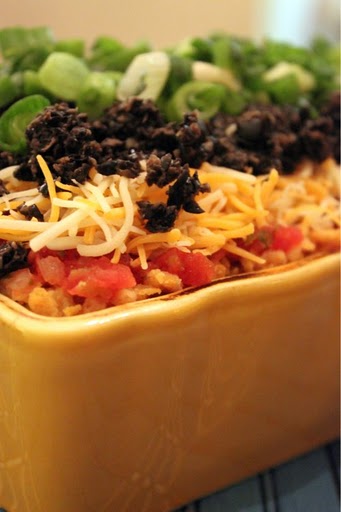 Jamie's 7-Layer Dip
1 can (16 oz.) can (vegetarian) refried beans
1 can (16 oz.) can low-sodium black beans, drained
1 ¼ cup fat free sour cream
1 ¼ cup guacamole
1 cup crushed Fritos
1 cup Thick 'N Chunky Salsa
1 ½ cup Mexican Style Finely Shredded Four Cheese
¼ cup chopped black olives
2 green onions, sliced (for garnish)
In 9 inch pie plate, quiche, or rectangular dish, layer all ingredients in the order above. Refrigerate several hours or until chilled. Serve with chips and vegetable slices. Can be made up to 2 days ahead, cover tightly and store in the refrigerator.
Cook's Note:
Change the amounts as you prefer, or according to plate size.
Need added seasoning?  Consider adding a taco seasoning, or spices to the sour cream or in between the layers.
Not a fan of sour cream?  Use cream cheese instead.
Vegetarian and reduced fat/sodium items can be easily replaced by your preferred ingredient.